Model Reveals 'Reality' of Modeling in NYC in Viral Video Viewed Over 15M Times
One model recently posted a viral TikTok that has since garnered more than 15 million views to vent her frustrations about the expectations and her experiences with modeling in New York City.
"I'm never good enough, and I've been modeling since 2014," Anna Gantt said through tears in the video. "I started out as a size zero/two doing editorial and runway. Now I'm a size four/six, and I'm s**t on every day because I'm not a skeleton and I'm not unhealthy anymore."
Gantt proceeded to explain that she returned from a casting where she was "hurt" by the producer and casting director.
She stepped away from the camera and asked what was wrong with her body and her stomach before she talked about a casting call that she attended.
"They said 'you're not waify enough like we want to see your bones,'" she said. "'The shoot is in December, you can lose some weight.'"
She opened up about her previous struggle with having an eating disorder for years but reached a point where she felt confident with her size.
"I gained 35 pounds in the past five years, and I look great," Gantt said "I'm too small for plus size, I'm too big for whatever the f**k standard size zero/two is."
She told Newsweek she had a difficult relationship with her body image throughout the years but has come a long way.
"I always saw room for improvement and I saw no end to losing weight," Gantt explained and said she believed losing more weight would give her more confidence. "Every day was a calorie number. I allowed so little when I should have given so much more. My body went through hell because I restricted so much."
Gantt also told Newsweek she has trichotillomania, which is an urge to pull out her hair. That was one way she coped with the stressful nature of the job. If she was going through a particularly stressful period of time, she said that would be the time she pulled her hair out the most often.
When she took a break from modeling to pursue college, Gantt said she took the time to stop forcing herself to exercise and restrict her eating. At first, it was difficult to gain weight and to hear other people's opinions about her body, but she reached a point where she is happy.
The TikToker continued in her video and said that in her experience with modeling since 2014, it is rare for a model to be naturally as small as they are presented.
Gantt told Newsweek that she filmed the video in a moment of "anger and sheer annoyance."
At the start of her modeling career, Gantt explained that she started off booking jobs in more high fashion and editorial jobs because of her size. She is currently doing more commercial work but wants to get back into the editorial side of the industry.
She said one aspect of the industry that frustrated her was how brands presented themselves, but how they conducted business behind the scenes was completely different.
"Fashion wants to be cool and progressive, but they really aren't," Gaint said. "Brands will have mottos and mantras where they want everyone to wear their clothes, but they don't have that represented."
TikTok users flooded the comment section and most of them offered their support and shared their thoughts about the fashion industry.
"Stay mad! Don't let anyone tell you how to wear yourself," one comment read.
Gantt responded to the TikTok user and wrote she demands a change in the industry.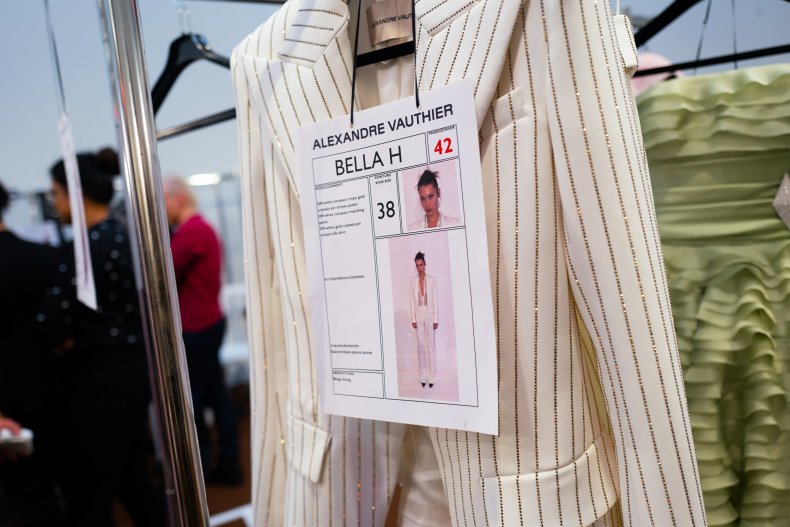 The verified account for the Council of Fashion Designers of America, Inc. also commented on Gantt's video, saying it was "heartbreaking."
Other verified accounts also left encouraging comments for Gantt.
Singer and songwriter Bebe Rexha wrote that Gantt is "amazing" and urged her to not allow sizes to define her.
"Message me," she wrote. "Let me help you get you in with an agent who believes in you."
Fellow models also left comments.
Abbie Herbert, a model, TikToker and YouTuber wrote, "Literally happened to me! I love you girl. That client doesn't deserve you!"
Tess Holliday, an American plus-size model also left words of encouragement.
"Eff them," she wrote. "You're stunning. The industry needs to change, not you."
Companies also left comments for the model. Lashify, a company that sells fake lashes said they were interested in booking her.
Meanwhile, Rihanna's lingerie company Savage X Fenty wrote, "Don't let the b*stards get ya down."
She said it's helpful to hear from others in the industry and to have conversations about size and appearance. Gantt explained that the models she heard from are outspoken about body image and size in the fashion industry. She continued and said the models support one another and she is ready to help how she can in the movement.
Gantt said she also has an agent who, for the first time in her career, is willing to be outspoken and speak up for her models. Other agents she worked with were more likely to expect models to change their appearance for the clients, regardless of how "zany" the request is.
Now, since gaining a platform on social media, Gantt is prepared to use it to spread her message and to be more open and honest about her experiences.
"I don't care if people have judgment, this is what I'm passionate about," she said.
For those who are interested in pursuing modeling, Gantt said people should know who they are and what they stand for.
"It's so easy to become someone else in this industry," she said. "Don't bend over backward for a brand. None of it is worth it."
Since posting her TikTok, Gantt told Newsweek she's felt more motivated to produce content and to break down industry expectations.
"I feel I only just got started," she said. "It was like a reset button for myself and my career. New energy was found."
The controversies of body image in the fashion industry and for public figures are not new.
In early October, Newsweek reported that Adele rejected the term "revenge body" when probed about her weight loss. She explained that she found comfort in working out. These workouts were never about losing weight, but rather about managing her anxiety.
"Working out, I would just feel better," she said in an interview with Vogue. "It was never about losing weight, it was always about becoming strong and giving myself as much time every day without my phone."
Updated 11/10/2021, 5:07 p.m. ET: This story has been updated with comments from Anna Gantt.