Model Entisar al-Hammadi was arrested February 20 in Sana'a, Yemen, and has remained in detention ever since. On Friday, Amnesty International released a statement saying the 20-year-old has been interrogated, abused and forced to "confess" to such offenses as drug possession and prostitution. Soon, her lawyer said, she will be forced to take a test to prove she's a virgin.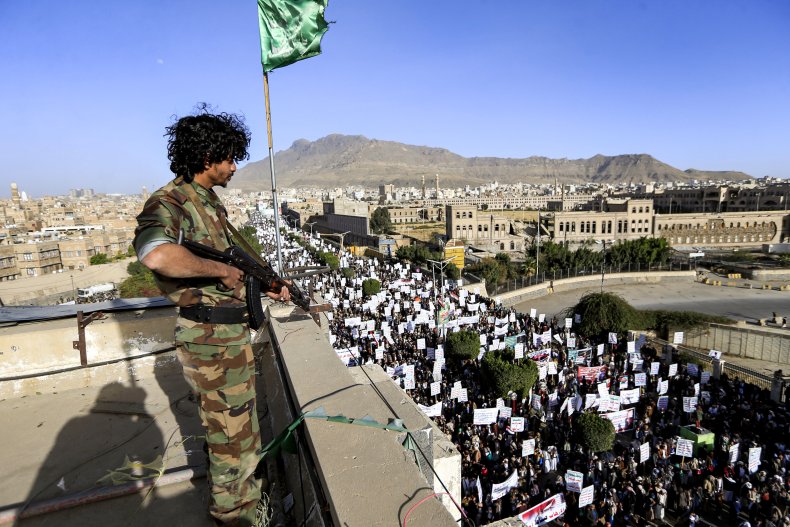 The Yemeni-Ethiopian Hammadi was reportedly arrested by plainclothes security forces from the Iran-backed Houthi rebels, who control the Yemeni capital of Sana'a. The rebels are said to be pushing a morality campaign, and Amnesty International said Hammadi was targeted because she often models wearing nontraditional clothing and sometimes without a Muslim headscarf.
In 2014, the Houthis—an armed, political movement that rose to power during a campaign against alleged government corruption—gained control over government buildings in Sana'a. Eventually, the Houthis and the government signed a U.N.-brokered deal and formed a new, united government.
Hammadi was taken more than two months ago, after forces stopped her car and allegedly found cannabis inside. Amnesty claimed she has been "interrogated while blindfolded, physically and verbally abused [and] subjected to racist insults."
Meanwhile, people on social media have taken up Hammadi's cause, sharing her story and pictures.
After her arrest, Hammadi was taken to a police station and detained for 10 days, Amnesty reported. The organization also said that she had been compelled to sign a prewritten statement with her fingerprints while blindfolded, and that it included her supposed confession that admitted to being involved in drug-related offenses.
Amnesty also said her lawyer informed the organization that during her detention, security forces woke her up in the middle of the night and drove her to different houses while asking if she used to work at the residences as a "prostitute."
The security forces reportedly transferred her to the women's section of the central prison in Sana'a after 10 days. Amnesty said that prison authorities prevented her from contacting her family or a lawyer, and that guards verbally abused her and subjected her to sexist and racist remarks.
Amnesty reported her lawyer was told on Tuesday by a member of the prosecution team working against Hammadi that the Houthis planned "to subject her to a 'virginity test' within days."
Amnesty also wrote that the prosecution has ignored repeated requests from her lawyer for her case file and that the lawyer was threatened by a gunman to drop the case.
"The Houthi de facto authorities must bring Entisar al-Hammadi's distressing ordeal to an end by ordering her immediate release," said Amnesty International's Lynn Maalouf. At the very least, Maalouf said, Hammadi's lawyer must be "granted access to all the evidence against her and "any statements she has made under duress must be excluded from evidence during her prosecution."
Newsweek contacted Amnesty International for further comment but did not hear back before publication.