Dem Rep. Gottheimer Expects CBO Score, WH Analysis of Social Spending Bill to 'Match Up'
Representative Josh Gottheimer, a moderate Democrat from New Jersey, said Sunday that he expects forthcoming analysis from the Congressional Budget Office (CBO) on the Build Back Better Act will allow the House to "move forward" with the legislation.
His comments come after Democratic factions reached an agreement that allowed the House to pass on Friday a $1.2 trillion bipartisan infrastructure bill, a key portion of President Joe Biden's legislative agenda.
However, the second major component of his agenda, the $1.75 trillion Build Back Better Act, a sprawling social spending package, is still in the House. Progressive Democrats had previously refused to move forward with the infrastructure legislation unless they also advance the other spending bill.
On Friday, Democrats reached an agreement after a group of moderates, including Gottheimer, said they would commit to voting for the Build Back Better Act in its current form after the Congressional Budget Office (CBO) releases fiscal information about the legislation "no later than the week of November 15th."
The moderate Democrats said they would vote for the bill as soon as they receive information from the CBO "consistent with the toplines for revenues and estimates" that had been provided by the White House regarding the legislation.
During an interview on CNN's State of the Union Sunday, host Dana Bash pressed Gottheimer about the moderates' commitment.
"What your statement said is that if it is 'inconsistent' with the White House analysis, meaning it's not paid for as to the deficit, that you're going to keep working," Bash asked.
"So does that mean you would be a 'no' if that's what the CBO says?"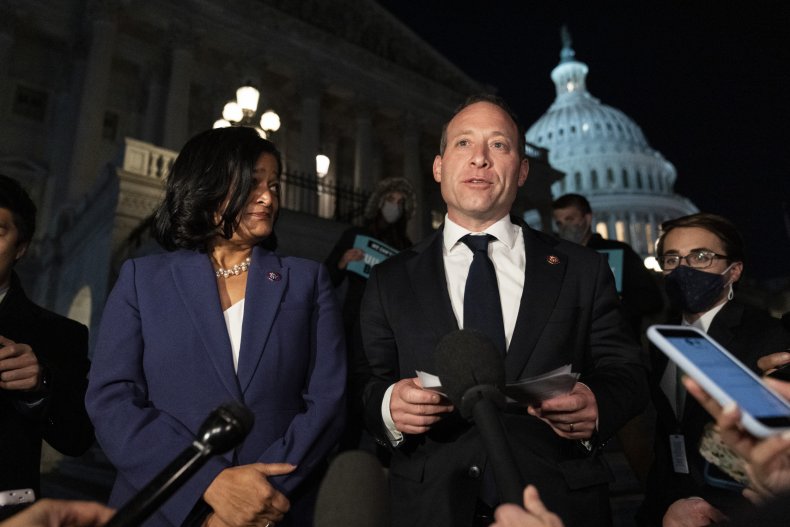 Gottheimer said that lawmakers have already received a "slew of data" from the U.S. Treasury Department and the White House regarding the bill, as well as some early estimates from the CBO.
"We're expecting to receive more in the next seven to 10 days. We expect it all to match up with what was presented, and we'll move forward. That is what I believe will happen" Gottheimer said.
"And again, I think we all agree that the reconciliation package, the Build Back Better legislation, is critically important for our districts, districts like mine. So my expectation will be that we will be moving forward, and we will have another thing to celebrate," he added.
Bash then asked Gottheimer: "Do you need the Congressional Budget Office to say that the bill is paid for in order to vote yes?"
Gottheimer said he and other lawmakers are looking for "CBO tables, which score sections of the bill" noting that they have already received "some data." He reiterated though that legislators expect the information from the CBO "to be in line with what we received from the Treasury Department."
"And we'll at that point, I'm sure, be ready to move forward. But we just want to make sure we get that data and that we're able to align it with what we've received already," the New Jersey Democrat said.
Gottheimer added that the "responsible thing to do when you get a piece of legislation like this is to do a full analysis and to understand the impact on your district, and the families in your district."
"And that's what I'm looking at. To make sure that when we vote for this, and give the country this win, that we deliver the way we should deliver."