Moderate Democrats Urge Party Leaders to Come Together Immediately to Address Election Security
As part of a moderate coalition within the party, several House Democrats are calling on congressional leaders in both chambers to put their partisan ideologies aside and immediately address measures that would strengthen election security and prevent future Russian election meddling.
"We are less than five months away from the start of the next federal election, and there is no time for partisan games," the lawmakers wrote in a letter.
The letter was sent Thursday by leaders of the House Blue Dog Coalition and its national security-focused wing, the Blue Dog Task Force on National Security. The coalition, which is comprised of 26 moderate Democrats who consider themselves fiscally-responsible pragmatists and who often represent swing districts, sent their letter to House Speaker Nancy Pelosi (D-CA), Majority Leader Steny Hoyer (D-MD), Minority Leader Kevin McCarthy (R-CA), Senate Majority Leader Mitch McConnell (R-KY) and Minority Leader Charles Schumer (D-NY).
The Blue Dog Democrats highlighted certain bipartisan election security measures that have been introduced, saying that, when bunched together, the policies could "address this threat to our national security in a holistic way." In June, they proposed a package of legislative proposals centered around 11 bipartisan bills from both chambers.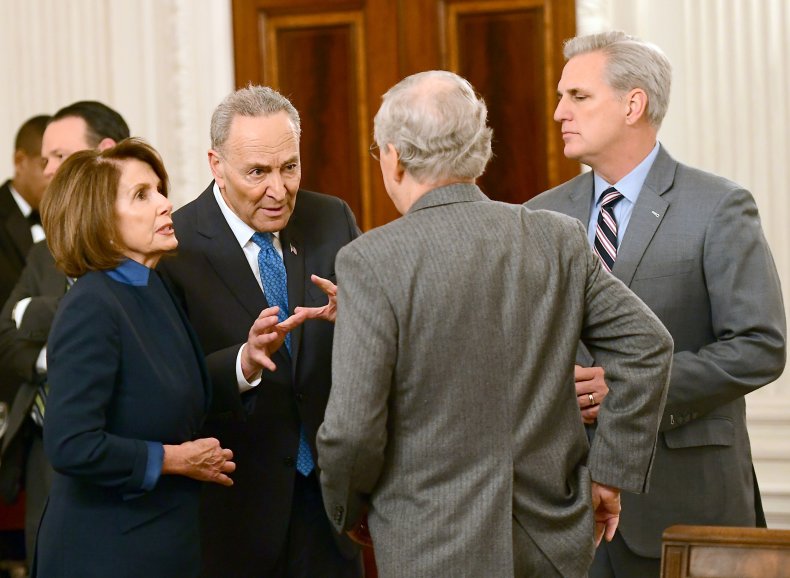 "[L]eaders in the intelligence community have continued to sound the alarm that Russian adversaries will meddle in the 2020 election. The threat to our national security could not be more clear," they continued. "Every single Member of Congress has sworn to support and defend the Constitution of the United States against all enemies, both foreign and domestic."
The Democrats called on party leaders to allow votes on election security measures after returning from summer recess next week, something Democrats have become increasingly vocal about with McConnell, who has not allowed several proposals to come to the floor.
The SAFE Act, which was passed in June by the Democratic-led House with only one Republican vote and is referenced by the Blue Dog Democrats in their letter, would provide states with $600 million to bolster their elections systems. This, coupled with other measures blocked by McConnell, would, among other things, allow states to upgrade voting infrastructure, require post-election audits and mandate the use of backup paper ballots and for campaigns and candidates to alert officials if they receive or are offered foreign contributions.
McConnell has characterized such bills as "highly partisan" and has not yet shown a willingness to consider any election security measures.
In their letter, signed by Representatives Stephanie Murphy (D-FL), Lou Correa (D-CA), Kurt Schrader (D-OR), Jefferson Van Drew (D-NJ), Tom O'Halleran (D-AZ), Anthony Brindisi (D-NY) and Kendra Horn (D-OK), the Blue Dog Democrats urged the congressional leaders to approach legislation realistically and with an understanding what will be required for any bill to pass a divided Congress and a Trump White House: bipartisanship and compromise.
"A lack of action by Congress to secure our elections would embolden our adversaries and pose a danger to the national security of the United States," they wrote. "Americans must have confidence in the security of our country's electoral process in order to ensure full faith in every election's result, no matter the outcome."