Moderator Chris Wallace Says Donald Trump Could Keep Interrupting Even If They Cut His Microphone
Fox News anchor and debate moderator Chris Wallace thinks President Donald Trump could keep interrupting even if moderators were given the power to cut candidates' microphones.
In his first interview after Tuesday's presidential debate, Wallace told the New York Times candidates could still talk over each other and "disrupt the proceedings" if their microphones are muted.
"As a practical matter, even if the president's microphone had been shut, he still could have continued to interrupt, and it might well have been picked up on Biden's microphone, and it still would have disrupted the proceedings in the hall," he said.
After the chaotic first presidential showdown between Trump and Democratic nominee Joe Biden in Cleveland, Ohio, the Commission on Presidential Debates (CPD) announced that it will make rule changes for the remaining two scheduled debates to add "structure."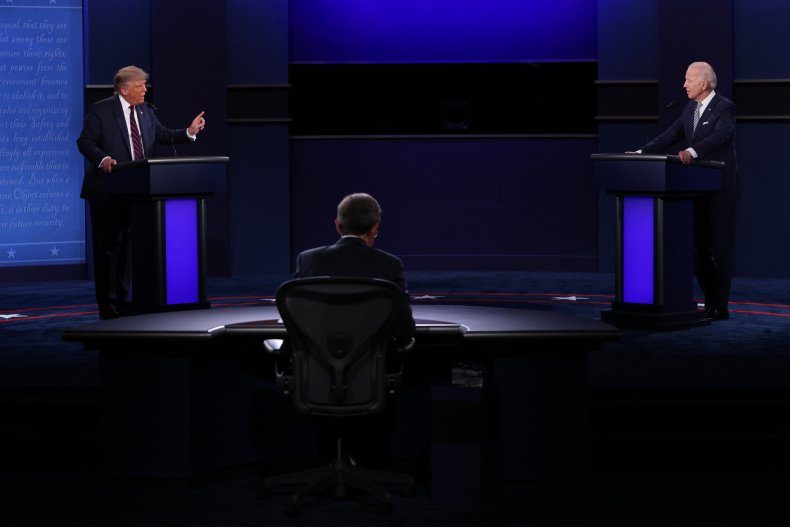 Trump and Biden repeatedly talked over each during the one and a half hour hostile debate, causing Wallace to urge the candidates to "please stop interrupting." At one point, Wallace ended up engaging in a heated debate with Trump to enforce the rules.
The president's aggressive debate strategy and off-hand insults included comments about Biden's son. Biden called Trump a "clown" on two occasions and directly asked Trump, "Will you shut up, man?"
"Last night's debate made clear that additional structure should be added to the format of the remaining debates to ensure a more orderly discussion of the issues," the CPD said in a statement. "The CPD will be carefully considering the changes that it will adopt and will announce those measures shortly."
The commission thanked Wallace for his "professionalism and skill" in handling such a fraught event, but also promised that additional tools to "maintain order" will be put in place.
While they haven't set out what those measure will be, CBS' Norah O'Donnell on Wednesday afternoon said that an "informed source" told the network the commission intends to cut off a candidate's microphone "if they violate the rules." Newsweek reached out to the Commission on Presidential Debates for comment, but was unable to independently verify the report by publication.
Trump campaign spokesperson Tim Murtaugh said the commission is "only doing this because their guy got pummeled last night" in a statement.
According to the Washington Post's Aaron Blake, Trump interrupted 71 times and Biden interrupted 22 times during the 98-minute debate.
Biden called Trump's behavior a "national embarrassment" during a press conference in Ohio on Wednesday and encouraged the CPD to impose better regulations to handle the second and third debate.
"Say, a question gets asked of Trump, he has the microphone, he has two minutes to answer the question, no one else has a microphone," the former vice president said. "I don't know what the actual rules are going to be literally, but that's what seems to me to makes some sense."