Modern Chinese Food is Unconcerned With Authenticity (And That's Why It's Great)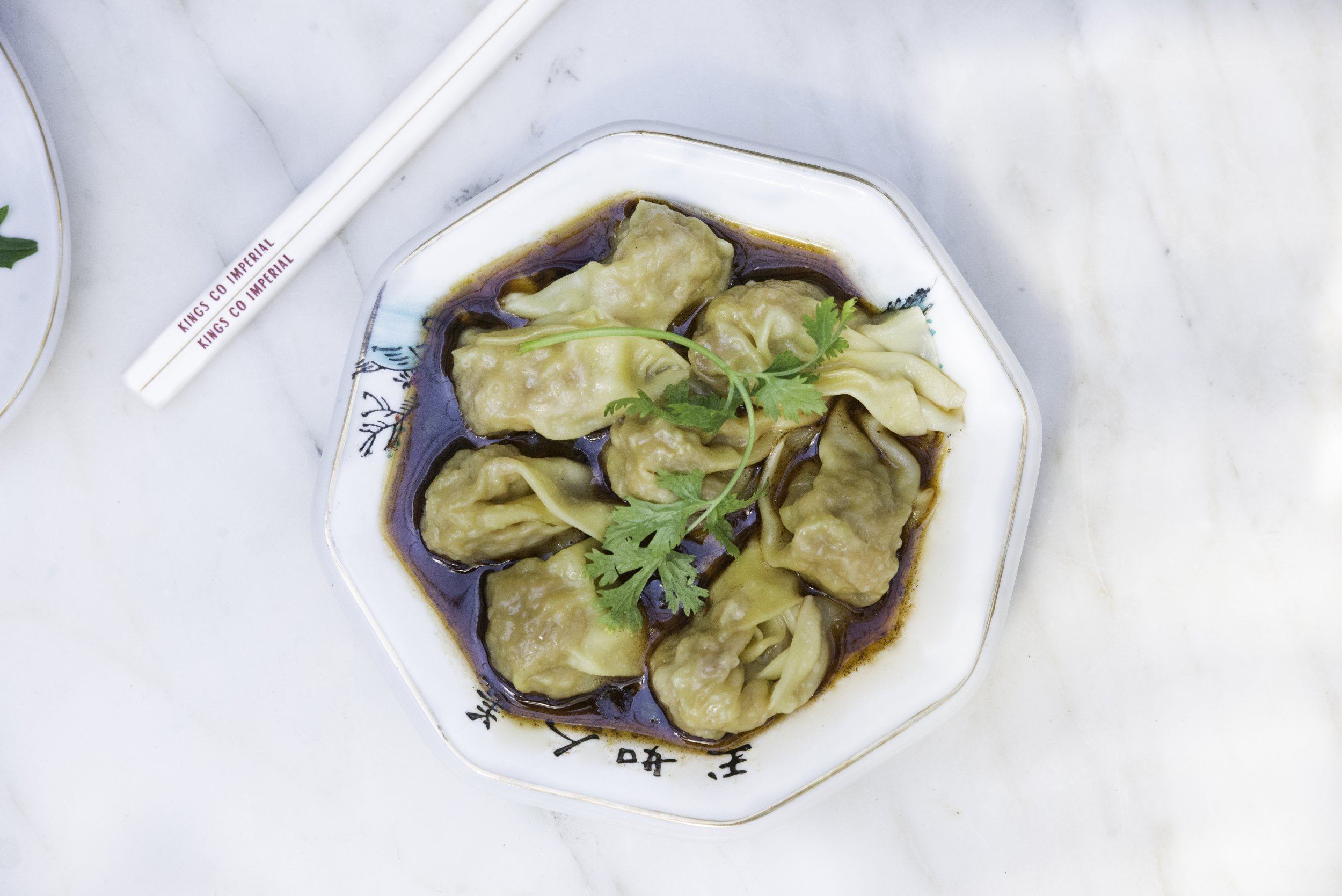 What's in your takeout box tonight? There's a good chance it's Chinese food, historically one of the "Big Three" cuisines ruling delivery, alongside Mexican and Italian fare. According to a 2015 study by the National Restaurant Association, 42 percent of Americans reported eating Chinese food several times a year—curious, considering Chinese citizens comprise just 1.2% of America's population and prior to the 20th century faced racism and misunderstanding in the country (an 1883 New York Times article began, "Do the Chinese eat rats?"). The idea that a sizable chunk of the U.S. population now name-checks a piping hot bowl of General Tso's chicken as the go-to comfort food of choice—and that Chinese restaurants of every ilk stretch from Boston to Boise and every town in between—is a bit of strange magic.
Originally, Chinese food came to America as a means of survival for the recently immigrated Chinese. Institutionalized racism and legislation aimed at preventing further immigration, such as 1892's bluntly named Act to Prohibit the Coming of Chinese Persons into the United States, prevented many from finding employment. Enterprising Chinese citizens quickly realized that they could open restaurants, amending traditional recipes to fit American palates (making things a touch sweeter and adding more familiar ingredients alongside exotic vegetables). What was once deemed the dining choice of deviants evolved into a food craze that's stretched on for more than a century, from the fervor of Chop Suey—a hodgepodge of beef and regional vegetables garnished with a thick sauce that swept through America in the 1950s and 1960s—to the comfort food we know and gorge on today.
Yet our beloved sweet and savory Chinese food is often extremely generalized, and glosses over the many culinary variations of a country boasting 14 international borders and nearly 1.4 billion people. "The Chinese food that's represented here, generally, is a very small proportion of what's going on in China," says Josh Grinker, one of the restaurateurs and chefs behind Brooklyn's low-key gourmet central Chinese joint Kings County Imperial. "If you go to Northwest China, it's all about kebabs and curries—stuff that we would think more of with Middle Eastern food." The ubiquitousness of sweet and sour pork in American Chinese food is a slightly inaccurate representation too, given that a substantial population of Western China's citizens are Muslim.
"People are getting more interested in the regionality of Chinese food," says Chris Ying, editor-in-chief of Lucky Peach. "People are so interested in like, this dumpling shop that serves dumplings from the Fujian province and say, 'I gotta go there even though I don't know what that means!'" It's equal parts due to the increased acceptance of ideas about ethnic food, Americans' growing interest in accessible authenticity (i.e., knowing what Chinese food is supposed to taste like without actually having to travel to China) and, well, because it tastes great. Yet the elusive quest for said "authenticity" continues to plague rap music and restaurateurs alike.
As Ian Cheney's documentary The Search for General Tso suggests, America's demand for "authentic" Chinese food may have kicked off in 1972, when then-President Richard Nixon, in an attempt to re-establish diplomatic relations with China after the Red Scare, traveled to Shanghai. A televised broadcast showed Nixon tucking into a traditional Chinese meal and soon, everyone wanted to try what was on his plate (four treasures of duck, fried giblets, roast duck, mushroom and sprouts, duck bone soup, and lotus seeds sweet porridge, according to government archives). The documentary traces the first specialized restaurants to crop up in the U.S. around that time, along with Americans' desire to travel through China's rich provinces—from Szechuan to the Hunan—through their food increased.
While Americans love generic, greasy Chinese food, there's an increasing desire from diners for more complex flavors. This is where a new era of fine dining comes in, with chefs who are taking Chinese food to one of two opposite extremes: Hyper-authentic, or using it in a sort of fusion to craft a new definition for what we know as "Chinese" food. To wit: "When it comes to fine dining, Chinese is the new French," The Wall Street Journal declared in 2013. Judging from the ongoing popularity, the trend toward reinventing the cuisine is only beginning. "In the nationwide zeitgeist, Asian flavors are accepted in a way that they never have been before, and people want exciting new stuff," Grinker says. He notes that "Thai, Vietnamese, Japanese has been covered every which way since Sunday," but Chinese dishes still remain full of untapped potential when it comes to appealing to American audiences.
The most celebrated modern Chinese upstarts of today, including Kings County, Mission Chinese and the Jewish-Chinese fusion restaurant RedFarm, are successful because of the unexpected spins they put on region-specific dishes. One could say that this scrappy new generation of Chinese food chefs is indebted to the contemporary, Internet-driven age of the mash-up, remix and reboot. It's an adventurousness that has enabled Katz's Pastrami egg rolls to co-exist alongside crispy garlic chicken, as it does at RedFarm, and for a place probing the wonders of central Chinese cuisine, as Kings County Imperial does, to create a sensational "mock eel" dish that aligns with the Buddhist cooking tradition of approximating and mimicking the flavor of the protein.
Unlike the decidedly inauthentic approach driving the likes of Mission Chinese and RedFarm, the chefs behind Kings County Imperial are attempting to bring Chinese cooking techniques stateside (with their own spin, of course). Inspired by their travels throughout mainland China, and stunned at the culinary variations that had yet to be probed in the West, co-owners Grinker and Young sought to bring the contrasting flavors of the provinces comprising their favorite region, central China, to their low-lit Williamsburg, Brooklyn establishment. "[The region] is all landlocked, so before there was refrigeration people relied on pickling and stronger spices to preserve the food," Grinker says. "At the same time, the Szechuan province is the fertile agricultural area in all of China. So it made for this very rich, super flavorful kind of cuisine—and that resonates with us."
The interplay between the bold (peppery Szechuan noodles), the subtle (lightly fried rice that isn't too eggy) and the rich (golden brown long pork dumplings) certainly resonated with me at Kings County. The restaurant uses Chinese cooking techniques (meaning there's no grilling or sous vide in sight), has soy sauce sourced from southern China on tap and features an outdoor garden blooming with Goji berries and green long beans. Inside, though, you'll hear Television's Marquee Moon whirring on a turntable while sipping drinks from their tiki-inspired cocktail program. "There aren't a lot of places that aren't exploring non-fusiony, authentic Chinese flavors presented in a new way, with people who will guide you through the experience. Because it's such a foreign way of dining," Grinker says. "And that's super exciting to me."
Yet some of these chefs, like Mission Chinese's unlikely celebrity chef Danny Bowien, are entirely unconcerned with making "authentically" Chinese food. This may seem counterintuitive, but it's helping give Chinese food more visibility and expanding the definition of what it can be. He says that the scrappy restaurant's fraught journey (it first opened as a pop-up in San Francisco, and opened ceremoniously in New York just to shutter, and then re-open in a different location) stemmed from a desire to "pay respect to Chinese food as a whole and as a cuisine," noting that "what made us happy was making Chinese food, which we didn't know how to cook." What started as a meditation on Szechuan cuisine soon morphed into something that's, well, best described as Mission Chinese food. "I'm probably one of the only people who will outright say that I'm not trying to make Chinese food anymore," Bowien tells Newsweek. "I don't want you to remind you of a dish that you had in Hong Kong when you were 9. That's not what does it for me anymore. Mission Chinese can be the best and the worst thing that can happen to Chinese food."
Bowien's great talent isn't so much for making authentic Chinese food, but rather in "creating a grand sense of occasion," as New York's Adam Platt put it. At Mission Chinese, the authenticity of the diner's experience is absolutely more important than authenticity of the cuisine itself. At the restaurant's Chinatown outpost, there's hardly an empty seat in the house, and the food—ranging from green tea noodles to salt cod fried rice to tofu-slathered pizza—acts as a conversation piece for friends, first dates and strangers bumping elbows alike. "Danny's approach has never been to try to replicate Chinese food," Chris Ying says of Bowien, with whom he recently co-wrote The Mission Chinese Cookbook. "Chinese ingredients and flavors are part of this palate that he paints with."
Flipping through The Mission Chinese Cookbook's newspaper print pages—which brims with recipes for some of the restaurant's best-sellers, threaded with personal essays, interviews and forewords from people like Anthony Bourdain—it reads like a 'zine full of shared secrets from a new class of Chinese cooks, who see themselves more as fans of the food than keepers of sacred traditions. But it's also evocative of something much more potent. As The New Yorker's Hua Hsu notes of The Mission Chinese Cookbook: "Inauthenticity becomes a kind of power, a refusal of someone else's expectations and tastes."
It's also no-bullshit. Up front, the book includes the full disclosure that cooking Chinese food is still incredibly challenging. "Not everything in this book is easy to cook. I didn't want to give you watered down versions of anything," Bowien writes. The co-founder of Kings County Imperial, Tracy Jane Young, corroborates this. "The art of Chinese cooking relies so heavily on the heat that comes out of that Wok," she says. "So it's that heat and that carbon steel Wok and the flashing of the oil on the back of it that creates this big flame—it's called the wok chi, or life of the Wok—that kind of gives the food this flavor that is almost impossible to reproduce." Hence why people don't really try making Chinese food at home, and either go out or order in to get their fix.
The true challenge that chefs face moving forward, though, will be getting people to pony up for more experimental Chinese food that's pricier than the trusty suburban takeout of their youth. "There's this perception of Chinese food as this cheap utilitarian stuff you eat out of a paper box, you know? That's a thing that kind of hinders Chinese food and Asian food generally," says Chris Ying. "Talk to David Chang [co-founder of the wildly popular Momofoku enterprise] about ramen, and the hurdles they've had to overcome to charge more than $10 for a bowl of noodle soup that people think is worth 99 cents. If it's Chinese food, it has to be cheap and people want crazy new regional Chinese food."
Ultimately, the ongoing fervor for more nuanced forms of Chinese food, whether it's hyper-regionalized or fusion, is a testament to the blurring of identities, ethnicities and cuisines that continues throughout the United States. What we know as "American" food isn't really American at all, but now we find ourselves at a pivotal moment when ramen and Szechuan noodles are considered as American as, well, apple pie. That's something to celebrate, whether your poison is Korea's soju, Scotland's whiskey or China's own Maotai.