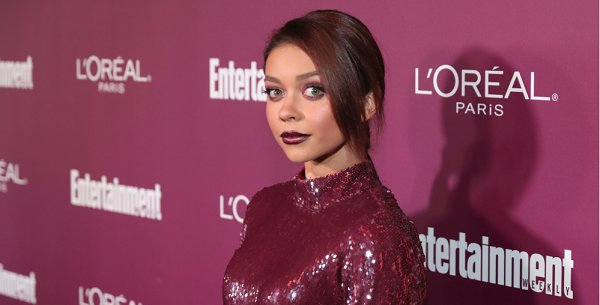 Since debuting on ABC in 2009, Modern Family has embraced the variety of relationships people experience in modern-day society. The show was one of the first to have two openly gay characters—Mitchell and Cameron Pritchett (played by Jesse Tyler Ferguson and Eric Stonestreet, respectively)—on prime-time TV. It also showed their wedding and role as adoptive parents to their daughter, Lily (Aubrey Anderson-Emmons).
Now, the series aims to broaden the scale of its LGBTQ characters by incorporating a bisexual character. According to actress Sarah Hyland, her character, Haley Dunphy, is bisexual.
Although Dunphy has only ever been seen engaging in heterosexual relationships for each of Modern Family's nine seasons, fans have long speculated Dunphy may also be romantically attracted to females. And on Wednesday, Hyland announced it via Twitter.
"I don't know what the writers would say? But I confirm," Hyland tweeted in response to a fan question.
So far on the series, Dunphy has had a total of nine boyfriends. However, her most serious relationship has been with on-again, off-again boyfriend Dylan, played by openly gay actor Reid Ewing, who's appeared in episodes as early as Modern Family's pilot. Another significant relationship Dunphy engaged in was with Andy (Adam DeVine), her grandpa's former "manny," whom she started dating in Season 7.
Fans have yet to see the character engage in a relationship with another woman, and show writers, including co-creator Steve Levitan, have yet to confirm if Dunphy's bisexuality will be depicted on the current season of the ABC show. However, there are still 15 episodes left of Season 9, so there's still a chance Hyland's character will address her bisexuality, even if for only one episode.
It's not particularly uncommon for Modern Family to use stand-alone episodes to tackle issues members of the LGBTQ community encounter.
A Season 8 episode that aired in September 2016 made headlines when it included 8-year-old transgender actor Jackson Millarker, who played Lily's schoolmate. During the episode, Lily makes a mean comment to her friend, who is transitioning, and her parents are forced to address and teach their child a lesson on insulting and hurting others.
Including a trans child actor was something the show's director, Ryan Case, thought was important to adequately address the subject.
"This is Jackson Millarker. He's 8 years old, from Atlanta, and just happens to be transgender. He plays Lily's friend Tom in this week's Modern Family and he's wonderful. One of the many reasons I love being a part of this show," Case wrote alongside a photo of Millarker shared on his social media at the time.