'Modern Family' Death Spoilers: Find Out Who Died On Wednesday's Episode
The character of Modern Family dealt with their first death on Wednesday night's episode. Dede, the mother of Claire and Mitchell Pritchett, died. The family dealt with the loss on Halloween, dressed in costume and fully surrounded by family.
Mitchell and Claire had a complicated relationship with their mother. Her last appearance on the series was early in Season 10. In the episode, Mitchell and husband Cameron realized Dede had been interfering in all aspects of their relationship using reverse psychology.
Dede was a secondary character on the show, which allowed the show's angle of grief to be filled with humor. Jay, who was previously married to Dede, did not shed a tear when he greeted his children. Gloria, Jay's current wife, feared Dede would haunt her, as Dede whispered the concept to Gloria on her wedding day.
The grandchildren, Haley, Alex, Luke and Lily, spoke of their Grandmother's possible return as a zombie.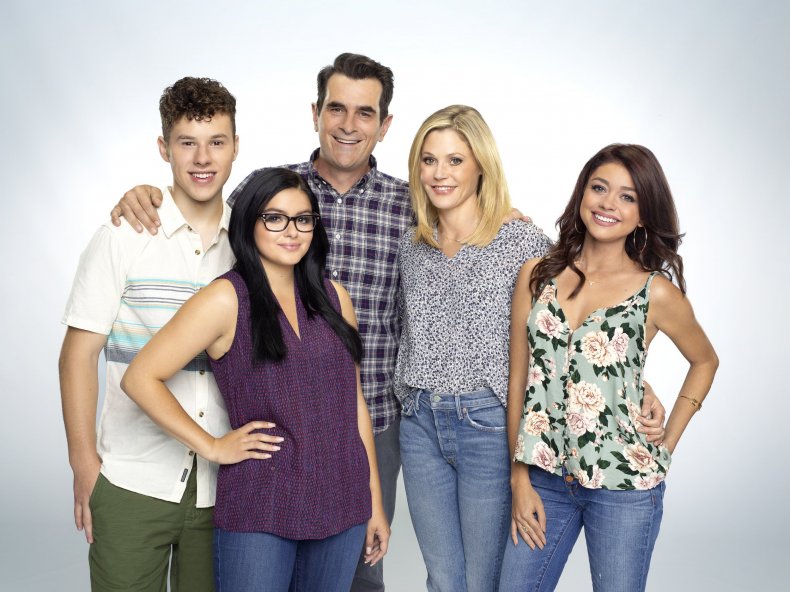 Fans had speculated which character would be written off the show in a morbid manner, and feared it would be a family patriarch like Jay or Phil. Some fans also thought Stella, the family dog, may be the one to go, but Jesse Tyler Ferguson, who plays Mitchell, confirmed the death would be a human, not an animal, in a conversation with E! News.
Dede's death was announced in the first minutes of the episode and allowed characters to grow with the news as the episode advanced. Mitchell and Claire took the news of their dead mother the hardest, spending much of the show waiting for the exact details of her death and reminiscing on her parenting. Their own involvement, with both heated memories and mourning, humorously played into the support of their husbands, both of whom were unsure how to positively support them while giving them space.
The show focused heavily on the positive and negative angles of motherhood. As showcased throughout seasons of the show, Dede's parenting was flawed, but within her odd tactics, the characters found love.
As expected, the looming death on Modern Family proved to be a powerful display of family, which honored different forms of mourning and family support in the hardest times. An uplifting sense of humor was still delivered among one of life's hardest topics.
Show creator Christopher Lloyd explained the decision to incorporate a death was necessary as a natural family occurrence in a September conversation with The Hollywood Reporter. He also mentioned the death will have repercussions throughout multiple episodes.