In the 10 years since Stéphane Bancel joined Moderna as Employee #2, the company has grown from a startup to a global juggernaut worth $80 billion. Nearly 60 million Americans have received the company's COVID-19 vaccine, which was developed in record time. Earlier this week Bancel spoke with Newsweek CEO Dev Pragad via Zoom about the challenge of managing a team through an extraordinary crisis. "We were chasing this virus and we knew everything mattered," Bancel said. He also discussed his hopes for future mRNA research and the possibility of curing cancer; his commitment to a "10x mindset"; and the risk, for leaders of fast-growing companies, of becoming boiled frogs.
The interview has been lightly edited for clarity.
Newsweek CEO Dev Pragad: Stéphane, before joining Moderna, you were the CEO of BioMeriux, you ran a company with several thousand employees and a few billion dollars in revenue, and you left it to join Moderna in 2011 as employee number two. By any measure that is a very risky move. What made you do this and why?
Moderna CEO Stéphane Bancel: So it was pretty simple. At the end of the day, if mRNA could become a safe and effective drug. This technology could change medicine forever. This is what I believed at the time. And the reason is very simple: with mRNA, you can not only do what you can do with recombinant technology, which biotech has used for 50 years now. But because the mRNA gets into the cells, you can make protein inside the cells or protein at the membrane of a cell. And that will present around two thirds of a protein in your DNA. And you cannot make those proteins using traditional technology. And so it was just a gigantic space of biology that you could have a drug that could not be [made into a] drug using mRNA small molecule, that pharma has used for 50 years. And so that's why I decided to do it, which is if we could find a way to make this work safely, you will change medicine forever.
Did your wife agree with your decision?
She did, of course—if not, I would not have done it. So it was a lot of discussions. And she got very excited about the idea that we could help people that could not be helped using existing technology.
I thought the chance of this working was 5 percent. So I wanted to be clear with her that it was crazy. I told the founding team when they talked to me to join as employee number two, I told them, this is crazy, this will never work—before I convinced myself that it might work. But my initial reaction was, this is crazy. So I wanted to be very clear that we are trying to do something scientifically extremely complicated. But if we could find a way to make it happen, you will change medicine forever.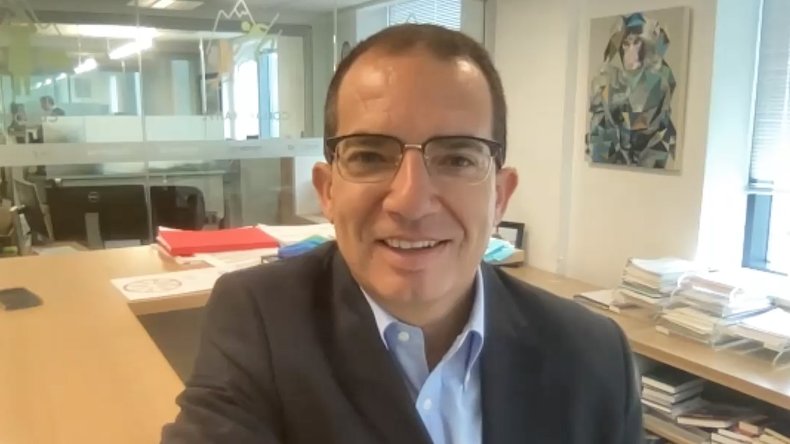 I want to touch a bit on your management. Under your leadership, Moderna has gone from a startup to one of the largest biotech IPOs in history, and is now a household name around the world. How did you organize the company for this moonshot growth and for the "10x mindset" that you've talked about?
The key, for me, is getting great people. It seems—it sounds—easy to say. It's very hard to do execution-wise. And also to always think about the next five years for the company, and to always reassess. Do we have the right board? Do we have the right management team for the next five years—not for what the last two years have been. And I think, in kind of a hyper-growth company, that's always the challenge—the company keeps on changing at a pace that is very unnatural. You know, when I used to work at BioMeriux, or Eli Lilly, companies are very mature and grow 3, 5 or 7 percent a year. And so the pace of change is slow.
When you work in a company which doubles in size every year, the pace of change is very high. And one of the biggest risks for management across the company is to forget that the company is not the same. A lot of the time, you know, when I meet with the leader of the company, I tell them, I wish I could change the company name. Because the hardest thing for me to do over the past 10 years, is every day I walk into my office as the CEO of Moderna. But as you can imagine, on day one when I was employee number two, I had no money; I tried to figure out who do we hire first, where do we find a lab? That was my life back then as a CEO. Now my life is: Okay, how do we grow from where we are? How do we get the booster in a clinic quickly? How do we hire people in Japan? Very different business challenges. But see, my job is still the CEO of Moderna.
The way I describe it to people is, you need to be very careful because the company—because of its hyper-growth—is boiling you like a frog, raising the water temperature a little bit every day. You don't feel anything. But at the end of the year, you are totally boiled. And that's the piece that I always advise people to think about.
I've told them as kind of a coaching advice, what I have done is at least once per quarter, spend a half day on a Sunday quietly with a pot of tea, and literally one page of paper at my home office to think about: Okay, for the next two and five years, what does Moderna need from me? Where's Moderna going? What should my job be? What are the new things I need to do? What are the things I need to stop doing. And this reinvention is actually already hot. If you don't do it actively, it boils you.
You've spoken a lot about the 10x mindset. Can you tell us a little bit more about how you try to enforce that within Moderna? What were the challenges you faced?
A "10X mindset" is a realization I had over the years, that if you ask people to drive a lot of change in a short amount of time, they can't. Because all the rational side of our brain tried to convince them it's not possible. But if you do not put a time frame on it initially, and just ask 10x questions very open-endedly, people become very creative. And if you can align on what those transformative visions of a company look like, then you can work backwards to think about what needs to happen a year before that, and the year before that, and the year before that, up to today, to understand what change has to happen to get 10X vision. Because if not, people think linearly. Compounding is a totally unnatural way to think about the world.
The human brain thinks linearly. And so if you want to do transformative work, I think you have to initially not time-constrain it. Because if you time-constrain it, then people become very, very rational. And they cannot dream.
What would you say were the handful of things you did correctly, that positioned Moderna to be the company that developed this vaccine that's transforming the world?
So first, I think we were extremely focused on doing great science. You know, the way I like to describe the company in the first two years, because we had no money, it was what I call spaghetti science, which is you try something, if it sticks on a wall because it works, great. If it does not, you try something else.
What happened to us two years in, is we got a big partnership signed with AstraZeneca. That got us a quarter-billion-dollars of cash up front. And so we could start to do high quality science. It's your own experiments. If something doesn't work, you get the entire team across the room, and we have a whiteboard. And you start brainstorming what could explain what we did not expect. Because when you're an experiment, you expect it to work. If it doesn't work, one of your hypotheses, or several of the hypotheses you had going into the experiment, was incorrect.
And I need to figure out which ones I need, to prove it that it was incorrect. So you can change your thinking about what you understand about the science, about the thing you are trying to do. We had to do very, very high quality science. And the other pieces were always very long-term focused.
We're very long-term focused. And when I say long term, I mean 5 to 10 years out, because it was very clear to us that you cannot do transformational science in six weeks, or a quarter. And so we're always willing to say, let some time go a bit slower. We go very deep on something that doesn't work. But we're going to bounce back so strong, because we're going to learn so much.
For us, it has been this obsession about learning and saying we're playing a very long game, and want to be the best company in the world. We understand that science. And we'll be willing sometimes to take a step back so we could go ahead and fast-forward, because we go very deep on mechanically understanding what's going on.
How confident or skeptical were people on your team that what you're proposing was actually do-able? Was it a challenge to lead scientists who are deep experts in the field when you are not one of them? And what advice would you give other CEOs who are in a similar position, trying to lead a team of experts?
I think it has changed over time. So indeed, in the early days, it was actually hard to recruit people. Because most scientists we would recruit or talk to, they will say, "What you're trying to do—mRNA as a drug? You're crazy."
So a lot of people did not join the company in the early days. And because we didn't have the scientific leadership that we have had since then, it was indeed a big challenge to first get high quality enough people. And then we brought the scientific leadership because the team was very, very small, to try to guide them. What really changed our life a lot is when Steven Hoge who is the President of the company and running R&D, joined us two years into the company's history, and then started to lead the science. That was a very transformative moment because on the one hand, we're getting more data, two, we have the capital to do science correctly, not spagetti science, and three, there was the right leader to lead the science because I'm not a scientist, I understand enough about the science.
And so for me, the advice to other CEOs is, how do you work through the transition phase? How do you go from being a very small company without the right resources to surrounding you, as a CEO, with talent you need to lead the company in the expertise you don't have.
It's simple with manufacturing. You know, I know enough about manufacturing, because I'm an engineer. And I worked four years at Eli Lilly manufacturing. But I'm not as good as Juan Andreas, who is currently running manufacturing. He's amazing. Twenty years in manufacturing, you know, Eli Lilly, running manufacturing for Novartis. How do you bridge that gap until you are able to get the right talent who can take it to the right place? A lot of time it's making sure that you engage people, so they come up with a solution. I think management's role a lot is to ask the right questions. You know, in the early days before Steven started on the science, I didn't know the scientific answers or how to get there.
But I was able to ask what were the key scientific questions, the business, the company needed answers for, so we could move the business forward into getting closer to product from science. And these are about asking the questions. But then I try to listen a lot. And that's a skill I think that I really got out of Harvard Business School, which is getting a group of diverse people on the table, and asking questions—not necessarily being the one able to answer every question.
Part of being a leader is dealing with criticism. There was a time when some press compared Moderna to Theranos. Some people criticized Moderna for not publishing enough scientific papers; some have commented on your harsh leadership style and lack of transparency. How do you manage and deal with such criticism?
First, it's going back to the context of what we're trying to do. In the early days we made a very conscious decision that because it [mRNA] was such a novel technology that could change medicine, one of our biggest risks was Big Pharma learning too early about our technology, and killing us. Because remember, we didn't have the right people, enough capital. And so our biggest nightmare in the first three, four years as a company, was we wanted as little people as possible knowing what we're doing.
This is why we did not publish. That is why for two years, we had no website. I mean, think about this: in today's world, any company with two employees and a dog can go have a beautiful website with flashy colors and so on, and try to pretend to be somebody they are not, that they wish to become. In our case, we did the exact opposite.
Very Moderna-like—which is, we didn't do whatever people do. We ask ourselves, what is best for the long term success of a company, so we can deliver on a mission to make amazing medicine for patients. That's the only thing that we're solving for. And that's a piece I think the people that are critiquing us from the sideline totally lost: who we were as a team. We're very mission-driven. The only thing we care about is figuring out, is there a way to make a safe, effective medicine using your mRNA. Because if we can do it once, because mRNA is information molecule, we can do it a lot.
There's another piece that most people did not appreciate about us, which is, it was very clear to all of us that this could not be a one-drug company. It was either going to be zero, because we run out of cash before we get a drug approved. Or it was going to be a massive platform with a lot of drugs. One-drug company makes zero sense from the beginning. And so because of that we had this obsession to not let patients down, to not let society down, because we were on this big mission. That, I think, allowed us to have very thick skin, to stick to our guns, to our strategy, to say we don't care about the naysayers. We don't care about people criticizing us. We know who we are. We're doing the best job we can. We're very mission focused, and if they need to see papers to believe. Well, we have to wait a few more years.
How did you manage your investors and stakeholders early on? It took 10 long years to generate revenue. What were the other challenges you faced in this long journey?
Yeah, so on the investor front, I want to say we were always very clear about the company we wanted to build. I've described a lot of elements: mission driven, very deep science, long term focused, patient focused. And so we were very clear about who we wanted to be, what our company wanted to be. I was always very transparent to investors. And so we turned down investors that had different objectives. Like some investors, as we're meeting with them to consider an investment, say we need to be more product-focused in the early days. And we said no, we want to be platform-focused initially. At the right time, we will become product-focused. But we think this platform can be gigantic, have enormous impact on patients over the next 10, 20, 30 years. We don't want to limit that long-term potential by pivoting the company too quickly from platform to product.
We were just very, very transparent about who we were, what company we wanted to build. And that we were going to do that, and that it was going to take a lot of time, it was going to be very risky. In the early days we got investors requesting to invest. And I said, I don't want to take any outside money until we have more key data. As a reward, it's too risky. If I lose my money, because I had invested—if Flagship loses their money—that's fine. That's fine. We walked into that situation, eyes wide open. But I had some people wanting to invest before we had more key data. And I said, I'm not taking your money. And so we're always being very disciplined, and very transparent, trying to build long term trust, because it was clear it was going to take many, many years to build this company. And so there was actually no upside, only downside, to not being truthful. That's true in any relationship. It's with investors as well. And so we spent a lot of time in the early days to understand what we wanted to build.
I meant to be very, very honest about it. And to be very true to yourself, even if it meant some time, like I think in late 2014, we turned down a $200 million check from the investor because he had a very different vision of what we want, what the company should become. And I told him, look, I need to be transparent, where this inventory is at, as well.. But we decided not to take his capital because we fought for the long-term sake of a company and our chance to deliver on the mission. It was going to reduce our chance to get there.
Noubar Afeyan, the co-founder and Chairman of Moderna, said, "To understand the genesis of Moderna, you have to understand Flagship." What can you tell us about Flagship and its relationship with Moderna?
Flagship is trying to do science that has not been done before. Flagship is not interested in doing incremental science, it's not interested to fund companies created by other groups. Flagship is interested to do groundbreaking science.
Having that mindset of saying, we're going to rather take the 5 percent chance to be the company that's going to change medicine versus 95 percent chance to build an average biotech company of one drug and go pray every morning that we pick the right drug, because as you know, most drugs fail, I think this is a Flagship kind of mantra, and that resonated a lot with me. The only reason it made sense for me to leave BioMerieux is not to try to do one drug. That's like going to Vegas at 5 percent chance or 10 percent chance of launching. It was, how can we have a very profound impact on the world? And that's kind of worked for my personality as well.
This brings us very nicely to Moderna as a platform company. Melissa Moore, your Chief Scientific Officer for Platform Research, defined Moderna as an iPhone on which there are many apps—which could be vaccines and therapeutics—that can be launched. How many types of vaccines and therapeutics can you develop on your platform? And how scalable is this? And is this the new way of making drugs from here onwards?
It depends what time frame you're thinking about. What we know today is the vaccine modality, as we call it, some vaccine applications are working very nicely, as we learned in the last six to nine months. We believe we can do thousands of vaccines like this, with exactly the same technology, you just change the order of four letters of life on the message, like zeros and one on a piece of software. And you go make another vaccine. We have nine right now in development, we will have many more coming soon that are being worked on in the labs right now, that are not yet in clinical development, they are going to come very soon. I think we're going to totally disrupt the entire vaccine business forever.
Then we have five other applications on the therapeutic side, from getting into the liver to treat rare genetic disease in the liver, to cancer to cardiology. We are working with our colleagues at Vertex Pharmaceuticals to get mRNA through your mouth, into your lungs.
We announced a few weeks ago at our annual Science Day that we've developed a new delivery system to get mRNA via an IV to go into your stem cell in your body. It can do a lot of cool things, in terms of organ regeneration, in terms of autoimmune disease, and so on, that we're very excited about. So if you ask me, what do I believe, I believe in the next 10 to 20 years, there will most probably be five to 10 to 15 different families of medicines. Each family of medicine could be 10 to 20 to 40 different drugs. So it's a very, very broad platform that I believe over the next 10, 20, 30 years is going to really disrupt medicine in very profound ways. I mean, we talked about vaccines a lot because of the COVID-19 vaccine. But one drug, for example, that I'm very interested in is a drug, which is a therapeutic, called VEGF. It's the name of a protein you have in your DNA, that we inject in people's heart after a heart attack, right now.
And the thesis behind this drug is if you survive a heart attack, you will most probably die of heart failure because your heart's ability to pump blood—your heart muscle—has been so damaged during the infarct. If you survive a heart attack you are going to have a heart failure. You're going to live between your bed and your sofa all day long. You won't be able to do much else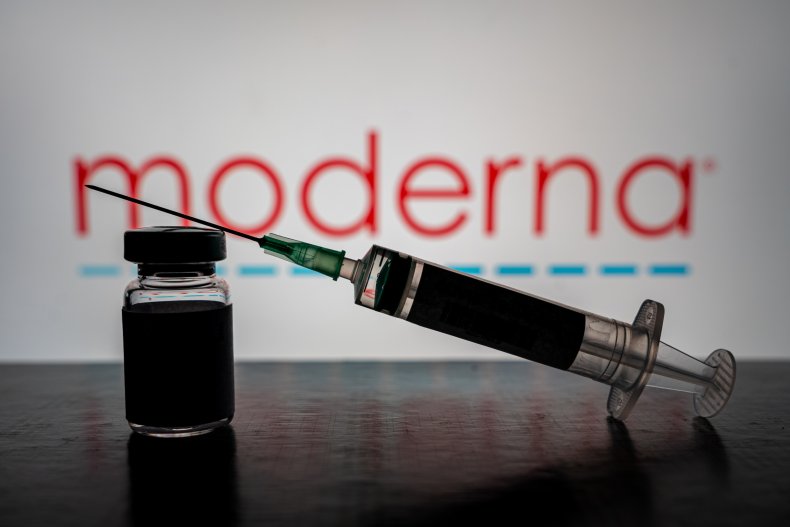 Well, what if you could inject in your heart within 48 hours of the infarct, mRNA coding for protein VEGF and the thesis behind this, which we showed in pigs, the phase one looks very good. And now it's in phase two in people's heart, is if VEGF will get stem cells coming from your bone marrow into your heart muscle where you inject the drug, to build the brand new blood vessels. VEGF, you use when you cut yourself, if you cut yourself and you bleed, because you sectioned blood vessels. And you bleed because the blood is leaving the blood vessels of the pipes. So when you cut yourself, your body will make the site of a cut, will make VEGF protein. VEGF are almost like a little flag telling the stem cell—hey guys, there's a problem here, come here. And they build the brand new, baby-like blood vessel.
And so the idea is to drug that protein in people's heart. So just to give you a sense of a type of things that look like science fiction, in medicine, we are already doing it in the clinic that we think has a high chance of working. And there's many many more to come.
How is Moderna positioned to build all these things? Are you looking for a partnership? Are you going to build this all in-house?
It's a great question. In the early days, because we had no money and no expertise, we partnered a lot. And as the company has developed more and more, we partner less and less. If you look at the company now, you know we have shown we can do successful Phase Three. We have shown we can get the FDA to authorize our products; we have shown we can commercialize products at gigantic scale. You know we're trying to make a billion dollars this year. We know we have delivered a lot of doses to the US government and to many governments around the world. And so we have a lot of cash now. The company is sitting on, at the end of q1, $80 billion of cash. So we have capital, we have teams, we have capabilities.
We'll do, I think, very focused partnerships when they make sense. I think the Vertex example is a very good one. We wanted to go into the lung. Vertex wanted to figure out how to deliver mRNA to the lung. That was a nice partnership. Vertex is the best company in the world for cystic fibrosis. Why would we hire people to reinvent the wheel? The practical answer was, let's do together that one drug. But Moderna is going to go after many drugs in the lungs alone. You should expect less partnership than what we did in the past.
I want to touch a bit on cancer because we all have friends and family who have suffered from cancer. And I remember in the last conversation you said, you know, in a matter of years, not decades, we can cure cancer. How can mRNA help cure cancer?
I think there's been two amazing scientific discoveries around the world in the last 10 years that have already changed how we as an industry think about cancer. First is that it's now well understood that cancer is a disease of your DNA. A cancer cell is basically a cell that goes "crazy", because it has, you know, mutation of the DNA, it's not like a natural cell of your body, healthy cells of your body anymore.
And the second piece that we learned is that T-cells in your white cells, the T-cells job is to eat cancer cells like Pac Man.
Once you understand those two things, it's a huge step forward for the industry, to start to understand what you do in terms of drug application to leverage those two scientific fundamental discoveries. That's what we're trying to do now. So today, we have five drugs in the clinic. Some were trying to teach your immune system, via a vaccine, what from your cancer cell has been missing because if you develop cancer as a disease, it's because your immune system was not able to eat your cancer cells when they emerged in your body. It is now known in the field that all of us have already had cancer many times in our lives, even if we've never been sick with cancer. And that if you're healthy, if you sleep well, if you eat well, if you support a healthy immune system, we'll go and eat your cancer cells early like Pac Man. And so you will not develop large tumor cells that will then start to metastasize and grow all over your body.
That's one approach: using cancer vaccines to teach your immune system the mutation of your cancer, the genetic mutation of DNA of your cancer cells that your immune system did not see because you had a big stress in your life, you went through divorce, you lost a kid, etc. Look, a lot of time, people have cancer 10 years after having other trauma in their life.
And of course people get more cancer as they get older because the immune system becomes weaker.
The other approach we're having is to inject mRNA straight into tumors, to try to do protein in your tumor, that if you were to give those protein all around your body via a natural IV, like traditional medicine, you would get very sick, because they are very, very potent, nasty molecules. But people can give it to you very locally by injecting therapy into a tumor. So it's a bit like a biopsy, but instead of pulling on the needle, you press and put the product into the tumor.
So that's kind of what we're trying to do with cancer. Trying to combine our mRNA medicine with other medicine in cancer to get a better response for people that have cancer. I don't know if I will use your word "cure," which is a very loaded word in our industry. But I think you get to a place of treatment where you can live a very healthy life with cancer. Some people might get cured of cancer. That's already the case with immunotherapy when it works. Some people might just be able to live with a cancer, like people live with diabetes today. If you control your blood glucose you can live with diabetes, to very old age, a very healthy and active life, but you still have a disease of diabetes. So it's about how we think about cancer, which is why some people might get cured; many people might just live with cancer but with a very high quality of life. And that would be wonderful.
How long are we looking at before these things become reality, become available to the public?
We're talking, again, years, not decades. You already have a lot of wonderful drugs coming from the industry. And what we're trying to do with mRNAis to build complementary drugs to be injected with the pharma drug to get a better response--that you get more people that will have, let's say, a complete response or cure.
Let's focus a bit on COVID, going back to December 2019 or early 2020. The reports of coronavirus in China emerge. What went through your mind at that moment? When did you have this aha moment: we at Moderna are best positioned to launch a vaccine to cure this. How did you rally your team to launch a vaccine for Phase One trial in less than two months, which I believe is the record?
So there were two phases, I think, in how we felt about SARS-CoV-2 (even though at the time it had no name). This new virus from China—we initially thought it was going to be an outbreak like SARS, or MERS. Pretty short-lived, pretty local. And so initially, we decided it was worth, given the speed of our technology, to try to be helpful. We developed the vaccine in 48 hours in computers. Then we went to the factory in Massachusetts to make the vaccine that indeed, on March 16, in 60 days, went to the clinic with the help of Dr. Fauci's team.
And that was kind of the initial plan to say, look, we're going to get the drug in the clinic; hopefully, it can be helpful. And that was kind of it.
What changed our view as a company was my trip to Davos the week of January 25, 2020, with the chance to spend a week with two amazing infectious disease doctors. So Sir Jeremy Farrar, who runs the Wellcome Trust, Dr. Richard Hatchett who runs Coalition for Epidemic Preparedness Innovations (CEPI) and it became very clear to me that first, the data that they were getting through their network was much worse than the data we're getting in the media from China. Two, it had already spread to quite a number of countries. And it had seven to 14 days incubation time: it was already most probably present all around the world.
Because you know, if you look at Google flights, which I did, you realize that there were already flights to all the big capitals in Asia and Europe and the big cities on the West coast of the U.S. And the fact that it was reported that young adults on the original strain—which is different now with the variant—and a lot of the cases were asymptomatic. It was pretty clear it was already everywhere on the planet, and spreading quickly because it's a respiratory virus—the worst kind of virus in terms of speed of spreading. Because we are social animals, we spend time with each other. And we spend time inside in winter. So we pivoted the company from "Let's be helpful in an outbreak" to "Oh s---, it's going to be a pandemic like 1918." And then just rallying the team on how do we move these drugs as fast as we can, because it's going to be very long and very painful for the planet.
This is not a trick question, but I'm very curious to hear whatever thoughts you can share. Recently the media has reported that the virus may well have leaked accidentally from the virology lab in Wuhan. (Newsweek was one of the first to report this likelihood in April 2020. ) What's your view on that?
Yeah, I think it's possible, I have no data to believe this is what happened at this stage. But if you think about what could have happened, the virus could have come from animals. As you know, in China, a lot of live animals in markets, very close to humans; sometimes they take the animals alive to the house, keep them in the house for days or weeks. So that is not good for virus jumping species. So that's a possible hypothesis. The other one indeed, is that, as we know, there is a P-4 lab, this is the highest level of bio-security lab in the world. And humans make mistakes. In any line of work, humans make mistakes.
Is it possible that some technicians while working in the lab in very heavy, complex protection gear would have an accident in the lab and cut their protection gear and infect themselves by accident, even without noticing it?
Yes, it's possible in any lab of that type in the world. Is it possible that somebody getting infected, goes back home that night and infects a family without realizing it? Because they don't even know they're sick because of incubation time. And then it's passed around quietly for a week or two. And again, some young people being symptomatic or having what it looks like a cold in winter will not surprise anybody. So until you start to have a few people getting to the hospital, you could have had these things spreading even more for two out there without people realizing it's bad. And by then, you know, the cat is out of a bag and here you go, we have a global pandemic. So is it possible? Yes, it is possible. Do I have any data making me believe it is human mistake in Wuhan with virus escaping the lab? Or the market hypothesis. I have no data to believe one scenario more than another. But from a probability standpoint, it is possible.
Here's a hypothetical question. If COVID had not happened, what would have been Moderna's trajectory?
The plan pre-COVID was to launch a first vaccine, a CMV cytomegalovirus, the number one cause of birth defects in this country and around the world—more than Down syndrome in the 2024 - 2025 timeframe. So we would have been a few more years working on our clinical plan, getting more drugs to the clinic, raising more money every 12 to 18 to 24 months from the capital markets to get to that place, very much like other biotech companies that have become commercial, have been successful are doing. I think Alnylam [Pharmaceuticals] is one of the better examples. It's on AI, it's a technology doing the opposite of what we do, but they don't make protein—they turn off protein from your body. They are a rare-disease company, are having over four products approved. And they developed over a 20-year time frame. And they did roughly what I described.
So we know it was possible. There was no plan, because of course, none of us planned for the pandemic.
So COVID transformed your company, right? It kind of turbocharged what you were hoping would have happened four or five or six years from now. It accelerated all these things. How did you have to change your company and your management style to meet the new timeframe?
As you can imagine, the last 18 months have been extremely intense. I have to give extraordinary kudos to the team. We have worked seven days a week for 18 months, at a very high personal sacrifice. People had an incredible sense of duty. Not once I had to ask people to work more, or to keep pushing, or to do something more.
It's really amazing about human beings—the sense of protecting, or helping others, is very strong in us as a species. It has been really a privilege to lead the team. It has been about framing the problems, framing the priorities, making fraught decisions, because a lot of time you want A and B and C, and you can only do A or B or C. And part of management is to mingle with a team to figure out if we understand the upside and the downside of every decision—and then deciding. Because as you know, in a time of crisis, indecision can be fatal.
That's what we have been through as a team. Again, given the extraordinary situation, it made it almost easier for all of us versus normal business time: we were chasing this virus, we knew everything mattered.
We got a lot of people helping us; Operation Warp Speed was amazing. General [Gustave F.] Perna and Dr. Moncef Slaoui were just amazing. The funding we got from Congress, from the U.S. government to allow us to not compromise quality or safety, but to go very fast, because we had the financial resources to do everything as we could in parallel without compromising safety. So you know, our manufacturing partners, the FDA, the speed of a review has been phenomenal. I've not seen that in 25 years of being in the business. And so a lot of things happen because a lot of people pull together for the sake of saving as many lives as we could.
Your company is playing a pivotal role in bringing an end to this global pandemic. How do you and your key team feel about it?
We're still very focused on getting the job done. The job is not finished. I know for now, having a chance this weekend to walk around Boston, going to lunch with my wife, it's just an amazing feeling to see people outside with no mask, together, hugging each other and going to restaurants and having a life again. So that feeling is wonderful, obviously.
But the job is not done. You know, Latin America still has incredible outbreaks. Southeast Asia has incredible outbreaks. We all followed closely the human tragedy in India recently. The UK as you know is very worried of an uptick in cases of the Delta variant. The job isn't done until the planet is vaccinated, which I believe will happen in the second half of 2022. There is no way in the world in which this can happen this year. Just because there are not enough manufacturers
And if you think about it and mRNA being a new technology, there was zero manufacturing capacity existing in the world when we started chasing this virus. Everything has been built. Yes, the output is going up month by month, week by week, but it's not yet enough to provide vaccines for everybody. So the job is not done. And the team is still very focused, like the case at all the vaccine companies, to make as many doses as we can. To get the pediatric, young children are indication approved so that we can really vaccinate everybody because the last thing we need in the fall is a new variant infecting a child, having mild symptoms, infecting parents or grandparents. And we go back into hospitalization and go back into lockdowns. So the job is not finished and we're very focused on it.
Do you think there's a chance some of these variants could become so severe that they could bypass the current vaccines?
I think it's a very serious risk. We don't have enough data today to know which variant is going to come in the future. But even if you look at some of the new variants, like Delta, for example, as I was mentioning in the UK, in the UK, you have a lot of people that have been vaccinated. With Adenovirus vaccine because we know the UK has been mostly AstraZeneca and some Pfizer and Moderna. But you see people that were vaccinated six months ago, starting to get infected again, same thing in India. I already believe we're going to need to boost people, ideally with variant specific booster so that we teach your immune system, the new code, the new virus circulating of the old virus that is 18 months old, so that you can the best protected placebo so that you can go from a winter without risk. So I believe that the virus of concern has that name, not by accident from the WHO and the public health experts. I believe through booster and vaccinating the population, we're going to get this under control. But as I said, it is in my opinion more than a year from now.
Is that a chance this could become like the flu vaccine that we take every year?
Yeah. That's what we believe, we believe this is going to become an epidemic. This virus is not leaving the planet. So we believe we're going to need regular boosting. One of the exciting projects we're working on at Moderna is to combine in the same dose, a COVID variance booster and flu seasonal booster into a single shot. You can get at your local CVS or GP or pediatrician, you know, in their September timeframe. And you have a nice fall and winter. That's what we're working towards.
Finally, I have to ask you about your experience at Harvard Business School. You did an MBA in 2000, you came back for the Advanced Management Program. I met you in the Owner, President Management program. How valuable has the HBS experience been in shaping who you are today?
I think very, very profoundly impactful, in the sense that, you know, I learned a lot about management and general management and all of the different functions that make an enterprise work. The enterprise is a system. And so if you have great manufacturing, but poor marketing or great finance and poor manufacturing, you're not going to go very far. I think about the enterprise as a system where you need to keep all the pieces strong, because like any chain, the weakest link defines the strength of a chain. I really learned a lot about that.
The piece that was very profound for me is it always made me think a lot. They start every case by teaching you the context of a situation. I always ask my team about the context because things evolve a lot, as I said earlier, you know, Moderna in the early days and two years in, and now, it's not the same company, even though you see the same name on the door. Understanding the context that people are dealing with is very important. And this was a key piece of education I got from HBS.
And the other piece I think is around the diversity of opinion. I was always surprised: I would read a case at night and thought I really understood it and walk into class and have a doctor or a banker or somebody from another field take a very different spin on how they analyze the case. That's always made me very humble and always wanting to have around me a team of women and men who are very different personalities, different experience, different training, so that we can really wrestle an issue to the ground to try to find the best outcomes. So we could do our job, which is to deliver on the mission of a company. And so that's what has really been very profound in how HBS has shaped my thinking.
Stéphane, thank you so much for your time.