Moderna's chief medical officer has said he suspects the Omicron variant of the coronavirus may elude current vaccines.
If that is proven true, a reformulated vaccine could be available early in 2022, Paul Burton said during an appearance on the BBC's The Andrew Marr Show on Sunday.
"We should know about the ability of the current vaccine to provide protection in the next couple of weeks, but the remarkable thing about the mRNA vaccines, Moderna platform is that we can move very fast," he said.
"If we have to make a brand new vaccine, I think that's going to be early 2022 before that's really going to be available in large quantities."
Burton said Moderna had mobilized "hundreds of people here in the U.S. and around the world" on Thursday, as alarm grew about a new variant identified by researchers in South Africa.
In a statement on Friday, the World Health Organization designated it as a "variant of concern" and said "preliminary evidence suggests an increased risk of reinfection with this variant."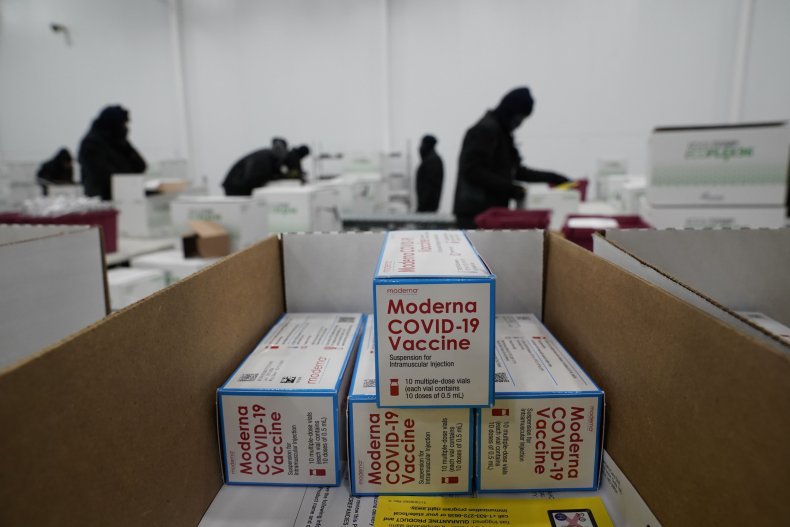 Much remains to be learned, but researchers are concerned that the Omicron variant could be more resistant to the protection provided by vaccines due to mutations of the spike protein that allows the virus to enter the body.
"These mutations, at least 30 of them in the spike protein alone, nine of them known to be associated with immune escape, another 11 predicted to be associated with immune escape," he said. "You bring those together I think this is a very concerning virus."
But Burton said current vaccines could provide protection, depending on how long it's been since a person initially got vaccinated or received their booster shot.
He urged those who remain unvaccinated should get vaccinated with an available vaccine or if eligible, get their booster shots.
"I think the message now is if people are on the fence and you haven't been vaccinated get vaccinated," he said. "This is a dangerous looking virus, but I think we have many tools in our armamentarium now to be able to fight it so I'm optimistic."
In a news release on Friday, Moderna said the company is "working rapidly" to test its current vaccine against the Omicron variant.
"Since early 2021, Moderna has advanced a comprehensive strategy to anticipate new variants of concern," the company said in the release. "The company has repeatedly demonstrated the ability to advance new candidates to clinical testing in 60 to 90 days."