Moderna Combo Single Dose COVID/Flu Booster: What You Need to Know
Moderna announced on Thursday that it is developing a single dose vaccine that protects against COVID-19 and the seasonal flu.
The pharmaceutical company said in a press release that it will combine a seasonal flu booster vaccine and the COVID-19 booster vaccine (the third dose) into a single shot. The company believes that it could be the first in the market with a combined COVID and seasonal flu vaccine.
"Today we are announcing the first step in our novel respiratory vaccine program with the development of a single dose vaccine that combines a booster against COVID-19 and a booster against flu," Moderna's CEO, Stéphane Bancel, said Thursday.
A company's spokesperson told Newsweek that Moderna hasn't yet determined when the combination COVID-19/flu vaccine will begin clinical trials, but confirmed that it's currently advancing the single COVID-19 booster vaccine.
During a presentation on Thursday, company officials said the single COVID/flu vaccine will be able to boost preference and convenience among people who will take one shot instead of three injections and will reduce vaccine administration costs.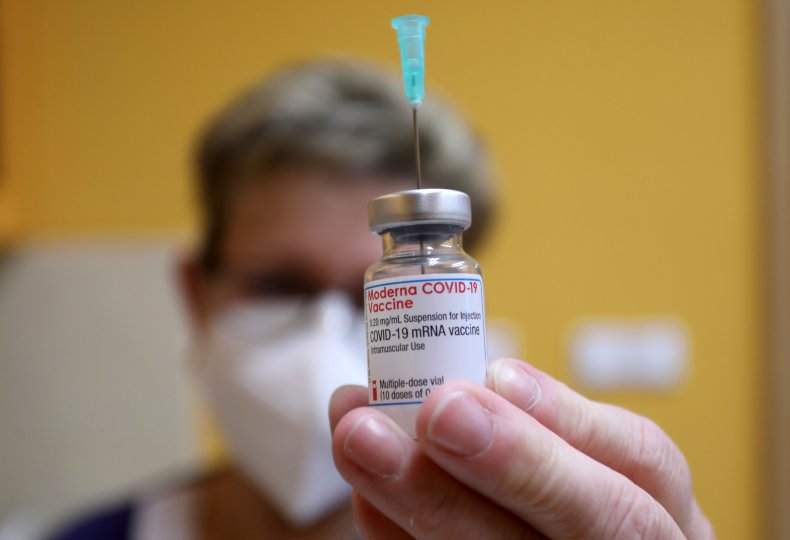 According to company analysis, the Moderna COVID-19 booster vaccine showed in tests that the dose level induced robust antibody responses and is able to protect against all forms of COVID including the highly transmissible Delta variant.
In efforts to make the booster COVID dose available for the public, the company submitted to an Emergency Use Authorization with the Food and Drug Administration (FDA) and to the Conditional Marketing Approval with the European Medicines Agency (EMA) among other regulatory agencies, according to Moderna's spokesperson.
The Moderna vaccine might miss President Joe Biden's goal of September 20 to roll out booster shots as the company continues to wait for the booster dose approval.
The Centers for Disease Control and Prevention (CDC) has also not yet signed off on approval for the third dose of the Moderna vaccine, as they are still awaiting critical data and will likely not meet the target date.
One official from the Biden administration said that Moderna did not provide adequate data for the FDA and CDC to recommend the booster shot. The additional data required by the FDA may delay the booster shot until October.
Biden said on August 18 that health experts are aiming to be prepared to administer the booster shots by September 20 for those who received the two doses of either the Moderna or Pfizer vaccines, or the first dose of the Johnson & Johnson COVID vaccine.
"Just remember, as a simple rule—rule: Eight months after your second shot, get a booster shot," he said.