Moderna COVID Vaccine Approved for Use in U.K
The Moderna COVID-19 vaccine has been approved for use in the U.K. It becomes the third jab to be approved for use after the Pfizer/BioNTech and the Oxford/AstraZeneca vaccine were approved by Britain's health regulator.
The British government has ordered 17 million doses of the Moderna vaccine, however supplies will not be delivered until the Spring.
The U.K. Medicines and Healthcare products Regulatory Agency (MHRA) gave the Moderna vaccine the green light Friday afternoon. U.K. Health secretary Matt Hancock said: "This is further great news and another weapon in our arsenal to tame this awful disease.
"We have already vaccinated nearly 1.5 million people across the UK and Moderna's vaccine will allow us to accelerate our vaccination program even further once doses become available from the spring.
"While we immunize those most at risk from Covid, I urge everyone to continue following the rules to keep cases low to protect our loved ones."
Prime Minister Boris Johnson announced on Thursday that almost 1.5 million people have been vaccinated against COVID-19 in the U.K. The British government hopes to have vaccinated 15 million people in the U.K. by mid-February.
Vaccines are being given to the most vulnerable first, as set out in a list of nine high-priority groups. The prime minister hopes that by the February deadline care home residents and staff, frontline National Health Service (NHS) staff, everyone over 70 and those who are clinically extremely vulnerable will all have been vaccinated.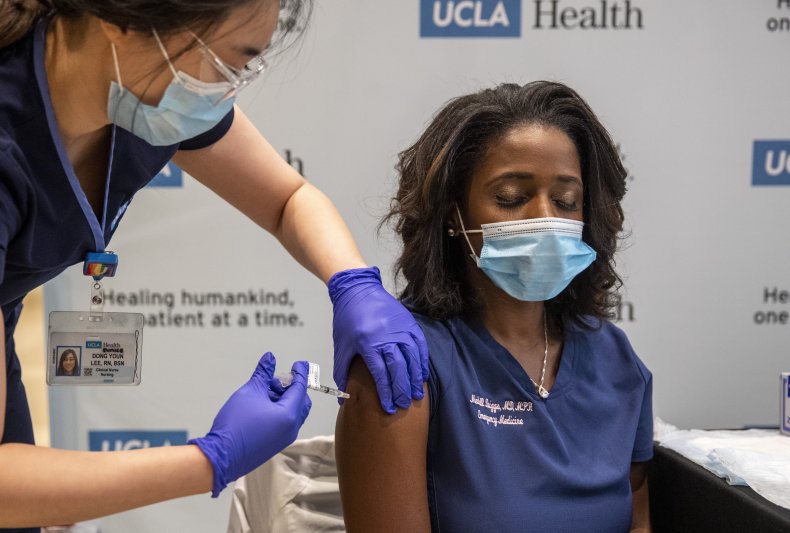 The U.K. had originally ordered 7 million doses of the Moderna jab, but increased this by 10 million as it began its ambitious vaccine program. In total, the U.K. has now ordered 367 million doses of vaccines to protect against COVID-19.
The Moderna jab was approved in the United States by the Food and Drug Administration (FDA) last month, clearing the way for millions of doses to be released. The U.S. has agreed to purchase 200 million doses, with regulators reporting it safe and 94% effective.
Much like the Pfizer vaccine, the Moderna jab requires a second booster shot, 28 days after the first. But unlike the Pfizer vaccine, which has to be kept at -75C, Moderna's requires temperatures of around -20C for shipping - similar to a normal freezer, making transporting it far easier.
The AstraZeneca jab is even easier to store and distribute, as it can be kept at normal fridge temperature.
EU regulators have already approved the Moderna vaccine, which is a new type called an mRNA vaccine that uses a tiny fragment of genetic code from the pandemic virus to teach the body how to fight COVID and build immunity.