Moderna COVID Vaccine More Effective Than Pfizer: 'Tremendously Exciting'
Biotechnology company Moderna has reported its experimental COVID vaccine is over 94 percent effective, higher than the 90 percent reported by Pfizer last week. Moderna said in a press release on Monday it had been informed by an independent monitoring board that its vaccine, named mRNA-1273, was 94.5 percent effective.
The announcement comes a week after American pharmaceutical firm Pfizer and German biotechnology company BioNTech said their COVID vaccine candidate was 90 percent effective in preventing COVID-19, followed by similar reports from Russia and China.
Moderna plans to ask the U.S. Food and Drug Administration for an emergency use authorization for its vaccine "in the coming weeks." The company said it is working with bodies including the U.S. Centers for Disease Control and Prevention to prepare to distribute the vaccine in the event it is authorized. It expects to have approximately 20 million doses ready to ship in the U.S. by the end of 2020, and is on track to make between 500 million and 1 billion doses globally in 2021.
The company revealed the results after enough volunteers in the study caught COVID, prompting an independent monitoring board to unveil who had taken placebo and who received mRNA-1273.
More than 30,000 people in the U.S. are involved in Moderna's phase 3 study. That included those at risk of serious COVID, such as people above the age of 65 and those with certain underlying health conditions, as well as members of communities often underepresented in trials, such as people of color.
The company arrived at the figure of 94.5 percent after 95 participants developed COVID-19. Of those, 90 were given a placebo, and five took mRNA-1273.
Scientists also looked for severe cases of COVID-19 among the participants, and found 11. These volunteers were all in the placebo group.
No significant safety concerns have emerged so far, and the vaccine appears to be safe and well-tolerated by participants, according to Moderna. Side effects included pain at the site of injection, fatigue after participants received their second dose, muscle or joint pain, headache, and redness at the site of injection. These were "short-lived" in volunteers.
Moderna said its findings may change after more data from the study is analysed.
When the study is complete, Moderna plans to publish its findings in a peer-reviewed journal. Pfizer similarly released its vaccine results as a press release instead of a peer-reviewed journal article last week, prompting scientists to advise people to approach the claims with caution.
Both Pfizer and Moderna's vaccines use what is known as an mRNA platform. This approach uses the genetic information for a spike that the coronavirus uses to enter our bodies, and makes our own cells display it so we can develop immunity. It has never been used in a commercially available vaccine for humans before.
The graphic below, provided by Statista, shows the claimed efficacy of the current vaccine candidates.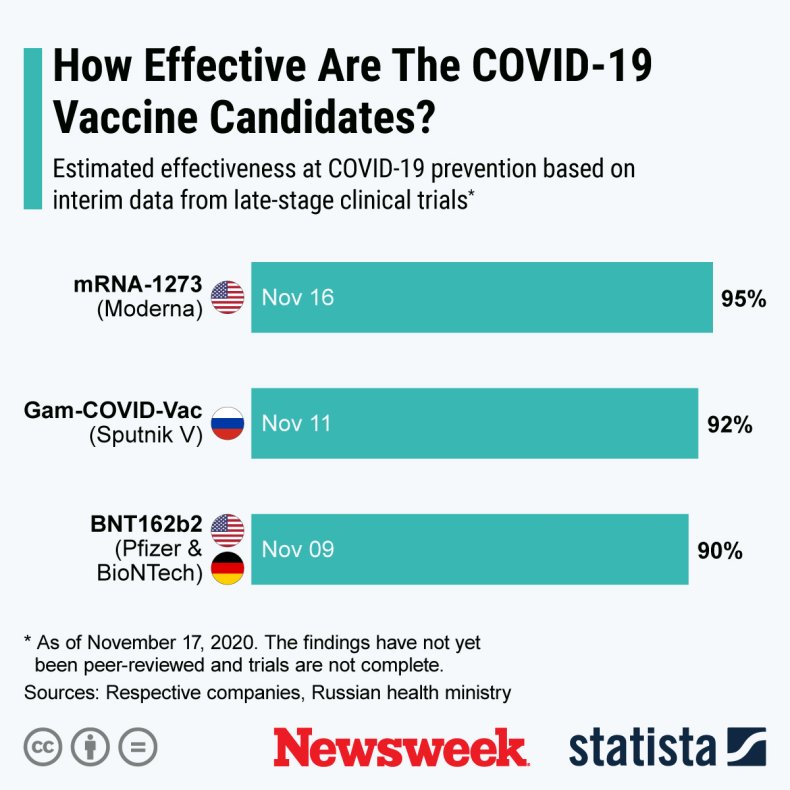 Scientists not involved in the research welcomed the news. Peter Openshaw, professor of experimental medicine at Imperial College London in the U.K., said: "This news from Moderna is tremendously exciting and considerably boosts optimism that we will have a choice of good vaccines in the next few months. First we heard 90 percent efficacy from Pfizer and BioNTech, then the Russians said 92 percent and now Moderna says 94.5 percent.
Trudie Lang, director of The Global Health Network at the Nuffield Department of Medicine at the U.K.'s University of Oxford, said: "It is very good news indeed to see another vaccine coming through with similar efficacy results as were reported last week from Pfizer."
Commenting on the diversity of the trial participants in terms of age and ethnicity, Lang said: "This is really encouraging and it further demonstrates that a vaccine for COVID is a real probability and that having more than one supplier should help assure better and more equitable global availability."
Stephen Evans, professor of pharmacoepidemiology at the London School of Hygiene & Tropical Medicine in the U.K., said: "This announcement from Moderna is a further encouragement that vaccines will be found to not only have an acceptable efficacy, but an efficacy that is much greater than we had anticipated."
The minor adverse effects reported were "unsurprising and typical of almost any vaccine," he said.
There is statistical uncertainty in Moderna reporting over 94 percent effectiveness, but is likely to be above 85 percent, "which would be greater than most scientists would have expected," according to Evans.
Evans said: "This is the first study to report on severe cases and, while uncertainty remains, the finding of no severe cases with the vaccine and 11 cases with placebo is very strong evidence that the vaccine prevents severe as well as mild disease."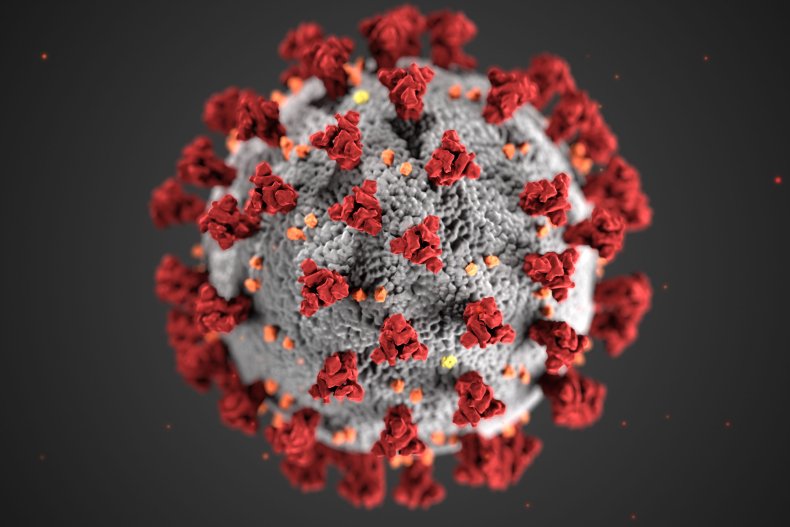 This article was updated to include an infographic.