Stainless Steel Fragments Found in Moderna Vaccine Shots
A batch of Moderna COVID-19 vaccine in Japan has been tainted by stainless steel, an investigation has found.
The Japanese distributor of the jab, Takeda Pharmaceutical Company, told Newsweek in a joint statement with Moderna, that the contamination was unlikely to pose any medical risk.
Takeda had announced on August 26 the suspension of the use of three batches, totalling 1.63 million doses of the vaccine, following reports from vaccination sites of a foreign particulate found in vials.
An investigation involving Spanish pharmaceutical company Rovi, which bottled the vaccines, found that the substance in one batch was most likely caused by friction between two pieces of metal in the stoppering module of the production line, which had been incorrectly set up.
"The two pieces are the star-wheel and the stoppers feeding device piece which feeds stoppers into the star-wheel," the statement said.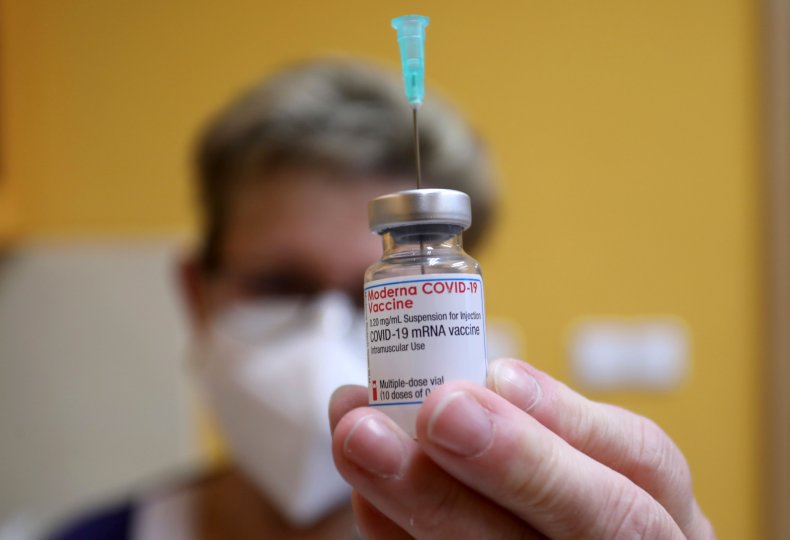 The statement said only one of the batches suspended was contaminated and Rovi had taken measures to correct and prevent future incidents.
"The rare presence of stainless steel particles in the Moderna COVID-19 vaccine does not pose an undue risk to patient safety," the statement said, noting that such steel is routinely used for items like heart valves and joint replacements.
It added that metallic particles of this size injected into a muscle "may result in a local reaction, but are unlikely to result in other adverse reactions beyond the local site of the injection."
Its statement said that there was no evidence that two deaths which followed the administration of the vaccine from one of the batches were linked to the administration of the vaccine.
"The relationship is currently considered to be coincidental. It is important to conclude a formal investigation to confirm this."
Moderna shots were temporarily stopped in other regions this week after foreign substances were found in unused vials, and bits of the vials' rubber stopper broke off when needles were incorrectly inserted.
A batch of Moderna was suspended in Kanagawa Prefecture after a pharmacist had discovered black particles in one vial of the vaccine, the BBC reported on Wednesday.
On Tuesday, Japanese Health Minister Norihisa Tamura said that foreign matter found in jabs in the southern prefecture of Okinawa were due to needles being incorrectly inserted into vials leading to pieces of rubber entering the vaccine.
It comes as Japan battles against a wave of COVID infections with daily numbers going past 25,000 during August for the first time. On Wednesday, there were 20,031 new cases across the country including 3,168 recorded in Tokyo, Reuters reported citing national broadcaster NHK.
Less than half the population, (45.4 percent) has been fully vaccinated which is behind the rate of several developed countries.
UPDATE 9/01/21 11:56 a.m. ET: This article has been updated with a statement from Takeda and Moderna as well as further information.