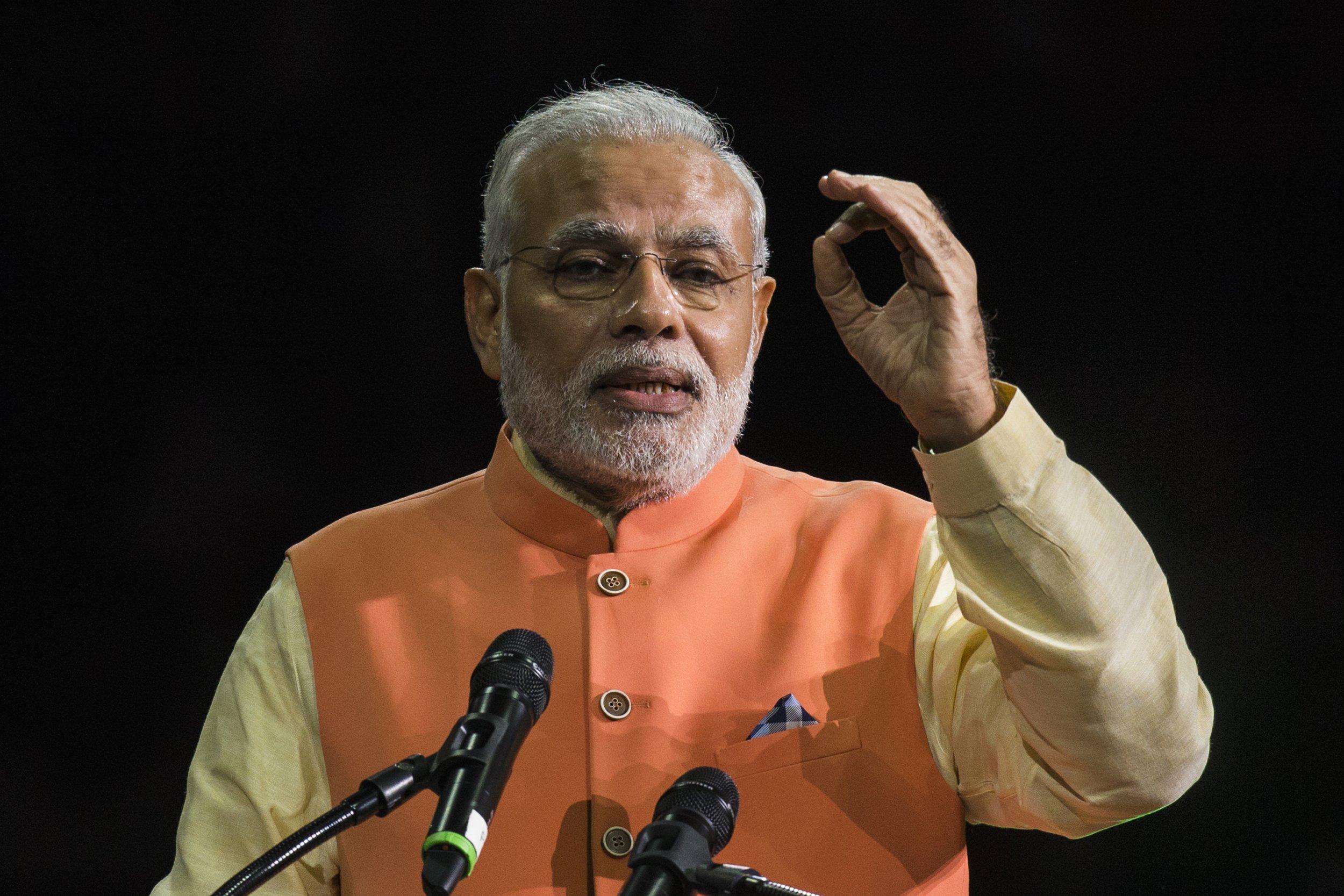 Narendra Modi, India's prime minister, made an emotional appeal to Americans of Indian descent to follow Mahatma Gandhi's example and give back to the old country, either by returning to live there or by employing Indians to make goods sold in America. "India has the capacity to dominate the world," he told a packed Madison Square Garden in New York Sunday.
Modi, on a five-day visit to the U.S., told his American supporters that India was no longer a nation of snake-charmers and that he was mounting "a people's revolution" that would mobilize India's 1.25 billion citizens to transform his country. Boasting that 65 percent of Indians were under the age of 35, he said that by 2020 young Indians would be needed to work for the old and the poor in the rest of the world.
But his message to the audience of American immigrants whose families came from India was that they should follow the example of Gandhi, whose protest movement led to the independence of India from British rule in 1947. Gandhi, he reminded his prosperous American backers, was also an immigrant and, trained as an attorney abroad, could have spent the rest of his life living comfortably in Britain or South Africa.
But he chose to return to India and pay back the loan he owed to his country. Modi said it was now time for all Indian immigrants to consider how they should repay their Indian parents, their Indian schools and all the other benefits they have enjoyed from growing up with an Indian culture. They could follow Gandhi's example and return, or could re-engage with India, not least by buying Indian manufactured goods.
He promised U.S. Indians a raft of measures that would make their reintegration with India easier, including lifetime visas and the end of having to check in at a police station during extended stays.
Modi, aged 64, who was elected in a landslide in May this year, promises a market-based revolution, much as Margaret Thatcher is credited with transforming Britain by injecting more free-market ideas into government. His Bharatiya Janata Party (BJP) ousted the Congress Party, run in regal fashion by the Nehru/Gandhi dynasty which, except for a short period of chaotic BJP rule, has dominated India since independence.
He has concentrated on removing red tape from government and business regulations, insisted that government workers start promptly on time and work a full day, and promised that India will become more clean. In his speech he said a top priority was to clean up the polluted holy river the Ganges, which would have an enormous economic benefit to farmers who depend upon it for clean water.
He also pledged that by 2022 -- the 75th anniversary of India's independence from Britain -- every Indian would own their own home.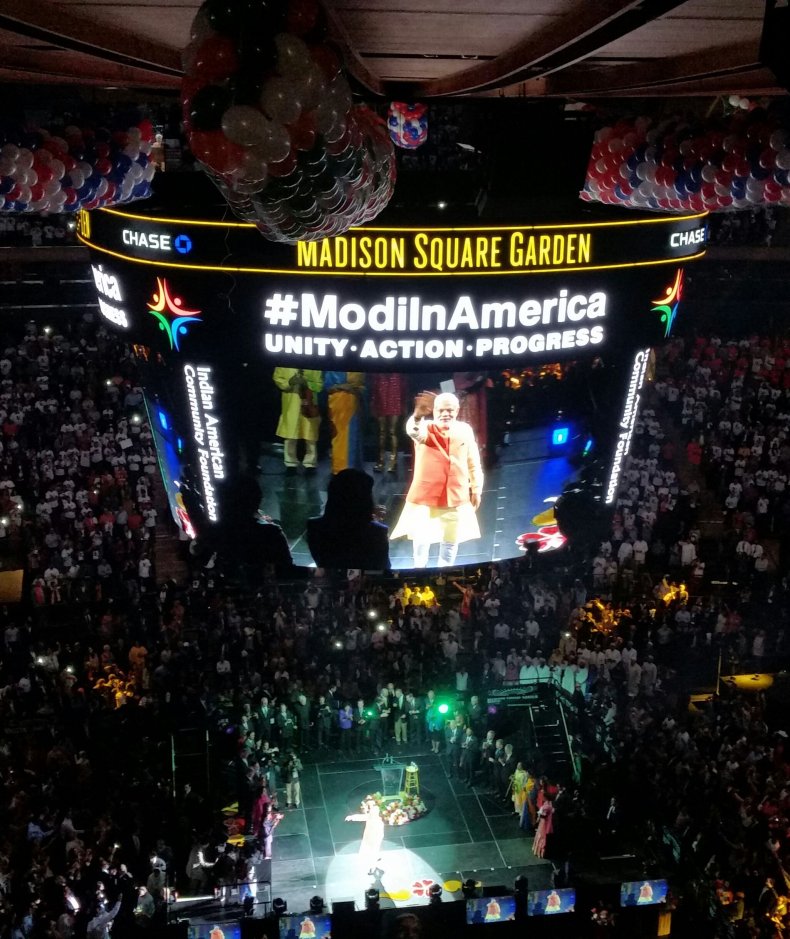 Although Modi represents a freeing of business regulations in India, Indians living in the U.S. tend to back the Democratic Party, as was evidenced by the appearance of Senators from two of the states with the largest American-Indian populations. Senator Chuck Schumer of New York and Senators Robert Menendez and Cory Booker of New Jersey, who were on stage to welcome Modi to Madison Square Garden. The name of perhaps the most prominent Republican of Indian descent -- Governor Bobby Jindal of Louisiana, who did not attend the rally -- was greeted with loud boos from around the stadium.
Modi's visit to the U.S. is mired in controversy, thanks to his failure when Governor of the state of Gujarat to prevent a massacre in 2002 of up to 2,000 Muslims or punish those responsible. As a result, Modi was banned from the U.S. and his visa withdrawn when in 2005 he attempted to travel to New York to appear at a Madison Square Garden rally.
Sunday's appearance was therefore a form of vindication for Modi, who has always denied culpability in the massacre or its cover-up. His election as India's premier has overridden his nine-year travel ban and Monday he will meet with President Barack Obama at the White House.
Nonetheless, he was greeted on his arrival in New York, where he addressed the United Nations Saturday, with a lawsuit claiming damages and compensation for descendants of the Muslims killed on his watch. Because he is a visiting head of state, he is immune from civil prosecution while in the U.S.
Apart from his "Make In India" campaign to alert American manufacturers to use Indian labor, Modi comes shopping for arms. An order totaling $3 billion is expected to be made for 22 Apache attack helicopters, 15 Chinook helicopters, 16 multi-task helicopters and 24 Harpoon anti-ship missiles. India is the largest importer of American-made arms.