'Moesha': Where to Watch Celebrity Cameos from Usher to Kobe Bryant
Moesha has been a big hit since coming to Netflix earlier this month, with the former UPN sitcom currently at number five in the streamer's top 10 shows. Thousands of fans are reliving their favorite episodes of the Brandy comedy, and are discovering that it featured some big-name cameos from stars like Kobe Bryant (who was also Brandy's real-life prom date) and Lil' Kim.
The six seasons of the show also included some actors who would go on to much bigger things, including Criminal Minds star Shemar Moore, Gabrielle Union, and Jamie Foxx.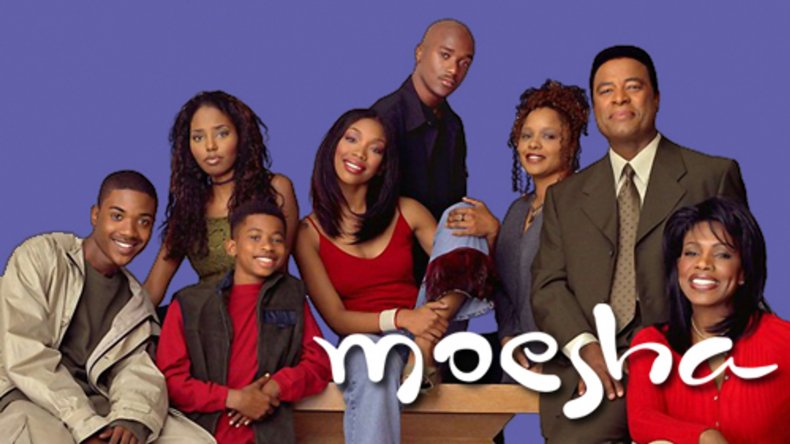 The biggest celebrity camoes in Moesha
Bow Wow - "That's My Mama" (Season 6, Episode 16)
Shad Moss (aka Lil Bow Wow, Bow Wow) has been appearing on screens since the age of seven when he appeared in the video for Snoop Dogg's classic song "Gin & Juice." However, he came to Moesha in its final season a few years later, and the year after he released his hit single "Bow Wow (That's My Name)".
In a 2001 episode, he played Ray-Ray, the younger brother of D-Money, himself played by Brandy's own brother, Ray J.
Boyz II Men - "Living in Paradise?" (Season 6, Episode 4)
Soulful hitmakers Boyz II Men have played themselves in everything to Geico ads to Grease Live. They are also one of the small group of performers who appeared in both Moesha and its spin-off The Parkers. Band member, Wanya Morris was also the one-time boyfriend of Brandy, though they broke up two years before he appeared on the show.
Gabrielle Union - "Friends" (Season 1, Episode 2)
Four years before becoming famous for playing a cheerleader in the movie Bring It On, former America's Got Talent judge was Ashli, the head of the cheerleading squad at Moesha's school in a very early episode.
Ginuwine - Three episodes (Season 6, Episode 1; Season 6, Episode 5; Season 6, Episode 10)
Former Swing Mob member and "Pony" performer Giuwine appeared in a trio of Moesha episodes ("On the Rebound," "You Say He's Just a Frend," "All This and Turkey, Too") as Khalib, a member of Q's (Fredro Starr) group who became a love interest for Moesha.
Jamie Foxx - "Driving Miss Moesha" (Season 1, Episode 6)
Future Oscar winner Jamie Foxx followed up his appearance as a cast member on In Living Color by playing an insurance salesman who is Hakeem's (Lamont Bentley) cousin.
Kobe Bryant - "The Whistle Blower" (Season 2, Episode 5)
After meeting the future Lakers player at the 1996 Essence Awards, Brandy agreed to go to prom with Kobe Bryant. Later in the year, after he had been drafted into the NBA, the late basketball legend was reunited with the singer when he played student Terry Hightower, who Moesha tried to help retake his SATs.
LeAnn Rimes - "Ohmigod, Fanatic" (Season 4, Episode 13)
Though Moesha had a who's who of black talent appear in cameos, white stars who made appearances were few and far between. One who did, however, was singer LeAnn Rimes, who played herself in a 1999 episode where Moesha escorts Kim (Countess Vaughn) to meet the country icon.
Lil' Kim - "Paying the Piper" (Season 6, Episode 22)
Lil' Kim appeared in the last ever episode of Moesha as a girlfriend of one of D-Money's prison buddies.
Mary J. Blige - "Good Vibrations?" (Season 5, Episode 1)
Another singer who played herself in the show was Mary J. Blige, years before her acting would win her Oscar nominations and a role in the upcoming Power Book II. At a Vibe party in the series in 1999, she was seen performing her song "All That I Can Say"
Shemar Moore - "Had to Be You" (Season 4, Episode 19)
Before leading hit shows like Criminal Minds and S.W.A.T., Shemar Moore was a soap star who appeared in a 1999 episode playing Earl Thomas, a college boyfriend of Andell (Yvette Wilson) who returns to propose to her.
Usher - Four episodes (Season 3, Episode 8; Season 3, Episode 12; Season 3, Episode 22; Season 4, Episode 21)
At the same time that Usher was releasing early singles like "You Make Me Wanna" and "Nice & Slow," he also had a recurring role in Moesha as one of her love interests, Jeremy Davis.
Moesha is streaming now on Netflix.