Soccer Star Moise Kean Blamed by Teammate After Suffering Racial Abuse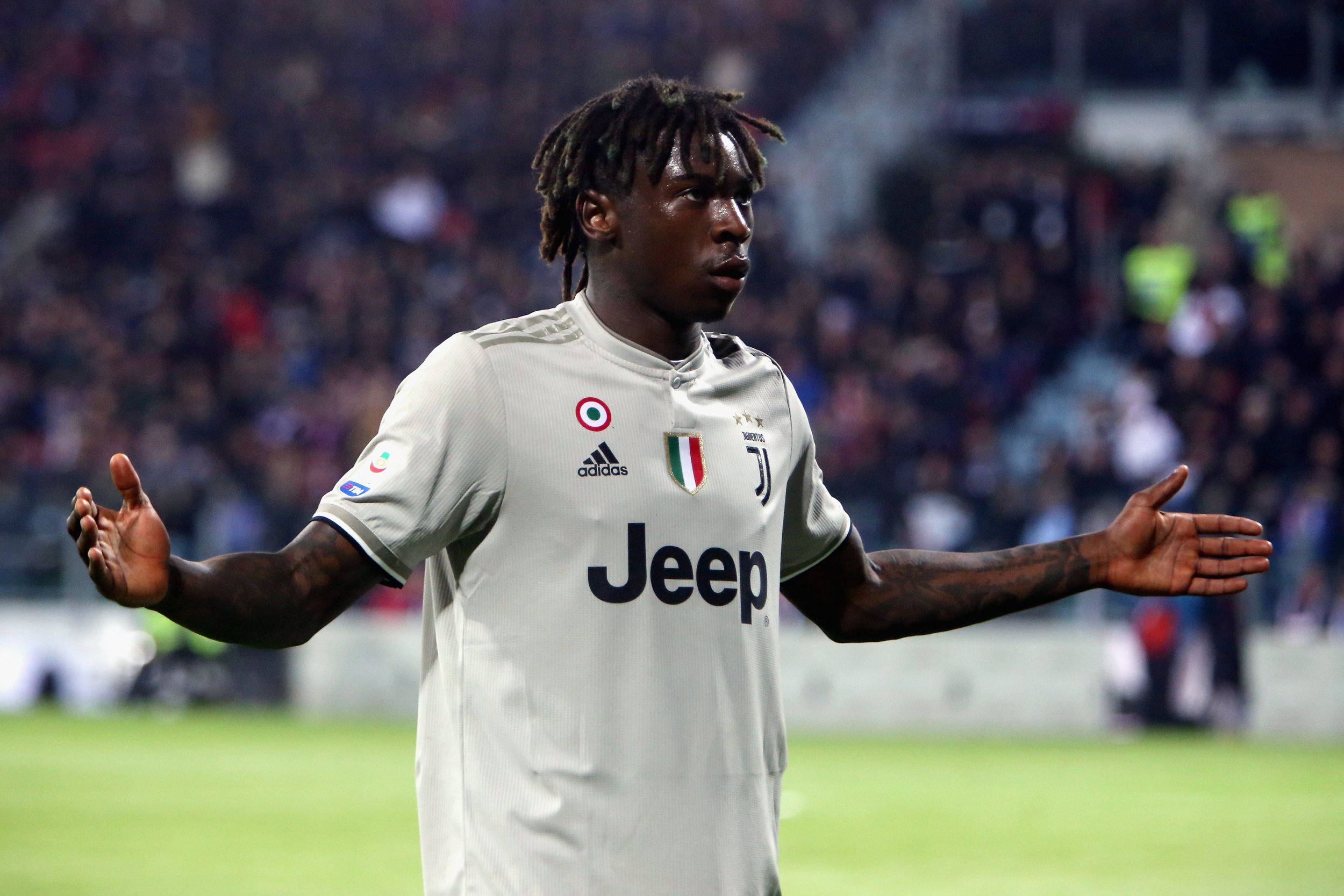 A soccer player who suffered 90 minutes of racist abuse has been blamed by a teammate for his role in the incident.
Juventus forward Moise Kean was targeted throughout the game by Cagliari fans on Tuesday night. He had the last laugh, however, as he put the Italian champions 2-0 up just five minutes from time to seal a win away from home.
The 19-year-old celebrated by standing in front of the Cagliari supporters with his arm outstretched, prompting a vitriolic response from the home fans and more abuse.
Cagliari captain Luca Ceppittelli was among the players who rushed Kean away to safety and pleaded with the home fans to stop the racist chanting, but he appeared to be hit by a missile thrown from the crowd.
An announcement over the stadium speaker warned fans that the game could be suspended if the chanting persisted.
However, Kean's teammate and captain Leonardo Bonucci suggested the 19-year-old had himself to blame for the reaction of the supporters.
"Kean knows himself too that he could have done something else," Bonucci, who scored Juventus' first goal, told Sky Sport Italia.
"There were racist boos after Kean's celebration and [Blaise] Matuidi got angry but I think the blame is 50 and 50. Kean made a mistake and the fans made a mistake.
"Saying that, we know that we have to be an example and we'll look forwards, because we all have to grow, us players too, also in these things."
Matuidi was also subject to abuse and shortly after Kean's goal he appeared to threaten to walk off the field. The Frenchman, who last season claimed he was victim of racial abuse at the same stadium, then took to Facebook to express his contempt for the fans who targeted him and Kean because of their skin color.
"Today I experienced racism during the match," he wrote.
"Weak people try to intimidate with hate. I am not a hater and can only be sorry for those who set bad examples. Football is a way to spread equality, passion and inspiration and this is what I am here for. Peace."
Italian soccer has long had problems with racism. While the number of incidents has declined in recent years, the issue has not been eradicated yet.
Teams whose fans have been found guilty of racist chanting can be fined, forced to close sections of their stadium and even have to play games behind closed doors, depending on the gravity of the incident.
Juventus coach Massimiliano Allegri suggested it was time for the authorities to clamp down harder on the perpetrators.
"I won't justify what happened, as usual there were idiots and there were normal people," he told The Associated Press. "We need to find them and kick them out of the stadium [...] there are ways to do that, if they want to they can do it."
The incident came just days after England players were subjected to racial abuse during their game in Montenegro.