Moldova Monitoring Russian Troops Already on Its Soil: 'We Are On Alert'
Moldova's envoy to the United States has told Newsweek that his country is closely monitoring Russian soldiers already deployed to Moldavian territory, which is also claimed by Moscow-aligned rebels who carved out their own breakaway state along the Ukrainian border three decades ago.
The self-proclaimed Pridnestrovian Moldavian Republic hosts an estimated 1,500 Russian troops acting as "peacekeepers" after an early 1990s war led to a ceasefire and no lasting political solution between Moldovia and its eastern Transnistria region.
Often considered one of the "frozen conflicts" in which separatists sympathetic to the collapsing Soviet Union sought to resist joining newly independent nations, the dispute has come to the forefront of international attention once again as Russia launched a full-scale war last week against Ukraine on the pretext of backing allied insurgents.
"We are very concerned with the Russian troops on the ground," Moldovia's ambassador in Washington, Eugen Caras, told Newsweek. "We have around 1,500 personnel of the Russian military stationed in the eastern region of the Republic of Moldova, which is a breakaway region."
These Russian units are deployed alongside the largely unrecognized rebel state's own armed forces, which constitute up to four times the size of the Russian presence.
"Besides the Russian contingent, there are also so-called Transnistrian paramilitary forces, which are also significant around, 6,000 people or so," Caras said, "and we have been following closely their activity and what they are doing these days."
And while the Moldavian diplomat said there were no indications of any immediate action being taken, he warned "one cannot rule out anything these days after this invasion of Ukraine by Russia."
"We are on alert because of the worries in neighboring Ukraine," Caras said. "But of course, the situation in the Transnistria region of Moldova is also a point of concern."
"But let's see how it unfolds," he added.
Concerns were amplified Tuesday when Belarusian President Alexander Lukashenko, an ally of Putin who has allowed Russian troops to penetrate Ukraine from his territory, displayed a virtual map showing what appeared to be a Russian invasion of Moldova during a Security Council meeting.
Caras told Newsweek that after Belarus' ambassador to Moldova was summoned to the Moldavian Ministry of Foreign Affairs and European Integration for clarification, the Belarusian side explained that "this was a mistake on behalf of the Ministry of Defense of Belarus."
But this has done little to assuage fears in Moldova that Ukraine's conflict may expand.
"It's not the best feeling you have, definitely, to see such a picture and video," Caras said.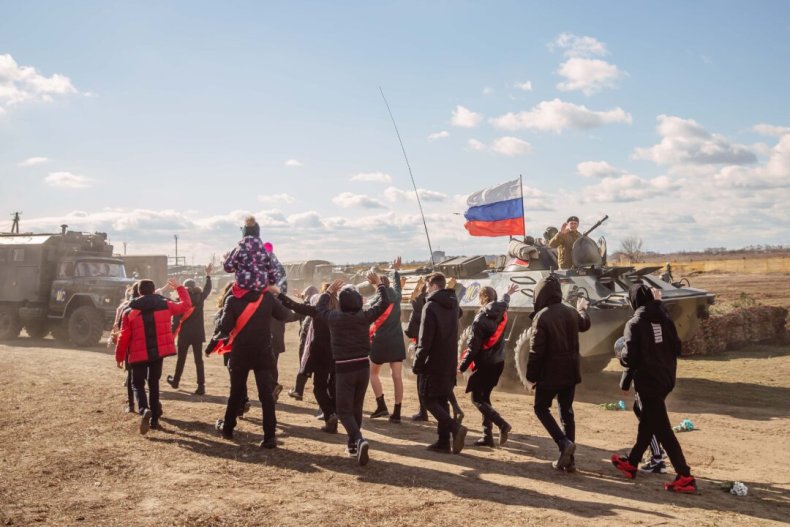 The separatist issue in Moldova bears resemblance not only to that of Ukraine, where Putin first ordered "peacekeepers" last week after recognizing the self-proclaimed Donetsk and Luhansk People's Republics before declaring a "special military operation" that amounted to a full-scale war, but in another European country, Georgia.
Here too, Russia weighed in with support for separatists under the banner of the Abkhazia and South Ossetia breakaway states in the 1990s, and later intervened directly against Georgia. That 2008 war, just as with the Ukraine invasion, took place around the same time as the Olympics were being held in Beijing.
On Wednesday Newsweek spoke with former Georgian Prime Minister Mamuka Bakhtadze, who said "Georgia was the first victim who suffered from atrocities of Russian invasion."
"Back then we were not heard and now, as a result, 20% of Georgian territories are occupied," the former premier said.
And as Ukrainian President Volodymyr Zelensky issued a desperate bid for his country to enter the European Union as Russian troops sought to surround the capital, Bakhtadze said the "the Free World should be principled and consistent in its decision making and accelerate the process of Georgia's, Ukraine's and Moldova's accession to the European Union."
The following day, Moldova officially submitted its own application to the EU, something Caras said "has always been our priority," but warranted taking action now "in such turbulent and difficult times."
While Moldova, Georgia and Ukraine have been united in their condemnation of Russia's actions in Ukraine, there are differences among them. Moldova remains officially neutral and has no plans to enter the U.S.-led NATO military alliance, whose eastward expansion since the fall of the Soviet Union has been a core concern of the Kremlin.
"In the constitution, it is stipulated that Moldova is a neutral country, and of course, right now we are not seeking membership to any military blocs," Caras said. "This is not on the table."
"And this is also one of the things that we tell to the Russians and to the world, that we are a neutral country, which does not plan and does not undertake any military activity against anyone," he added. "So we would expect, of course, the Russians and the world to respect our neutrality status and not to undertake any military actions against us."
Caras said that "one way of respecting this neutrality" would be the "withdrawal of Russian troops stationed on the territory of Moldova without the host nation's consent."
That being said, Moldova retains relations with NATO and has accepted large amounts of military assistance from the United States, something Caras said was his country's right to seek.
"We are receiving support from the U.S. side, which we appreciate enormously," he said. "This is very important. We don't see any contradiction."
"If Russia doesn't like it, well that's Moscow's worldview," Caras said. "But we are a sovereign state, and we should decide how and what we do."
"The same goes, for instance, in the case of Ukraine," he added. "It is the sovereign right of Ukrainians, of Ukraine to join the EU or NATO for that matter."
Moscow has also said it was every nation's right to choose its own alliances, but with the caveat that no such membership should threaten the security of another nation, in this case, in its view, Russia. Putin has complained for years about the deployment of NATO troops and weapons in Eastern Europe, especially newer alliance members that border Russia directly.
"They tell us: the NATO accession of Ukraine or any other country, which is not part of the alliance now, won't pose any threat to Russia's security," Russian Foreign Minister Sergey Lavrov told reporters Thursday. "Why on earth should the West decide what we need to ensure our security?"
And though Caras said joining NATO was currently "not on the table" for Moldova, he acknowledged that he "cannot rule out anything now, because people see the horrors of the war in Ukraine and people in Moldova are horrified by this war, and what it means for Ukraine and Ukrainian people."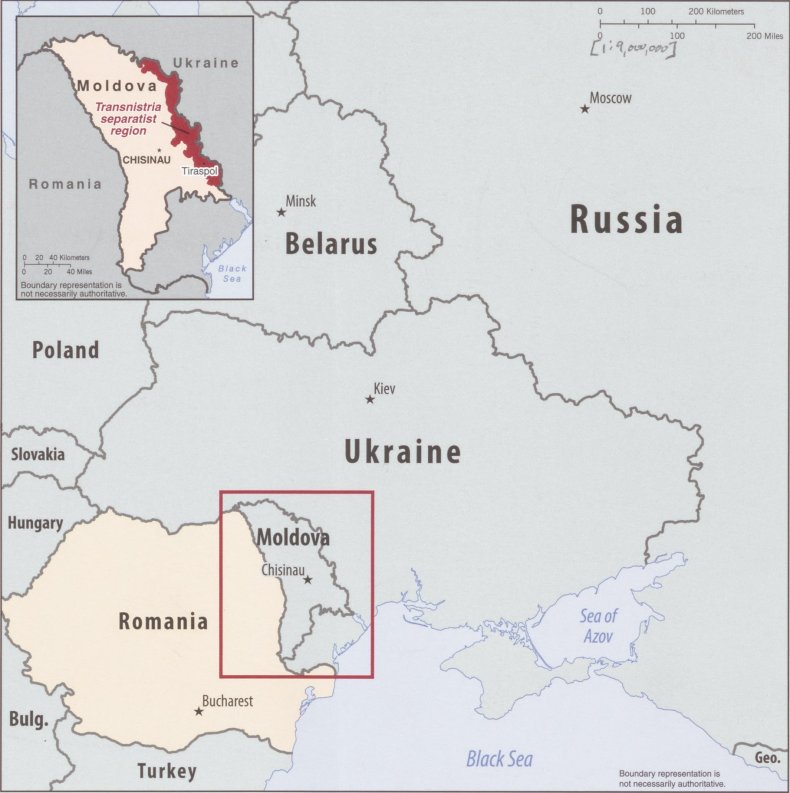 Unlike Donetsk, Luhansk, Abkhazia and South Ossetia, Transnistria's rebel government remains unrecognized even by Moscow, and the administration there has so far adopted a more reserved position toward the neighboring war than fellow breakaways in Ukraine and Georgia. This stance comes amid concerns that Russian troops there may seek to open a new southwestern front.
"The Pridnestrovian Moldavian Republic is a peaceful state," Transnistria President Vadim Krasnoselsky said in an address on Tuesday. "We have never had any plans of an aggressive nature with respect to our neighbors, and we never will."
And Galtsev Pavel Yuryevich, acting head of the Transnistria Foreign Ministry's Public Communications Department, told Newsweek last month that "speculations" over the potential threat of Russian troops there "become meaningless when we look at the facts: for three decades, Russian military personnel in Pridnestrovie have been performing the tasks that are connected solely with ensuring sustainable peace and security."
Among these tasks, as Yuryevich pointed out, was guarding the Cobasna ammunition depot, widely considered to be the largest ammunition storage site in Eastern Europe. But he stressed then that the Russian troops could not likely pose a threat even if they wanted to.
"This is a fairly small contingent whose size and technical equipment simply cannot
provide it with an offensive potential," Yuryevich said at the time.
Perhaps more pressing for both Moldavian authorities and the separatists of Transnistria has been an influx of Ukrainians fleeing a war now in its second week.
Caras said that up to 136,000 refugees have fled from a country of some 44 million to a far smaller republic of just over 2.6 million, putting major stress on Moldova's economic infrastructure, now cut off from trade flows with Ukraine due to war and Russia due to sanctions as a result of the conflict.
"We are giving shelter to all these people, food and medications and all that so we called on our partners and friends to help," Caras said. "The help is on the way."
But, he emphasized, "this is a huge humanitarian crisis."