Moldova Seeks Answers as Putin's Plans Revealed
Plans by Russia to pull Moldova into its sphere of influence have been leaked following demonstrations in Chisinau the government has said were the latest move by Moscow to foment insurrection.
Yahoo News reported on Tuesday that it had obtained a strategy document from Vladimir Putin's administration that outlines Moscow's plans to counter Western efforts "to interfere in the internal affairs" of Moldova.
The plans were drafted in the fall of 2021, before Putin's full-scale invasion of Ukraine, and reportedly aim to negate the influence of NATO and stop EU countries, as well as Turkey, from weakening the position of Russia in the former Soviet republic.
The plans envision Moldova joining the Moscow-led European Economic Union (EEU) and Collective Security Treaty Organization (CSTO).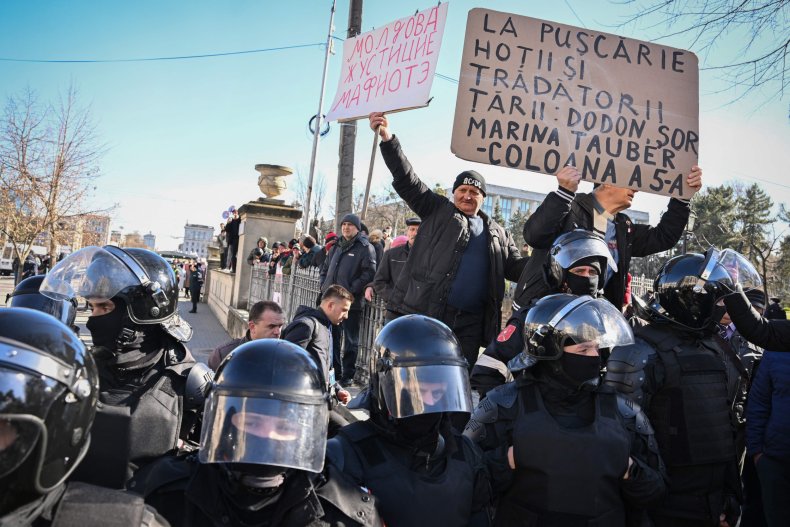 They also seek the "neutralization" of any push by Chisinau to remove Russia's military from the breakaway region of Transnistria, which is recognized internationally as part of Moldova and whose border with Ukraine has raised concerns that it might be the next staging post for Putin's regional ambitions.
Divided into three sections—military, humanitarian and economy—the plans envision that by 2030 there will be "stable pro-Russian groups of influence in the Moldovan political and economic elites." David Kramer, a former State Department official told Yahoo that the document "treats Moldova as a pliable satellite."
Newsweek has emailed Russia's foreign ministry for comment.
Moldova has been rocked by anti-government protests throughout the winter amid an energy crisis that followed a switch away from Russian gas.
Crowds that gathered in the Moldovan capital on Sunday were described as anti-government demonstrators by Russian media but dismissed by a spokesman for Moldovan President Maia Sandu as an attempt by Russia "to destablize Moldova."
Dionis Cenusa, a risk analyst from the Lithuania-based Eastern European Studies Center, told Newsweek that the protests organized by Moldova's opposition "are not potent enough to destabilize the whole country, let alone overthrow the constitutional authorities."
This is because, firstly, the protests would need to involve 50,000 participants or more to cause real problems and the current numbers of between 3,000 and 10,000 can be contained by law enforcement.
"Second, the political regime must be deeply unpopular and a political crisis must occur to become a trigger event," he said.
In addition, Russian forces in Transnistria "should be able to move to the territory of Moldova controlled by the constitutional authorities and in a high operational state.
"This aspect is shrouded in uncertainty and is difficult to assess," he added.
Local authorities said Sunday's protests were coordinated by the pro-Russian oligarchs Vladimir Plahotniuc and Ilan Shor, who are wanted internationally on corruption charges. Shor's party holds six seats in Moldova's 101-seat legislature.
In February, Sandu accused Moscow of plotting to overthrow her government by using military-trained saboteurs disguised as civilians.
Adding to tensions were claims by Transnistria's security services last week that they had thwarted a terrorist attack planned by Ukraine's secret services against the population and top officials.
Ukraine rejected the claims as a Russian "provocation" and Chisinau has demanded evidence from the authorities in the breakaway region, local media reported.