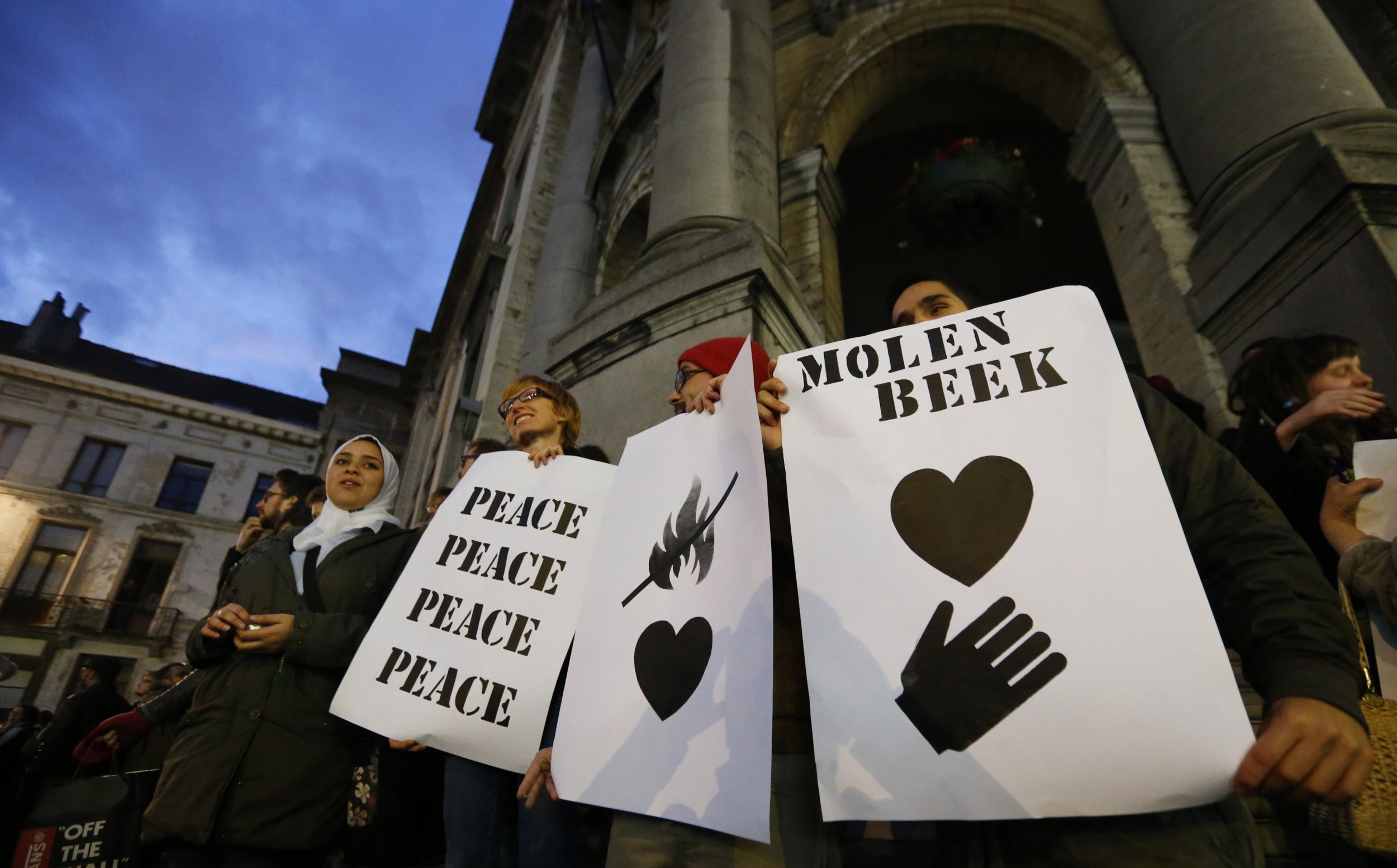 The Brussels neighborhoods of Molenbeek and Schaerbeek have come, in recent days, to be associated with violent extremism. It was in Molenbeek that some of the Paris attackers lived, and it was also here that police arrested Salah Abdeslam, an alleged participant in that carnage last November, following a four-month manhunt.
Schaerbeek, meanwhile, served as the base for the three men who are believed to be Tuesday's Zaventem airport attackers. Police were tipped off by the taxi driver who took the trio to their Brussels target, and Schaerbeek is also where they found a suicide note belonging to one of the attackers.
In the aftermath of the Paris attacks, French police began raiding the banlieues (or suburbs) that ring the French capital, looking for suspects. The banlieues, which are vast, are predominantly home to low-income people from immigrant backgrounds, many of them Muslim.
The divide between the center of Paris and the banlieues couldn't be clearer. Ugly concrete apartment blocks replace elegant private buildings, rubbish litters the streets, and people hang around aimlessly on the sidewalks.
Molenbeek and Schaerbeek, though similarly raided by police, are nothing like the banlieues. Both are close to central Brussels, both are home to a range of ethnicities, and both have a range of housing within them, from townhouses to apartment blocks.
But on Wednesday morning, Schaerbeek was eerily quiet. Outside the high school that Najim Laachraoui—one of the alleged attackers—attended, a couple of teachers having a quick cigarette outside were the only visible people. The school, one of them says, is open, but classes aren't being held.
Neighboring shops and cafés remained closed, despite the fact it was almost midday. A man running the only grocery shop that was open, Masoud Alischa, 38, says that following the attacks, people closed their businesses early at 4 p.m. "They haven't opened them today," he adds, "because they're scared of what happened yesterday."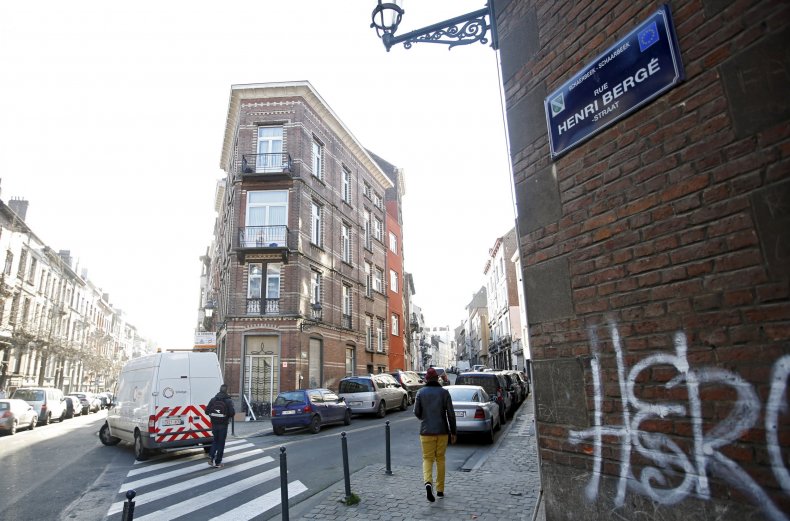 Deeper into the district, the cobbled streets remained empty, the shops shuttered. In a wealthier part of the neighborhood, however, the smoke-filled Bar Riga was open for business as usual. Surrounded by men drinking beer or coffee, one could almost forget Schaerbeek's association with Tuesday's attacks.
That is until the talk turned to what happened. "The police, they raided a building by the station only today," a man says. "It was just over there, five or 10 minutes away."
But when asked if they think Schaerbeek has a problem with Islamist extremism, they are loud in their dismissals. Their neighborhood, they retort, is just fine.
Walking toward the bar, one arm around his girlfriend, was Igor Lievin, 20, an art student. "Everything is normal in Schaerbeek. You have every kind of person, poor and rich," he says. "Last week, we had a fairground in this square, with a carousel and food stands. It was great, everyone joined in."
He adds, "Islamist extremists can be found everywhere, they don't have a logo to mark them out. This neighborhood is a mixture of people from immigrant backgrounds and ethnically French and Belgian people. It's like anywhere else."
But at a house split into apartments on Rue Henri Bergé, the mood shifts. This is where traces of TATP, the explosive favored by the Islamic State militant group (ISIS), was found. It's also where police uncovered DNA belonging to Laachraoui, as well as Abdeslam's fingerprints.
Residents of the house in question either cannot speak English or do not answer the door. Their neighbors say they saw nothing, heard nothing. Police raided the apartment in December, but others say they didn't know the police came.
The community here seems, perhaps with good reason, to be suspicious of any questions relating to Tuesday's attacks. Given the ongoing police raids in Schaerbeek, many may wonder if their homes will also be targeted.
In Molenbeek, the same suspicion abounds. At the Attadamoun Mosque, administrators wouldn't answer any questions about what happened Tuesday. This is the same mosque that received a death threat from a group calling itself the "Christian State" following the Paris attacks.
"We didn't see anything, we don't know of anything," one of the administrators says. "This has nothing to do with us, but of course we'll be blamed."
The businesses around the mosque, running down to the house where Abdeslam was arrested March 18, are open, and there are plenty of people on the streets. It marks a change from the mood in Schaerbeek, but perhaps that's because this time, unlike in November, police are more focused on the attackers' links to Schaerbeek, rather than Molenbeek.
On a road leading out of the neighborhood, Steve—who asked that Newsweek not use his family name—and his partner, Adeloüde, wait by a stoplight. "We've lived here for six or seven years with no problems," he says. "All districts could be a bad place, but it just happened that here were three men who did terrible things here, and everybody panicked."
Steve's words are similar to the optimistic ones uttered by Lievin, the art student. For both men, their neighborhoods are normal, easy places to live. They seem, to an outsider, like the sort of districts you find in most cities, not the hotbeds of extremism they have been portrayed as.
But the Muslims in Molenbeek and Schaerbeek know the reputation their districts have, and they can't speak of them with the same easy optimism.