Moleskine Erases Taiwan From Diaries After Listing It As Province of China
European notebook designer Moleskine has removed all references to Taiwan in its latest diary after two years of confused listings while apparently trying to acquiesce to China's naming demands.
Until 2019, the company's popular weekly planners simply used "Taiwan," but in 2020 that changed to "Taiwan (Province of China)." This year, Moleskine journals don't mention Taiwan at all, stripping it from the global holidays and dialing codes sections.
For the final two years that Moleskine continued to display Taiwan's public holidays among 44 countries and regions including Hong Kong, some dates were also misleading. In 2020, Taiwan's holidays supposedly included October 1, the anniversary of the founding of the People's Republic of China in Beijing. Taiwan celebrates its National Day every October 10, but 2021 editions showed it had no holidays in October.
Observers say consumers could be put off by the Italy-based stationery maker's need to overcorrect, which itself is a consequence of the Chinese Communist Party's "disturbing micromanagement" as it combs global markets for perceived challenges to its territorial claims. The move also comes at a time of flaring tensions across the Taiwan Strait amid the continuing political fallout between Taipei and Beijing.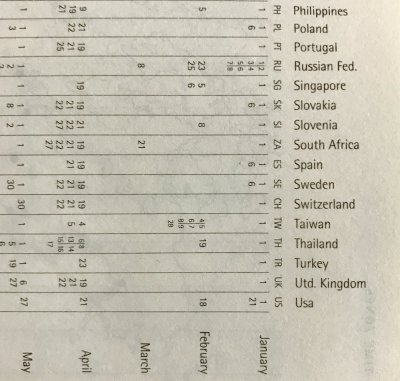 Taiwan was a Japanese colony for 50 years before its control was relinquished and fell under the Republic of China government in 1945. Four years later, the ROC moved its capital from the mainland to Taipei following its defeat at the hands of Communist leader Mao Zedong, who established the PRC the same year.
Following Taiwan's transition from a one-party state to a successful democracy in the 1990s, the public has largely embraced the ROC moniker, while the government now uses both "ROC" and "Taiwan" interchangeably when addressing the nation. But the ROC's lack of wide diplomatic recognition in the international system, particularly at the United Nations, means governments including the United States engage the island using the neutral term "Taiwan."
In recent years, however, this hasn't been good enough for the leadership in Beijing, which asserts a historic claim to Taiwan despite having never governed it since the PRC's inception more than 70 years ago. It doesn't recognize the ROC's continued existence and says Taiwan can exist in no form other than as a province of China. Even when discussing modern history, Chinese leader Xi Jinping refuses to call the mainland's former Republican government by its name.
Taiwanese consumers on local internet forums had already picked up on Moleskine's changes to the province appendix this time last year. Many were disappointed but few surprised. It seemed to make little difference in a world where airlines, NGOs and even NASA have failed to escape Beijing's relentless campaign to shape public discourse—political or otherwise—about Taiwan.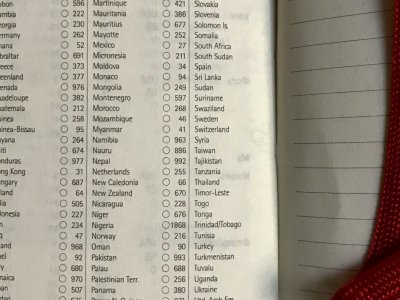 Moleskine products hold a special place in the hearts of many. The company says its collections are designed in Italy and "manufactured in the Far East, where paper was invented in the 2nd century A.D." For the last 15 years, loyal fans have speculated that a shift in production to China had led to a drop in quality, but the stationery has in fact always been made there, according to British writer James Harkin, author of 2011's Niche: Why the Market No Longer Favours the Mainstream.
The changes at Moleskine are a ripple effect of China's increasing assertiveness and a new phase of heavy-handed governance first experienced by Hong Kong, the semi-autonomous city many Taiwanese once looked upon with envy. Now, Taiwan's public regularly votes to avoid living under the same "one country, two systems" model devised in Beijing.
In the summer of 2020, China enacted a national security law for its Hong Kong Special Administrative Region. The draconian legislation has swept up democracy activists and publishers alike. The same year Taiwan was parenthesized as a Chinese province, Moleskine began listing the city as "Hong Kong SAR, China," and a similar designation was given to Macao.
In the global holidays section of its 2020 and 2021 planners, the fine print read: "Moleskine cares about precision and checks all dates meticulously. Nonetheless, local authorities may alter holidays post-production." It continued: "Both here and on the following pages, 'HK' stands for 'Hong Kong SAR, China,' and 'TW' stands for 'Taiwan (Province of China).'"
By subsequently removing all information about Taiwan, Moleskine had effectively "deleted" tens of millions of people from the map, says Didi Kirsten Tatlow, a senior fellow with the Asia Program at the German Council on Foreign Relations (DGAP) in Berlin.
"It's a detail, but it's like a process of obliteration. It's really quite extraordinary," Tatlow tells Newsweek. "The fact that it seems small on the surface is deceptive actually, because what it tells us is that there seems to be this effort to obliterate Taiwan in terms of its name, its international dialing code, its holidays even."
"It tells us that for the party in Beijing, there's really no detail too small. And that's rather a frightening thing because there is really nowhere you can go to escape this very controlling scrutiny," Tatlow adds.
As private companies are free to make their own choices about the markets they operate in, Tatlow believes there may have been a business motive behind Moleskine's decision. Agency to effect change therefore lies in the pockets of consumers.
Moleskine's Twitter account was inundated with complaints from displeased users—many existing customers—after Taiwan-based political commentator Chason Dailey noted Taiwan's reclassification in a 2021 diary on Wednesday.
Terms like "Province of China" or "Chinese Taipei"—Taiwan's Olympic designation—"give a false sense of political neutrality or impartiality," said Dailey. "In fact, these are not names Taiwan would choose for itself were it free of Chinese coercion."
"Companies that acquiesce to Chinese demands are, in fact, making a very clear political statement—their access to the Chinese market supersedes the reality of Taiwan and its 23.5 million people," he said. "My choosing not to buy a Moleskine notebook won't change that, but it is important for Moleskine and other companies to know that their decisions have consequences."
It's unclear when Moleskine made the decision to cut Taiwan from its weekly planners. Its press offices didn't return separate requests for comment before publication.
In Taiwan, a spokesperson for a local distributor said she was aware of the change but couldn't offer an explanation on Moleskine's behalf. "Don't put me in a difficult position," she said, before hanging up the phone.