Mollie Tibbetts's Accused Murderer Pleads Not Guilty, Trial Date Set
Cristhian Bahena Rivera, the man accused of killing University of Iowa student Mollie Tibbetts, pleaded not guilty on Wednesday.
The 24-year-old was arraigned before District Court Judge Joel Yates at the Poweshiek County Courthouse. Rivera listened to the 10-minute-long proceeding through headphones and confirmed through an interpreter his entry of a not guilty plea, the Des Moines Register reported.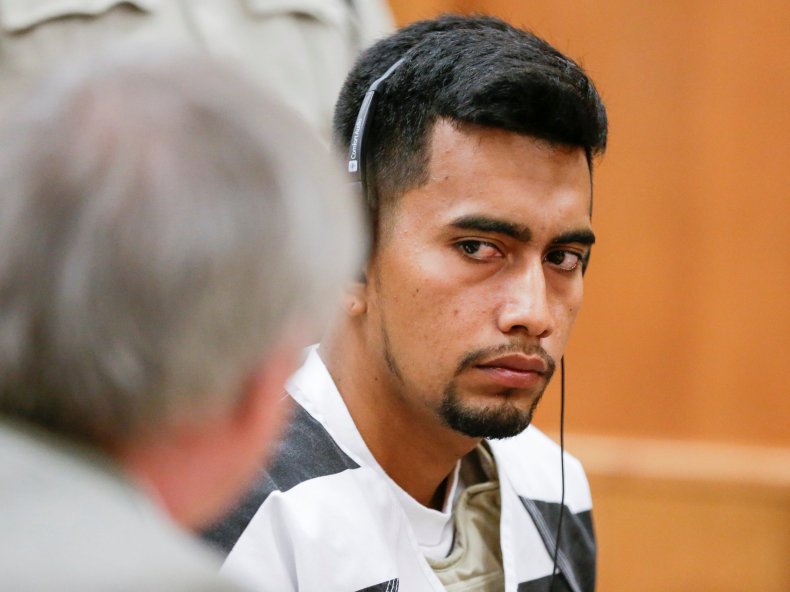 He also waived his right to have a trial within 90 days. Yates scheduled the murder trial for April 16, 2019. Chad Frese, who is defending Rivera, did not confirm whether the defense team would ask to move the trial out of Poweshiek County.
"We will analyze that as the evidence comes in and time goes on, but this has got a lot of publicity," he said, according to the Des Moines Register. "That's certainly a consideration."
Rivera was charged in August with first-degree murder in the death of 20-year-old Tibbetts, who was reported missing on July 18. Her body was found in a rural field in Poweshiek County covered in cornstalks on August 21.
Police said that Rivera told investigators he pursued Tibbetts in his car as she jogged at night. Rivera allegedly got out of his vehicle and ran behind and beside her. When Tibbetts threatened to call police, the suspect said he "panicked and got mad," according to a criminal complaint.
"He then 'blocked' his 'memory,' which is what he does when he gets very upset," the complaint continued. "And doesn't remember anything after that until he came to at an intersection."
Rivera allegedly told detectives that he took Tibbetts's body "about 20 meters" into a secluded cornfield and covered her with corn leaves. He later guided law enforcement to her body. An autopsy determined Tibbetts died of "multiple sharp force injuries."
"I can't speak about the motive," DCI Special Agent Rick Rahn told reporters at the time of Rivera's arrest. "I can just tell you that it seemed that he followed her, seemed to be drawn to her on that particular day, for whatever reason he chose to abduct her."
Rahn said Rivera showed little emotion during questioning or when he led investigators to Tibbetts's body, NBC News reported.
Rivera, who is a Mexican immigrant allegedly living illegally in the U.S., was an employee of Yarrabee Farms. If convicted, Rivera faces life in prison without the possibility of parole.