Mollie Tibbetts Murder: Does Illegal Immigration Really Boost Crime?
The Trump administration faced mounting backlash after it appeared to blame the death of Mollie Tibbetts, the 20-year-old Iowa college student whose remains were found this week after a 34-day search, on U.S. immigration laws, despite data that finds no connection between increased immigration and higher rates of violent crime.
After authorities charged 24-year-old Cristhian Rivera, who they said is an undocumented immigrant from Mexico, with first-degree murder in Tibbetts's death, President Donald Trump and the White House quickly said the crime was the result of flawed immigration laws and inadequate border security. This led critics, including one of Tibbetts's relatives, to denounce the politicization of the college student's death, while putting a spotlight on the relationship between immigration and crime.
"Mollie Tibbetts, an incredible young woman, is now permanently separated from her family. A person came in from Mexico illegally and killed her," Trump said in a video released on Twitter Tuesday. "We need the wall. We need our immigration laws changed. We need our border laws changed. We need Republicans to do it because the Democrats aren't going to do it. This is one instance of many."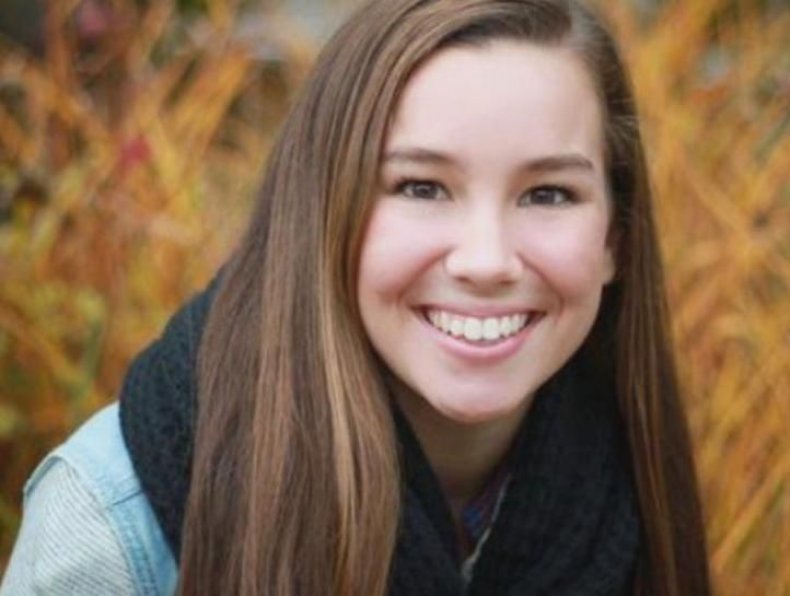 The White House simultaneously released a video of parents who described being "permanently separated" from their children because of crimes carried out by people who were "not supposed to be here."
"The Tibbetts family has been permanently separated," the White House wrote in an accompanying statement—an unmistakable reference to the criticism of the Trump administration's "zero tolerance" immigration policy, which saw thousands of immigrant children separated from their families at the U.S.-Mexico border. "They are not alone."
Among those condemning the Trump administration's use of Tibbetts's death as a talking point to push and justify its hard-line immigration agenda is Samantha Lucas, who identified herself as a second cousin of Tibbetts. Lucas hit out at conservatives on Twitter Tuesday night, writing in a post that has since gone viral, "I'm a member of Mollie's family and we are not so f***ing small-minded that we generalize a whole population on some bad individuals."
She demanded that people "stop using my cousin's death as political propaganda."
What Does the Data Say?
Despite the president's frequent highlighting of crimes allegedly committed by undocumented immigrants—even announcing his presidential candidacy in June 2015 by claiming that immigrants coming from Mexico were bringing drugs, crime and were rapists—multiple studies have found no link between increased immigration and higher rates of violent crime.
In a large-scale study published in the Journal of Ethnicity in Criminal Justice, researchers from four universities compared immigration rates with crime rates for 200 U.S. metropolitan areas between 1970 and 2010.
The study, which was updated by the Marshall Project to include data up to 2016, found that while the U.S. saw a 118 percent increase in its overall immigrant population, incidents of violent crime (homicide, rape, assault, robbery) fell by 36 percent.
In 136 metro areas, nearly 70 percent of those covered in the study, crime rates stayed stable or declined despite a rise in immigrant populations.
Another study, published in the journal Criminology in March, analyzed data from 1990 to 2014 to evaluate the relationship between undocumented immigration and violence. The researchers found the opposite of what the Trump administration proclaims on the issue. "The findings suggest that undocumented immigration over this period is generally associated with decreasing violent crime," the researchers wrote.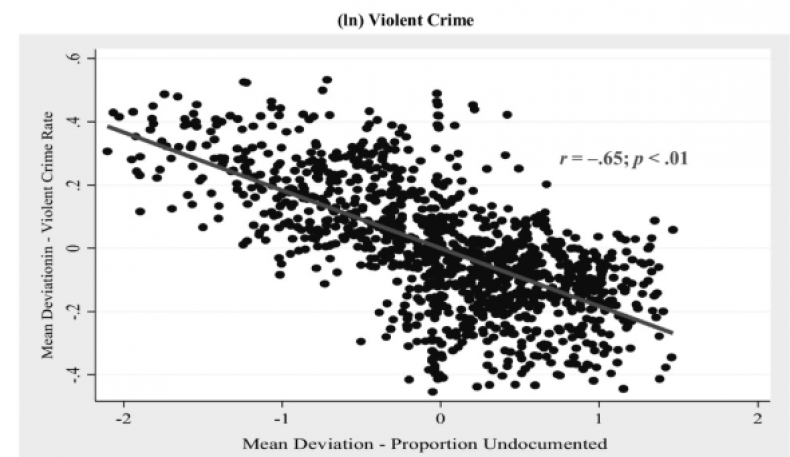 "For this reason," the researchers continued, "any set of immigration policies moving forward should be crafted with the empirical understanding that undocumented immigration does not seem to have increased violent crime."
The study authors—Michael Light, an associate professor at the University of Wisconsin-Madison, and Ty Miller, a graduate student at Purdue University—wrote that ramped-up border enforcement had not led to an overall reduction of crime in the U.S. because undocumented immigrants were not responsible for increased crime rates in the first place.
"At the most basic level, our study calls into question one of the primary justifications for the immigration enforcement build‐up," they wrote.
Despite the evidence, a June 2017 Gallup poll found that nearly half of Americans believed immigrants increased U.S. crime rates—a sentiment that has held fast over the years. A decade ago, in June 2007, 58 percent of participants stated that they believed immigrants made the "crime situation" in the U.S. worse.