Mollie Tibbetts's Father Ignores Trump, Thanks Hispanic Community for Search Help During Eulogy
The father of slain University of Iowa student Mollie Tibbetts eulogized his 20-year-old daughter Sunday and called for the 1,200 Mass of Resurrection attendees to "turn the page" and re-focus on her life. Although Rob Tibbetts has not commented publicly on the nationwide debate over illegal immigrants that has encircled her killing, he applauded the Hispanic community for helping in the search for Mollie.
Rob Tibbetts joined Mollie's two brothers and cousins serving as pallbearers in remembering the young woman who vanished on a July 18 evening run and whose alleged killer led authorities to her body last Tuesday, the Des Moines Register reported. Rob Tibbetts repeatedly called on the jam-packed gymnasium at Brooklyn-Guernsey-Malcom High School in Brooklyn, Iowa to "celebrat[e] something wonderful" as Mollie's older brother Jake dicussed her passionate, caring personality, according to the report.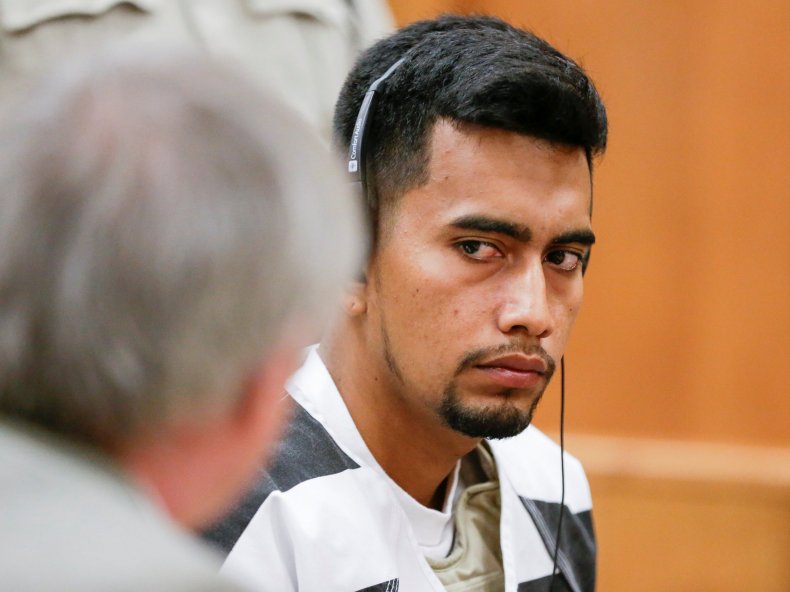 But the Tibbetts family's calls "to turn toward life—Mollie's life—because Mollie's nobody's victim" has fallen on the deaf ears of many national political figures who have inserted her death into a wider debate on undocumented immigrants living in the country. At least one member of Tibbetts extended family has blasted right-wing figures for using Mollie's death as anti-immigrant "political propaganda."
The weeks-long search for Mollie Tibbetts drew massive national attention after Cristhian Bahena Rivera, 24, of Poweshiek County, led police to her body in a secluded farm field near Guernsey Tuesday and was charged with first-degree murder. Federal authorities said Rivera provided falsified employment documents and was in the country illegally from Mexico, prompting Iowa Governor Kim Reynolds and President Donald Trump to ridicule what they see as Democrat-led weakness on immigration policies.
The White House posted a video one day after her body was found showing people who had loved ones killed by "illegal aliens" living in the U.S. For 34 days, investigators searched for Mollie Tibbetts. "Yesterday, an illegal alien, now charged with first-degree murder, led police to the cornfield where her body was found. The Tibbetts family has been permanently separated. They are not alone," the official White House Twitter posted. Reynolds, also a Republican, issued a statement blaming a "broken immigration system" that allowed a "predator" to live and work in the U.S.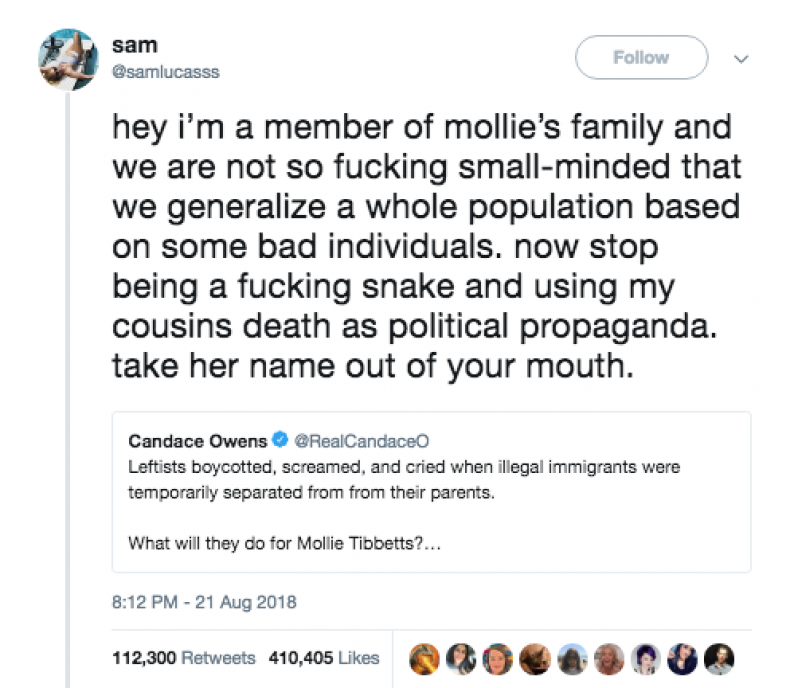 But at Mollie's funeral Sunday, father Rob Tibbetts highlighted how "grateful" he was to the Hispanic members of the Iowa community who were incredibly helpful during the search. "The Hispanic community are Iowans. They have the same values as Iowans," he said, emphasizing family. "As far as I'm concerned, they're Iowans with better food."
Rob Tibbetts also thanked members of law enforcement, volunteers and the news media for helping in the arduous search.
Not every member of Tibbetts' extended family has been as hushed on the inflamed immigration debate. Sam Lucas, who CNN confirmed as one of Tibbetts's cousins, engaged with several right-wing, anti-immigration figures on Twitter to stop politicizing Mollie's death. "[H]ey i'm a member of mollie's family and we are not so f***ing small-minded that we generalize a whole population based on some bad individuals. Now stop being a f***ng snake and using my cousin's death as political propaganda," Lucas wrote to Turning Point USA executive Candace Owens. "Take her name out of your mouth."
Rivera is being held on $5 million cash bail and is expected back in court August 31.