"I think women are hungry to see themselves represented on screen," Molly Shannon told Newsweek about the third and final season of the dramedy Divorce. airing Monday nights on HBO and starring Sarah Jessica Parker as Frances and Thomas Haden Church as Robert. "It's a show I would be watching if I wasn't on it."
Shannon has represented a wide spectrum of women, from her iconic Saturday Night Live characters to her lovingly authentic portrayal of a dying mother in the 2016 film Other People. On Divorce, her character Diane is forced to evolve beyond codependency when her husband Nick (Tracy Letts) is sent to prison for embezzlement.
"This season started with Diane at rock bottom," Shannon told Newsweek. "She has no home, no husband, no money. She was used to relying on her husband who was the breadwinner, she never had to work."
As a result of these setbacks, Diane, Frances and Dallas (Talia Balsam) must look to one another for strength and support. "This season focuses on the women's friendships, we're relying on each other more," she explained.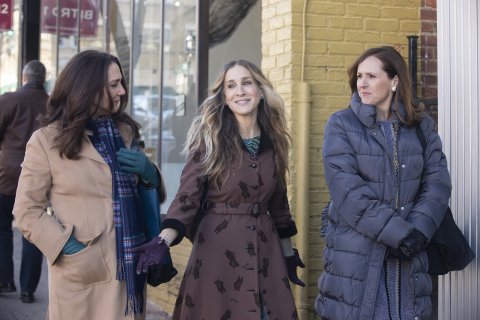 Shannon guest-starred on a couple of episodes of Sex and the City in the early naughties, and said getting to work with Parker again was a treat for her.
"I've always been such a fan of Sarah's. She's such a good actress, she's so funny, has an amazing sense of style, is beautiful and so intelligent. To get to work with her was just such a lucky break for me."
We spoke with Shannon about the final season of Divorce, her upcoming projects, and where she her SNL character Mary Katherine Gallagher would be today.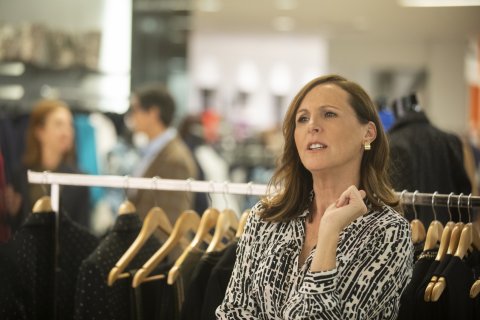 Divorce balances comedy and drama better than most dramedies. How do you think the show accurately reflects complicated adult relationships?
It really does. I watched the season premiere with my husband, and he was like, "This is really good." He really likes it too, and I'm so glad. I really like when guys relate to the show and Thomas Haden Church. I like how men have responded to the show. It's a sophisticated adult show about marriage, parenting and friendships. I do think they handle that balance really well, and it's not easy.
Your character Diane has really evolved over the course of the series. She could even be considered a late bloomer. What kind of response have you gotten about the character, and how much of Molly Shannon is there in Diane?
Diane is really tough. She's funny. She doesn't suffer fools. I can be like that too. I think we're different in that I formed a career and also had kids, and she really didn't want all of that. She's kind of at a crossroads in her life ... she is a late bloomer, because now she's got to figure out working, creating a little career for herself, and we haven't really seen her do that. In that way I'm very different from Diane.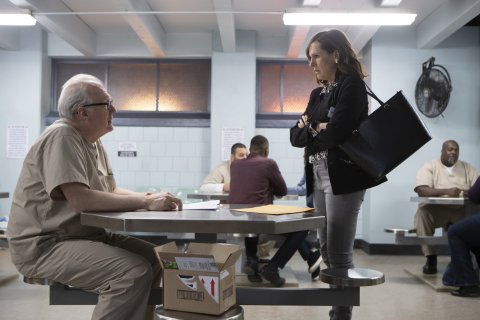 Yeah, you've been doing alright for yourself.
I figured out how to earn a buck. It took a while to work on my career, that wasn't easy, I struggled, but I really grew in that area, whereas Diane has never worked before.
Without giving away much, what can we expect from Diane in the final season?
Diane really needs Frances and Dallas this year, and they're coming through. Diane is basically living with them, and they're sharing custody of her, as they say. So you see them being better friends. In the first season, I felt like Diane was selfish, I felt like Frances didn't have any friends. I really like that they've built up the friendship of the women. They're really kind of relying on one another more.
Do you ever get sick of being asked what it's like to work with Sarah Jessica Parker?
Never, never, never. I don't mind at all because I'm such a fan of hers. My daughter is just now watching Sex and the City, so I'll always watch it while she does. I used to be such a fan too, I couldn't wait until Sunday night when a new episode would come on.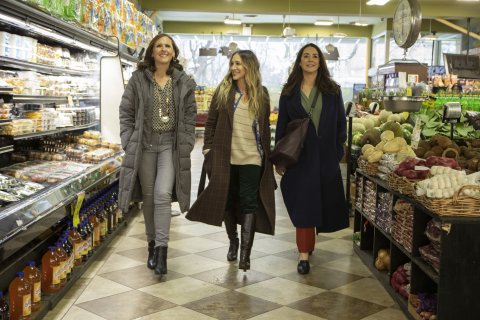 What do you hope people take from Divorce?
I love that you're seeing a woman who's married with kids, dealing with teenagers and parenting and an ex and dating. I love that. I just feel like this is my life, my friends. So I guess what people would take from it is how complicated romantic relationships are and how they can shift and change.
You've played so many complex characters, from Diane to Emily Dickinson in Wild Nights with Emily and my personal favorite, Peggy in The Year of the Dog. How do you approach a role? And does your being known for being such a talented comedian get in the way of embodying a character?
No, because even with comedy I still wanted to play the emotional truth of the character, even if it's a big comedy scene. I'd always ask, "What does the character want? What does she desire? What does her heart want?" That's a very important factor because I think it makes the comedy stronger.I really do look at them both [comedy and drama] together. I would never think, "Where's the joke or how can I be funny?" I mostly think about what the character wants in a scene, and then you can ramp it up.
I never really thought of myself as a comedian (laughs), I consider myself a dramatic actress who happened to get into comedy. Isn't that funny? So I always just considered myself an actor, but I got known on Saturday Night Live, so people associate me with comedy first. But I was just a regular drama student at New York University. So I consider myself an actor first before a comedian.
What impact did your years on Saturday Night Live have on your acting today?
It was such a great break for me to get that show at that time... If that had never happened, my career would have been very different. It was wonderful to see the characters I had developed onstage like Mary Katherine Gallagher, Sally O'Malley, to be able to get those on television ... it was the right job for me. Our group was really good with characters—Will Ferrell, Cheri Oteri, Ana Gasteyer and Chris Kattan—people really responded to that.
OK, so I'm gonna paint a picture: Oprah has invited you over to her Montecito estate. Over a bowl of bread and avocados—pulled from her own avocado tree—Oprah asks, "When was your last 'a ha' moment and how did it change you?" What would you tell Oprah?
I would tell Oprah that years ago, when I was dating, I was hung up on some unavailable guy, and a friend said to me, "There is no 'the one,' you're the one." And she was like, "whatever you want from a guy, you can give to yourself first." Like, you can take yourself on a date or be loving to yourself or just be good to yourself, take care of yourself, do loving things for yourself.
Even when you've found the love of your life or are in a committed relationship, you still always have to work on yourself, nobody is going to fix you. That was my "a ha" moment. Definitely.
What can people expect to see next from you?
I have this other show on Comedy Central called The Other Two, it's really good, we're getting ready to shoot that in the fall in New York City. It's created by Chris Kelly, who wrote Other People, that I was in, and also Sarah Schneider. They were the co-head writers on Saturday Night Live. And I just did a movie called Horse Girl with Alison Brie and directed by Jeff Baena. Then I have a movie called Promising Young Woman that I finished shooting, I do a small part in that.
What do you think Mary Katherine Gallagher is up to today?
She comes from a kind of a rocky background, she would probably definitely struggle in relationships and stuff because she did not have an easy time as a kid. But hopefully, she has more peace in her life.
The final season of Divorce airs Monday nights on HBO.