Mom Accused of Leaving Kids Alone for 7 Weeks Flashes Smile During Arrest
A Texas mother allegedly abandoned her children in order to stay with a man in Alabama for seven weeks, according to police.
Police and U.S. Marshals launched an investigation into Raven Yates that resulted in her arrest at an apartment complex in Mobile on Wednesday, March 8.
U.S. Marshals from the Gulf Coast Violent Offender Fugitive Task Force followed a tip to the apartment complex and the site's manager confirmed Yates was staying with a man.
At 4:30 p.m. that day, Yates was apprehended without incident and the man cooperated with officers and marshals.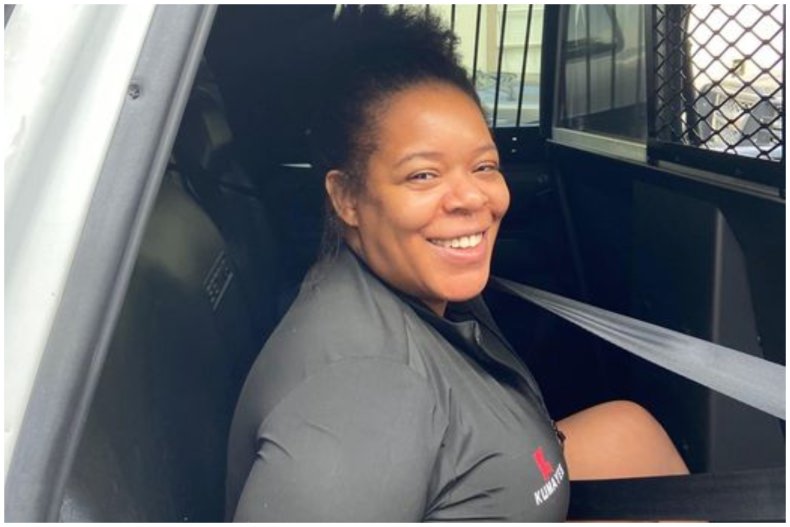 Yates is alleged to have left her daughter and son, aged 12 and 3, respectively, at her home in Houston from September 8, 2022, until both were discovered by the older child's father on November 14.
A release shared by the Roman Forest Police Department on Wednesday stated the children couldn't get food for a lot of that time.
It added: "The concerned father reported to the Roman Forest Police that his 12-year-old daughter has been home alone with her 3-year-old brother since September 28, 2022, much of the time without access to food or medical supplies.
"The father immediately flew in from California where he had been working at the time. The father had been informed that his child's mother had been seen in Mobile, Alabama, without her children and realized they were home alone because he had been asked by his daughter to send food regularly."
In the same release, a photo of Yates was shared where she can be seen smiling at the camera.
An arrest warrant was issued on December 8, 2022, for Yates in regard to two counts of abandoning or endangering a child without intent to return.
Since police shared information about the case with the media, Yates has been actively posting on social media about the situation. Her posts led police to obtain many tips and leads.
According to the law office of Kimberly Shanklin, PLLC, a person can be charged with abandoning or endangering a child if they "leave a child in any place without providing reasonable and necessary care for their child, under circumstances which no reasonable similarly situated adult would leave a child."
A person found guilty of the charge can face anywhere between 180 days to two years in jail as well as a fine of up to $10,000.
Newsweek has contacted the RFPD for comment.