Mom Backed for Keeping Daughter's Estranged Father Away From Family
Members of a popular internet forum were quick to defend one mother who made it clear her daughter's estranged father is not welcome in the child's life.
In a viral Reddit post published on r/AmITheA**hole, Redditor u/issueswithlife404 (otherwise referred to as the original poster or OP) said her ex-boyfriend recently attempted to reconcile with the former couple's daughter and explained why she refuses to let that happen.
Titled, "[Am I the a**hole] for not letting the father of my daughter in her life?" the viral post has received more than 8,400 votes and 1,600 comments in the last 12 hours.
Writing that she gave birth to her now 8-year-old daughter when she was 16 years old, the original poster said her ex didn't want to be a part of the baby's life and that the couple separated as a result. Following their separation, the original poster said she told her ex that his decision to desert his child was final.
"I told him that he made his choice and don't come back when you want to play daddy," she wrote. "I raised her as a single teen mom. Sure it was hard but she was worth it."
Recently, the original poster said she became engaged to her current partner, a man who has shown great care for her daughter.
"My fiancé has been wonderful with my daughter," she wrote. "He goes to football games to watch her cheer, any plays or concerts. He's in [the] front row with the biggest smile."
"My fiancé asked me to adopt [my daughter] as his own," she added. "I don't think I said yes fast enough and we prepare[d] to ask my daughter to be adopted."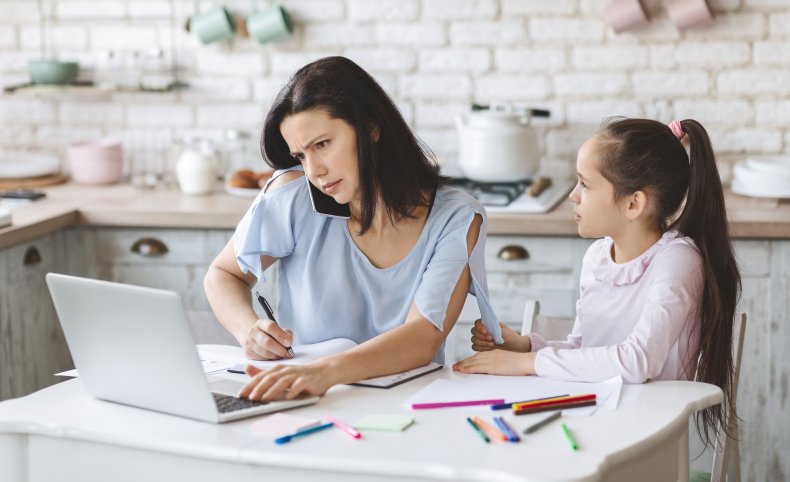 Despite her fiancé's desire to adopt her daughter, however, the original poster said her ex resurfaced and expressed a newfound desire to be a father.
"He went on how he made a mistake by leaving and now his chance to be a dad is nothing because he's infertile after an accident," OP wrote. "I told [him] that he made his bed and he should sleep in it."
"Now my family [is] telling me that he should see her and how people change," she added. "I told them off and they said they won't be at my daughter's birthday party unless [her father] can see her."
In the United States, there are more than 18 million children living with a single parent, according to Statista. Of those children, more than 15.3 million live with a single mother.
Although data has shown that living with a single parent can increase the risk for behavioral issues among children, the introduction of a parent's new partner can serve as a blessing in disguise.
For already-married or soon-to-be-married stepparents who have assumed the role vacated by a child's noncustodial parent, adoption is a life-altering choice and must be agreed to by most, if not all, involved parties.
For a stepparent to legally adopt a child, both of the child's biological parents must consent, as agreeing to adoption by a stepparent terminates the parental rights and responsibilities of the noncustodial parent. However, in cases when a noncustodial parent has abandoned their child, their consent is not required for adoption, according to the U.S. Children's Bureau.
Throughout the viral Reddit post's comment section, Redditors responding to the original poster were adamant that her ex had abandoned their daughter and speculated that his infertility was his only motivation for suddenly wanting a relationship with the 8-year-old.
"This is the only reason he's here," Redditor u/czechtheboxes wrote in the post's top comment, which has received nearly 16,000 votes.
"No accident means he'd still have no interest in your daughter," they added, pointing to OP's ex's inability to have more children.
Redditor u/waezxo, whose response has received more than 2,500 votes, echoed that sentiment and offered an additional perspective.
"She has the right to know her biological father but I understand you are trying to protect her," they commented. "He can't just pop in and out of her life and break her heart."
"People can change but it seems that he's desperate since this is only chance at having a kid now," they added.
"He isn't back because he regrets his choice and wants to meet her. He's back because he's infertile and only has her as his biological child," Redditor u/Sel-Reddit chimed in. "It's not for her, it's for him - the same way abandoning you both was for HIM. That's selfish."