Mom Bashed for Booting Daughter from Wedding Because Fiancé Hates Her Dad
The internet has slammed a mom for disinviting her daughter to her wedding because her fiancé hates the daughter's dad.
Published to Reddit's r/AmITheA**hole forum, a teen using the anonymous username u/Intrepid-Thought1752 shared her story to get the opinion of the "AITA" community. The viral post has over 9,000 upvotes and 1,000 upvotes.
The Redditor began her story by saying that she is her mother's only daughter from her previous marriage. She has three children with her fiancé.
Her mother had been planning the wedding for about two months after being engaged for about a year. The original poster (OP) explained that the wedding was in December and was planned to happen the day before the OP's birthday. She and her mother have been planning a party for her as she said it was okay and they will go on their honeymoon after.
While discussing the color of her bridesmaid dresses with her friends, the OP asked when they were going to look for her dress, as she was going to be the flower girl. With a disappointed look on her mom's face, she responded, "We'll talk about it later."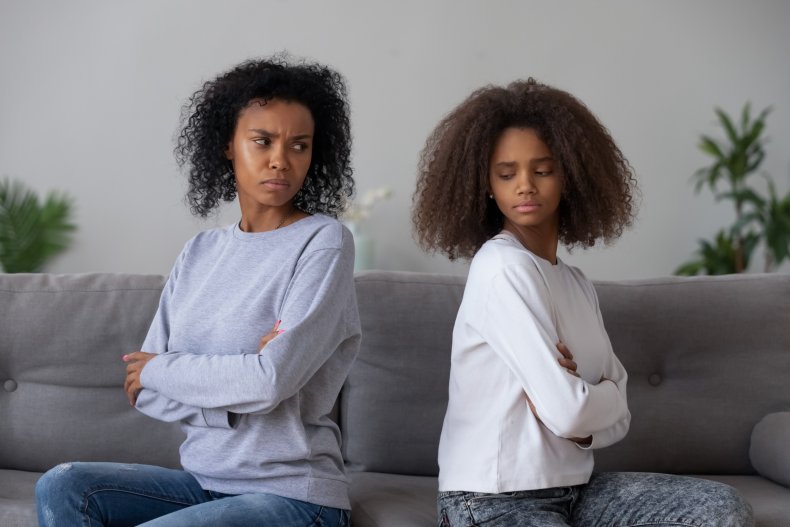 The OP wrote, "A few hours later my mom came to me. I thought she was going to talk about the dress situation but instead she sat me down and explained how her new boyfriend thought it'd be a better fit for their three daughters to lead the wedding. Whatever, I was cool with that, but it's important to note that my mom had always wanted all girls, I was a girl but I had looked too much like my father which caused a strain in our relationship.
"My dad explained to me how my mother had postpartum when she had me and just couldn't connect with me because of it. So when she gave birth to my three younger step siblings who all looked like her(triplets 6yo) she was obviously overjoyed, it hurt to see but I was happy for her," she continued.
She wrote how her brothers had similar experiences but weren't as drastic as her brothers looked like her mother while the OP looks more like her dad.
"I know this is an over dramatic thing to say but sometimes I feel like because my mother didn't feel as connected with me at birth was because I was a letdown right out the gate," she said.
When she asked about her dress again, the OP received the same disappointed look from her mother. She admitted to her daughter that she was no longer invited to the wedding because her fiancé thought his family would be upset to have someone there from her previous marriage and how he didn't like the OP's dad. The OP's mother also told her that her birthday party is off as her fiancé wants to go on their honeymoon right away.
"It turned into a screaming match with me yelling 'I'm sorry I don't look like you enough for you to love me. I'm sorry you were too conceited for you to get over the fact I look like my dad.' I was kicked out by her boyfriend within the same hour because she had cried to him about what I said. All my brothers know what happened and have now refused to go to the wedding which upset her even more, though I don't care about how she feels right now." she shared.
In recent edits made to the post, she explains that she lives with her dad full-time and doesn't know of any custody agreements. She visits her mom when she wants to or when her mom asks her to. Her brothers from the previous marriage were invited because her mom's fiancé likes them.
Newsweek reached out to u/Intrepid-Thought1752 for comment.
Coping With Traumatic Experiences
Facing a traumatic experience can be different for everyone. According to the American Psychological Association, some signs and symptoms that someone with trauma can include nervousness, sadness, anger, difficulty sleeping, intrusive thoughts or nightmares and avoiding people, places or memories relating to their traumatic experience.
To cope with recent trauma, helpguide.org suggests minimizing media exposure, doing your best by accepting your feelings as sadness or anger are normal reactions, try putting effort into exercising or offering your time volunteering or connecting with others who have similar experiences. Therapy is also an option for those seeking professional help.
Redditor Reactions
"[Not the a**hole], in any way, shape, or form. This makes me so sad for you. Your mom, on the other hand, and her fiance are MAJOR a**holes," u/Fetedepantaloons wrote, receiving the top comment of over 14,000 upvotes.
"[Not the a**hole]. This is super messed up and I'm glad that you have the support of your brothers. Your mom is only upset because you confronted her with the truth," u/sluttpuppet commented.
U/Proof_Bad8128 exclaimed, "[Not the a**hole] she is literally choosing a man over her child and not taking up for for just bc you don't look like her."
"You are absolutely [not the a**hole]. Your mother's behavior is inexcusable," u/bob_fakename explained.
U/Throwaway-2587 shared, "[Not the a**hole] at all!!! Your mother is a massive [a**hole] though. She shouldn't let her boyfriend get in between you as she has been allowing. You are not your father—though I kinda hope he's a better person than your mother and her [boyfriend]. Her mistreatment of you is so wrong and you deserve better. Don't feel guilty that she feels bad. Her actions have consequences and it's time she learned that lesson. The fact that they threw you out over this is so bad."
Another bride-to-be is being slammed on the internet after criticizing her younger cousin with cancer for shaving her head. Another woman is urged to disinvite her family from her wedding after they placed bets on how long it would take her new husband to dump her.