Mom of Capitol Rioter Jackson Kostolsky Blames Rush Limbaugh, Alex Jones: 'Victim of Media'
The mother of a Pennsylvania man who pleaded guilty to rioting at the Capitol blames members of the far-right media, such as Rush Limbaugh and Alex Jones, for fueling her son's actions.
Jackson Kostolsky, 32, of Allentown, pleaded guilty this past September to a charge of unlawful picketing after admitting to participating in the January 6 attack on the Capitol building. He could face up to six months behind bars and a maximum fine of $5,000.
Ahead of his sentencing Jan. 11, CBS News congressional correspondent Scott MacFarlane was able to obtain a copy of a letter that Kostolsky's mother sent to the judge asking him for a light punishment.
"Somewhere along the way while in his 20s and living at his father's, Jackson became inspired by the far-right media. (Just for the record, his dad and I are both registered Democrats)," the letter read. "He was very influenced by Rush Limbaugh and, sadly, Alex Jones and his conspiracy theories. It seemed to fuel his anger issues."
"He believes everything Alex Jones has to say. Jack is what I believe to be a victim of the media," the letter continued. "We differ alot in our political views, but we do have intelligent discussions and debates ... I know in my heart that my son is not an insurrectionist."
Kostolsky's mother is one of a number of parties who have stated that the actions of the January 6 rioters were provoked or incited by conservative politicians and the right-wing media. Limbaugh and Jones are two people who are often similarly named as such.
Limbaugh, who passed away in February 2021, was a conservative radio host whose nationally syndicated show, The Rush Limbaugh Show, became one of the most-listened-to talk programs in the nation. Limbaugh was a staunch member of the right, and faced controversies throughout his career for promoting a number of conspiracy theories.
This includes once claiming that the COVID-19 virus was the same as a common cold, and perhaps most famously, spreading the conspiracy theory that former President Barack Obama was not born in the United States. Limbaugh was also a significant supporter of former President Donald Trump, who awarded him the Presidential Medal of Freedom before his death.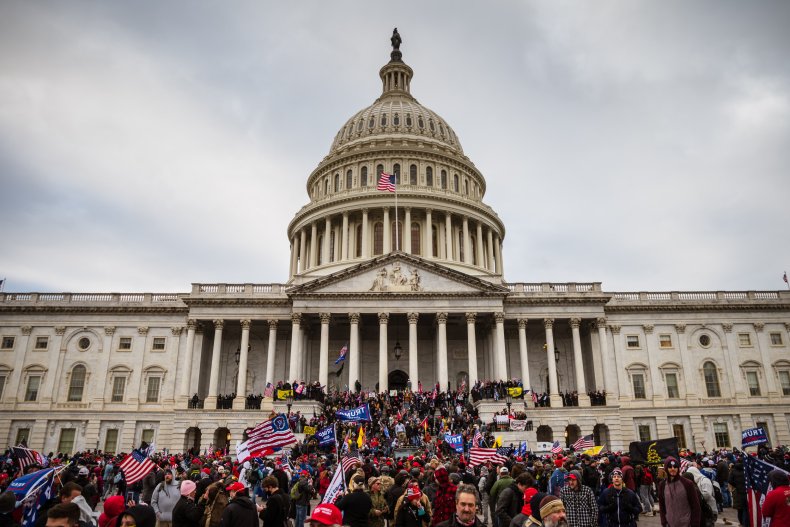 Jones, meanwhile, has become one of the most infamous far-right radio hosts in the country, due in part to rampant conspiracy theories that he has promoted on his platforms, including The Alex Jones Show and his website InfoWars.
This includes, among other things, the unfounded claim that millions of illegal immigrants voted in the 2016 presidential election. Jones has also promoted conspiracies surrounding numerous mass shootings, and has stated that the 2012 Sandy Hook Elementary School massacre was a false-flag operation.
In the lead-up to the events of Jan. 6, 2021, Jones was also one of the most ardent spreaders of the debunked claim that President Joe Biden won the 2020 election as a result of nationwide voter fraud.
Jones was reportedly in Washington, D.C., on Jan. 5, 2021, and a video posted to InfoWars shows him riling up a crowd of supporters who would later march on the Capitol.
The claim from Kostolsky's mother that the media was responsible for her son's actions has been used as a defense by others charged in the riot. One public defender stated that her client "fell prey to the false and inflammatory claims of ... the right wing media."
However, this is a position which has not been corroborated by the vast majority of judges in these trials.
Newsweek has reached out to InfoWars for comment.