Mom Cat Hilariously Insists on Carrying Kittens in Mouth: 'Little Too Big'
A viral video of a cat carrying a large kitten has been praised online, even if it was pointed out the young feline was a "little too big" to hold.
Most people would not consider cats to be the most social of pets, but they do show some care for their young by "scruffing." This is when they carry their kittens by the back of the neck to move them around quickly.
In the viral TikTok video, user fosterkittenmama explained the way the older cat moved her kitten was not painful.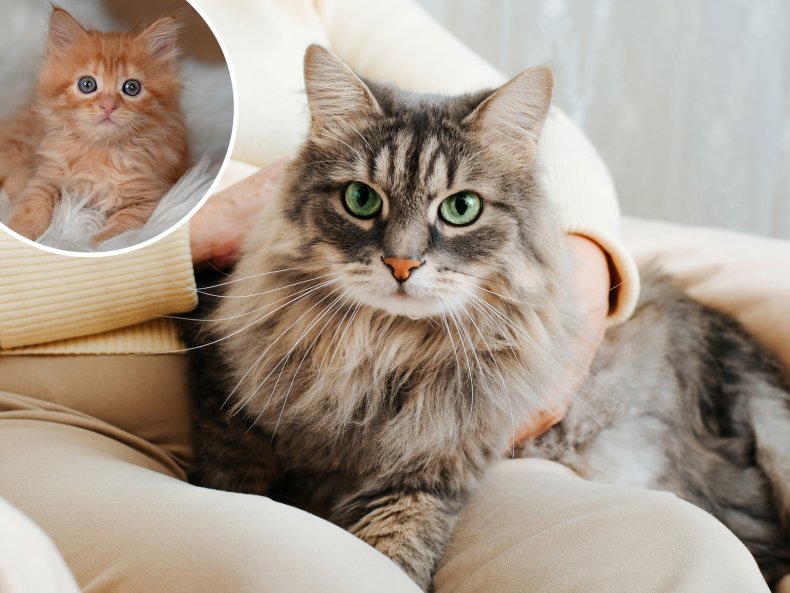 According to Tufts University, Cummings School of Veterinary Medicine (CSVM), in the Greater Boston area, Massachusetts, mother cats typically carry kittens by the scruff only for the first few weeks of their life.
The CSVM added: "They can do that because kittens have a reflex in which their bodies go totally limp when picked up by the scruff—a reflex that is lost by adolescence."
Scruffing in adult cats can trigger "fear and stress rather than relaxation," according to the CSVM.
The TikTok clip started with the mama cat attempting to pick up a large kitten from the carpet where they both were.
A caption on the video reads: "Mama, I think they're a little too big for that mam."
As the clip continued, the mother cat could be seen carrying the kitten, although the younger feline's body could be seen being dragged across the floor.
However, that did not stop the cat, which was determined to take both of them up the stairs near the front door.
Unfortunately, the kitten was too large to carry up the stairs, and the mother cat could be seen struggling to lift her youngster.
Another caption on the video reads: "Do you not want him down here playing? You dropped her."
Since the video was shared on Sunday, February 19, the clip has been seen more than 180,000 times.
Many of those who commented on the post praised the cat's determination and dedication to the kitten.
TikTok user Alissa wrote: "Mama is so gorgeous but she's not interested in your parenting advice."
Ottomorris added: "Mama kitty says: 'They're never too big. They'll always be my babies.'"
Val commented: "Good momma ain't gonna let nobody tell her how to raise her kids," while Gwyneth Armour posted: "Can we just stop the mom shaming? She is a single mom raising her children the best way she can."
Newsweek has contacted fosterkittenmama for comment.