Mom Claims Son's Hearing Aids Were Edited Out of School Pic in Video Viewed Over 2M Times
School photos can serve as a treasured memory for families, but one mother was upset when she received her child's photos and found that her son's hearing aids were not visible. Whitney Rose, who posts to the TikTok and Instagram accounts thesedeafkidsrock, filmed a video in which she showed the photo and claimed it may have been edited.
In a TikTok viewed more than 2 million times, Whitney Rose outlined the steps of her frustration when she first saw her son's photograph with the song "Start a Riot" playing in the background. After describing her own concerns and hearing from other mothers and members of the deaf community, she decided to reach out to the photography company.
This came after a series of other videos describing the situation and responding to other comments.
"Maybe it was the lighting with the new ear molds?" read the caption on Rose's first TikTok that raised this concern, which garnered more than 130,000 views. She explained that he was wearing light orange ear molds.
Rose told Newsweek that she was advised to encourage her son to wear the hearing aids as much as possible, but the family uses American Sign Language and spoken English at home. There are occasions that her son takes the hearing aids out, like when he wants a "hearing break."
Rose provided an update on her Instagram and said she was not unhappy with the school. She explained that her son attends a school for deaf students, which encourages him to wear his hearing devices. However, when she reached out to the photography company, they said they did not edit the hearing aids out of the picture.
She said that she was told they only edit photos when it is requested. Rose then said that if they simply used a skin-softening tool, the hearing aids may have been washed out.
"They agreed to send a digital proof, and when I saw the digital proof I could see the hearing aids better than on a scrappy piece of paper," Rose said. "But it still looks like they were still softened away or something, and I think the lighting had an effect on it."
She then showed the earmold that her son wore for the photograph and said that even if the earmold itself blended in, the part of the device that sits on top of the ear should have been visible.
She told Newsweek that she first thought there may have been a printing error or something that washed the hearing aids out. But, as she looked at the photograph more closely, the more she thought a tool was used to soften her son's skin, which may have had an effect on the hearing aids.
"My honest belief still is that there is some, maybe not intentional photoshopping out of the hearing aids, but some intentional camera work to make skin and faces look softer. As a result, it muted away my son's hearing aids," Rose said.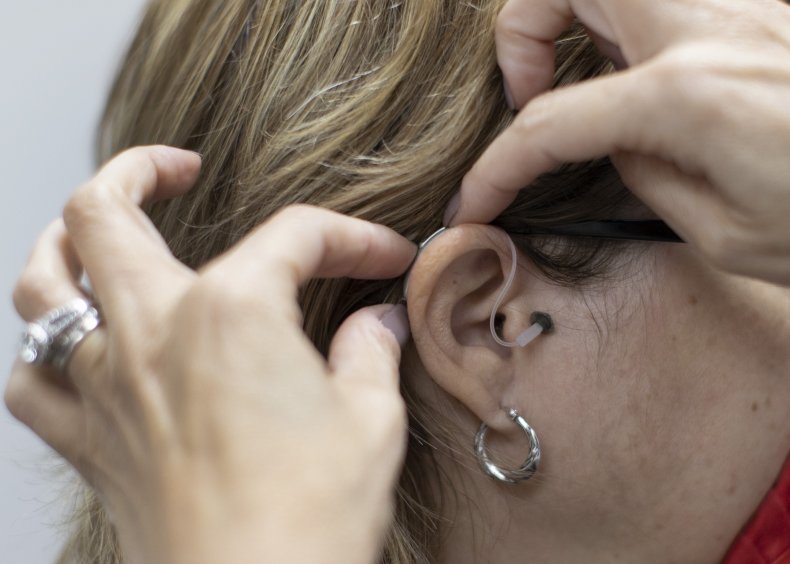 Rose told Newsweek that she does not believe the photography company was honest with her.
"They deny that any touch-ups, filters, or software were used to change the photo, but the hearing aids are so hard to see and his skin looks so soft, that I'm struggling to believe them," she said. "They provided a digital copy of the proof, and the hearing aids were slightly more visible, but still looked faded into his ears."
She said that her husband, who is also deaf, was upset but was not surprised. Rose explained that he was teased for his hearing aids when he was growing up.
"He had learned that in our hearing society, people will often say or do things to offend people with hearing loss," Rose said.
Fellow TikTok commenters weighed in on her videos and expressed their support for Rose. Some shared their own experiences with photographers editing their child's photographs or their own school pictures.
"I once had my child's mole removed in school pics and I called and made them put it back," a TikTok viewer wrote. "I would be livid. Nothing to hide!"
Another TikToker wrote that her schools edited her freckles out.
One shared that her cousin who has autism was edited out of her wedding video interviews.
"I was NOT happy," she wrote.
"Omg! My son is Hispanic and was the only kid that wasn't white on his baseball team," another comment read. "They lightened his skin! I raised hell."
Photographers also weighed in, but many of them wrote that Rose's son's photos should not have been edited or photoshopped.
While many other viewers were supportive of her getting to the bottom of it, others asked if it "mattered."
"Does it really matter if it's edited or not? Absolutely," she said, responding to one of the comments she received. "How would you like it if someone edited your nose off your face? That's kind of part of you. It's crucial to you and your development."
Rose continued and said that although her son was simply excited to see his face in a photo, he may not fully understand that his hearing aids were edited out. She said the photograph sends a message that her son should feel ashamed of who he is.
"If they continue to take those photos and edit them like that, he's eventually going to catch on and it is going to affect him," she said.
Rose told Newsweek that this suggested her child is "broken" and the hearing aids were something that needed to be hidden.
"We have worked since he was two months old to ensure he accepts and loves himself exactly as he is," she said. "For somebody to passively shame him by hiding the hearing aids, is heartbreaking."
Updated 11/02/2021, 5:18 p.m. ET: This story has been updated with comments from Whitney Rose.