A mother recently met her newborn baby for the first time more than two months after giving birth while sedated and intubated for COVID-19 treatment.
Macenzee Keller was finally reunited on February 3 with Zachery, a healthy 11-pound, 13-ounce infant, the Associated Press reported. "It was very emotional because I was like, 'Oh, I got to finally see my baby that I was waiting for so long to see,'" Keller said.
Keller's experience reflects the potentially lasting and severe effects of COVID-19, which has caused extremely mild symptoms in some patients and persevering ailments in others.
Researchers from the Penn State College of Medicine said in October last year that more than half of people who had tested positive for the virus since December 2019 experienced or will experience post-COVID symptoms, also known as "long COVID."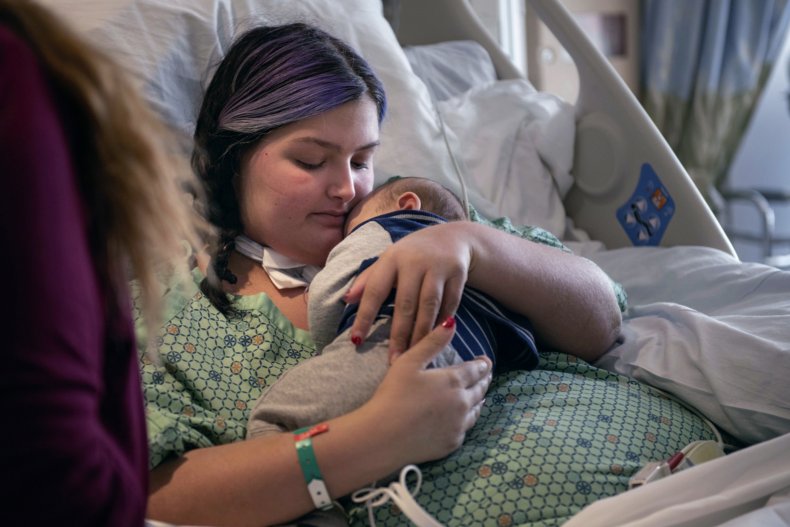 Keller tested positive for COVID two weeks before her December 7 due date, the AP reported. Suffering from a shortness of breath, she said she remembered leaving her apartment on November 27 to go to the hospital but can't recall anything after.
She gave birth through an emergency cesarean section the next day while sedated and intubated at Catholic Medical Center in Manchester, New Hampshire. After being transferred later to another medical center in Lebanon, New Hampshire, she was put on a specialized blood oxygenation treatment while still sedated, according to the AP.
Keller had not been vaccinated against the virus and was planning to get the shot after giving birth. She said that she was nervous about the vaccine potentially causing complications for her pregnancy, the AP reported.
The Centers for Disease Control and Prevention recommends vaccination, particularly with the Pfizer-BioNTech or Moderna shots, for people who are pregnant, according to its website. The American College of Obstetricians and Gynecologists also recommends vaccination for pregnant people.
"Getting a COVID-19 vaccine can protect you from severe illness from COVID-19, and a healthy mom is important for a healthy baby. If you are pregnant, you might want to have a conversation with your healthcare provider about COVID-19 vaccination," the CDC guidelines read.
Keller, who spent 47 days on the specialized blood oxygenation treatment and has since returned home to Manchester, said that she's not sure whether she would have opted to get the vaccine in hindsight.
"I don't know. Part of me says I would have got the vaccine, but then another part of me still says that I didn't want to risk anything," the AP quoted her as saying.
While rare, Keller's experience is not singular among mothers who have given birth during the pandemic.
In November 2020, one mother in Wisconsin had to give birth to her daughter via cesarean section while in a medically-induced coma, the AP reported. She spent 75 days on life and lung support, and she met her daughter more than two months after giving birth.
Update 02/25/22, 4:55 p.m. ET: This story has been updated with more information.
About the writer
Zoe Strozewski is a Newsweek reporter based in New Jersey. Her focus is reporting on U.S. and global politics. Zoe joined Newsweek in 2021. She is a graduate of Kean University. You can get in touch with Zoe by emailing z.strozewski@newsweek.com. Languages: English.