Mom Creates Elf on the Shelf in Wheelchair for 2-Year-Old Daughter With Disability
A mom in Arizona got creative this holiday season by creating an Elf on the Shelf doll that her two-year-old daughter could see herself in.
Stella Lackey was diagnosed with spinal muscular atrophy (SMA), a genetic disease that affects her motor function, when she was one month old, Good Morning America reported.
At nine months, she got her first wheelchair, which she calls "wheel wheels," the outlet said.
Samantha Lackey, Stella's mom, documents her family's life on their Instagram account @stronglikestella and decided to share the process of creating the one-of-a-kind Elf too.
The tradition of the Elf on the Shelf involves parents moving the small elf around the house in the weeks leading up to Christmas to keep an eye on the children for Santa, as Newsweek previously reported.
Stella's Elf, named Bean, uses a purple wheelchair and pink ankle-foot orthoses just like Stella.
Lackey told Newsweek in an email that when her daughter first saw the doll her reaction was "mediocre to say the least."
"[A]s the days went on she got more excited!" Lackey explained.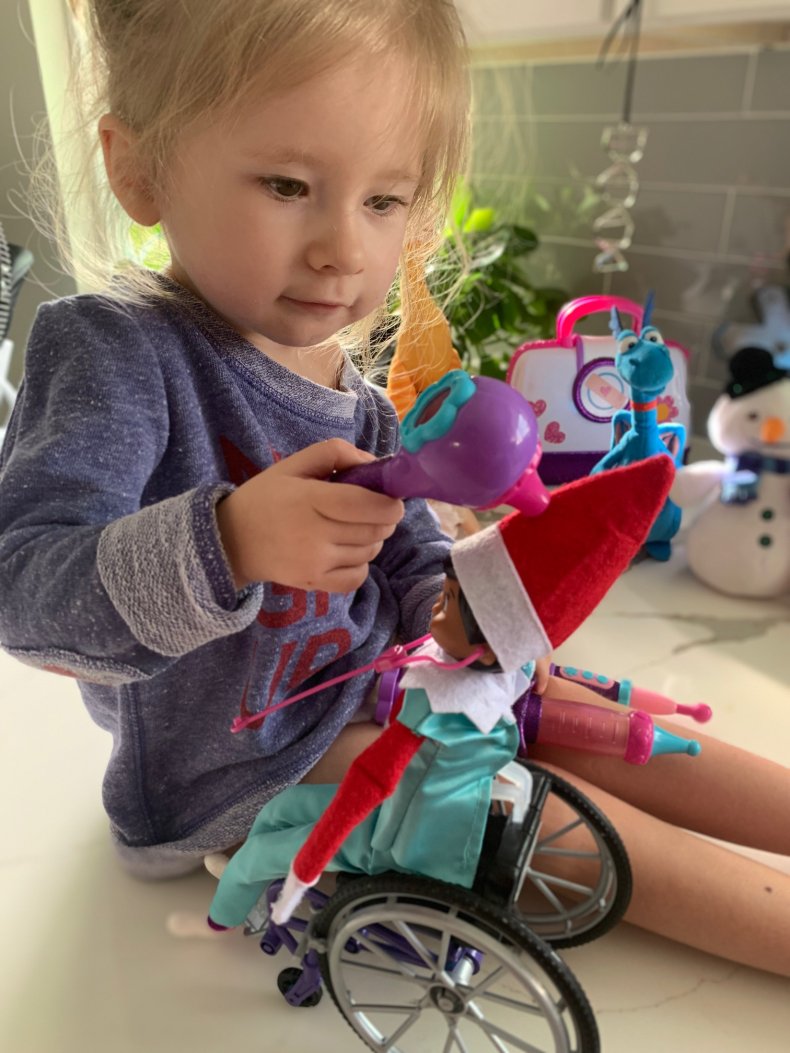 Lackey said it was a no-brainer to make an inclusive elf for her daughter. She told GMA that when she and her husband gave their daughter her first Barbie—who also uses a wheelchair—she saw her daughter's confidence grow and since then has made an effort to make sure she is exposed to inclusive toys and characters.
She told Newsweek that disabilities are rarely "genuinely represented" in the media.
"Every child deserves representations," Lackey said.
Lauren Appelbaum, a vice president at RespectAbility said in a statement earlier this year that while the number of disabled characters continues to increase in television and film, approximately 95 percent of those roles are still portrayed by actors who do not have disabilities, The New York Times reported.
As part of the Elf on the Shelf tradition, parents will set up the Elves doing various activities around the house—sometimes mischievous ones.
Lackey said Stella has been "enamored" with rock walls since first being exposed to one at an adaptable gym she visits as part of her occupational therapy. So, as part of Bean's schedule, Samantha had him rock climb.
"Stella also loves to go down the ramp at home, so does Bean," she told Newsweek. "Yesterday, Bean got into her makeup vanity!"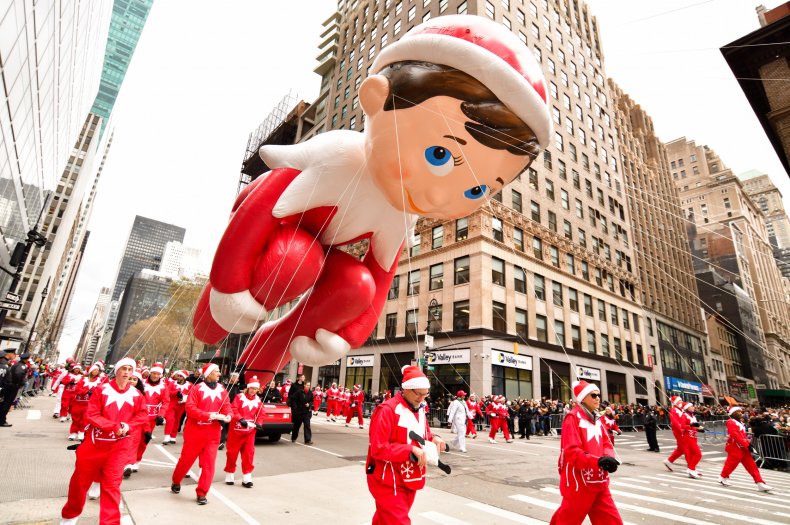 Lackey said that when Stella was younger she used a NG tube to help her eat while they "worked on improving her swallow." Though she is now an "oral eater" and no longer uses support, Samantha had some old supplies laying around and thought it would be fun to "represent kids with tubes," as well.
Bean's tube was filled with hot chocolate.
Lackey said she hopes that parents who follow her account will start to have conversations with their children about disabilities.
"Disabled individuals make up the largest minority group in the world and a person can become disabled at any time—we need to do better normalizing disability and accommodating accessibility," she told Newsweek. "Starting these conversations young and fostering relationships is essential to making the future more accessible and more inclusive."