'My Mom Died of COVID, I'm Now Caring for My 5 Siblings'
My siblings and I grew up in Phoenix, Arizona with our mom, and until last year we were a family of seven; at 25, I am the eldest and then Carlos is 23, Russvel is 20, Eduardo is 17, Robert is 15 and my little sister Melanie is 6. Our mom, Mayra Millan, was an essential worker at a local grocery store and had been working throughout the pandemic, so we think she came into contact with the COVID-19 virus while working.
On November 22, we started quarantining as a family and Mom then received her positive result on November 26. So, my siblings and I then got tested too and we all, except Robert, then tested positive for COVID-19.
My mom was only 46 years old and she was overweight, but she had no underlying health conditions. The virus was causing problems with her breathing, but from one day to the next, she became really ill. Her room was right next door to mine, and when I woke up December 1 the first thing I heard was the sound of her breathing. I ran to her room and could immediately see that she wasn't able to move. The day before that she had been able to shower herself, but that morning she couldn't lift her arms or sit up and she was barely speaking. Terrified, I called an ambulance and our mom was taken to the hospital and put on a ventilator. She was there for 14 days before she died.
The day she passed, we were told that she had hours to live, so myself and two of my brothers managed to go into the hospital and briefly look at her through a window. It was hard seeing her hooked up to all kinds of machines, but to me she was still really beautiful. Even though the doctors had told us she was close to death, I looked at her skin and hair and she looked beautiful to me, she was glowing. And even in those moments, I was still praying for her.
I was lying in bed when I received the call that she had passed away later that day, and all I could think about was my siblings; their hearts and how they were going to react. They are not all minors of course, but I was thinking that I would have to step up and care for them, particularly the younger three. It never crossed my mind that I wouldn't.
We had to wait two weeks before we could hold our mom's funeral, because our youngest brother Robert tested positive for COVID-19 just after my mom passed. I had never planned a funeral and it was a lot of work, even though I had help from family. I created a picture slideshow and even that took four or five days because it was so emotional looking at pictures, and I wanted everything to be perfect for Mom.
The funeral was on January 1, 2021, so we all tried to look at it as starting the year with a celebration of her life. We believe in God so we know our mom is with Him. That gave us a lot of peace. I'm so thankful that there are so many of us, I now understand why there are six of us siblings; we were going to need each other during this time. We all lived together anyway and have always been really close, but now we're even closer. We exercise together to get our minds off everything and we pray and go to church together.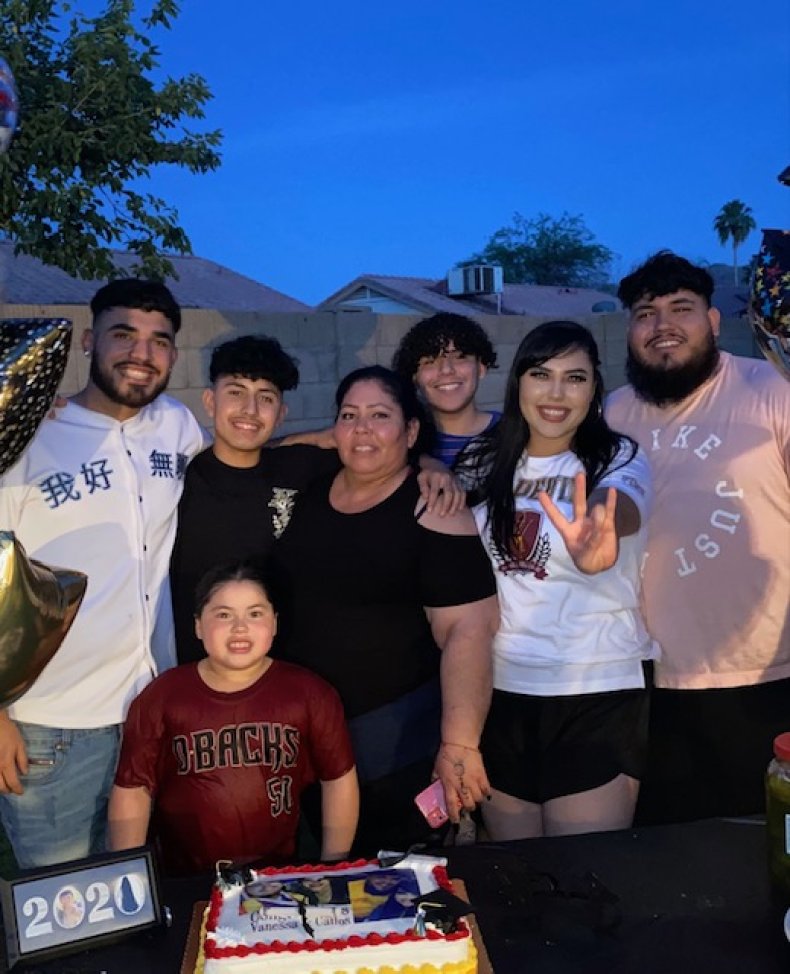 I'm in the process of becoming my younger siblings' legal guardian; meeting with people who are helping me with getting guardianship. They are sweet people who really want to help and try and make everything as simple as possible, but it's extremely overwhelming. I feel like there aren't enough hours in the day for me to work, take care of my mental health, take care of my siblings and go through this process.
I've always been like a second mom to my brothers and sisters, but now without my mom it's more real and it's more work. I now see how much my mom did for us, because with every question they have, every concern, everything they need help with, they all come to me. Sometimes I need time, but I enjoy it. Particularly cooking for them, because my mom showed a lot of love to us through cooking—she loved cooking for all of us. Everything I'm doing now I enjoy because I feel like I'm doing it for her, even though she's not here with us physically.
I haven't really thought about what life will be like without her—it scares me when I think about the long term. So for now, I'm just taking it day by day. And we have a lot of family and friends, and our church is praying for us so we are extremely grateful for that. We definitely feel God's grace in our lives.
We have been able to take time off to heal and be together because our friends and family have really been there for us. From cooking for us or giving us delivery service credit to order food, donating to our GoFundMe and praying for us, they have been so generous. Above everything I'm grateful for the prayers, because we really feel it.
I want people to listen to what everybody is saying; don't gather in large crowds and if you do test positive, quarantine. My family all got sick, but it affected us all differently. Just because you have no symptoms doesn't mean you can go out. Be mindful of other people who are going to have a more difficult time fighting it. It is really horrible when you cannot breathe.
Don't be selfish; be mindful of others because we are talking about people's lives. If they pass, like our mom did, it's going to change the life of a whole family.
My siblings and I were our mom's pride and joy. When we would go to Mexico together and see family members, she'd talk about all six of us how she was really proud of us. So I know she would be proud of us now, because we're all trying our best.
Vanessa Perez lives in Phoenix, Arizona with her five siblings. You can donate to a GoFundMe set up to support the family here.
All views expressed in this article are the author's own.
As told to Jenny Haward.
Newsweek, in partnership with NewsGuard, is dedicated to providing accurate and verifiable vaccine and health information. With NewsGuard's HealthGuard browser extension, users can verify if a website is a trustworthy source of health information. Visit the Newsweek VaxFacts website to learn more and to download the HealthGuard browser extension.