Mom Finishes Journey Late Son Was on When Riding Cross Country to Raise Money For Charity
A woman has finished a cross-country cycling trip her son started over three years ago to raise money for a charity that helps children with cancer after her son died during his ride.
Cindy Dobson, 57, started where her son's journey ended in Mississippi, where he was hit by a car on a highway and died. She drove her "Positive Vibes Tour van" with pictures of her son in the windows from her home in Maine to Mississippi before embarking on her journey.
Her son, James Dobson, wanted to ride his recumbent tricycle from Dover, New Hampshire to San Diego to raise money for charity, calling it his "Positive Vibes Tour," starting his journey in October 2018. About 1,500 miles later and with roughly 1,800 left to go, James was killed in the accident in Mississippi.
Cindy Dobson started her version of the trip in November, riding a similar tricycle to reach San Diego. Others expressed concerns about her health during the trip, according to Foster's Daily Democrat in New Hampshire, but she went anyway.
"This trip helped lift me out of the dark place I've been struggling and stuck in since James' death," Dobson said. "When I was biking, I felt him with me. This trip lit a fire under me. Here I am, a 57-year-old on dialysis, with a messed up back and neck and I'm still here. I keep his photo hung up on my review mirror and all I can do is keep going forward."
She traveled the first 250 miles in the tricycle, before she took a sharp turn and flipped the bike, and rode in the tour bus while they found a place that would fix the bike.
After arriving in San Diego on Dec. 1, Dobson is driving back to her home in Maine and told the Daily Democrat the trip was a constant reminder to continue sharing her son's story and message of helping others.
"I'll never stop telling his story and what happened to him because that keeps his memory alive," Dobson said. "People asked what I'll do when this trip is done. The answer is I'll keep going. I'll keep telling his story because words are fierce, and his story deserves to be told. When you lose a child, you've got to keep them alive in your life some way, but it's a struggle every single day."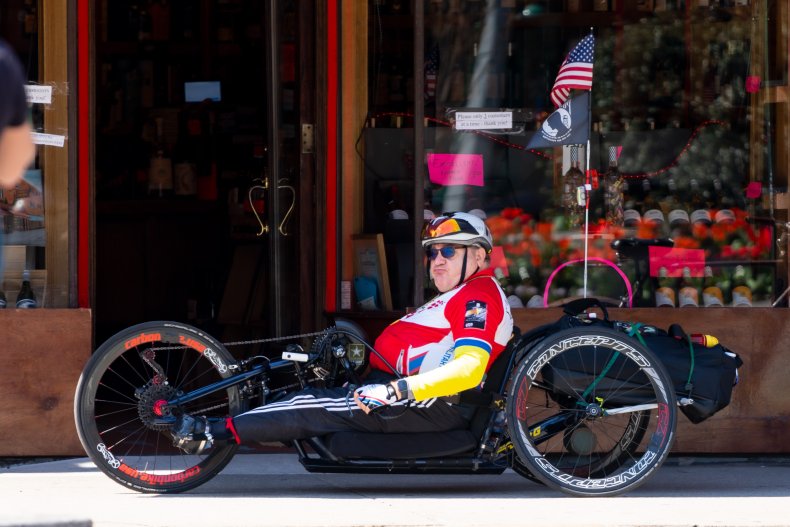 "It was amazing to know I finished his trip and I felt that he was there with me the whole time, every mile of the way," Dobson told Foster's Daily Democrat.
She chronicled her trip, just like James, who ended his videos with, "Stay happy, stay humble, and most of all make everybody smile."
The Associated Press contributed to this report.