Mom of Four Who Married Jailed White Supremacist With 'Hatred' Tattooed on His Forehead 'Excited' Ahead of First Conjugal Visit
The British woman who married a white supremacist inmate has revealed she is "excited" about her first conjugal visit.
Becci Thompson, a mother of four who works as a carer, married Travis Thompson last Friday, despite the fact they had only previously met seven times. According to The Sun, Becci fell in love with Thompson after connecting on writeaprisoner.com, a website that links single women to inmates.
Her husband, who has the word "Hatred" tattooed on his forehead and the SS symbol emblazoned under is left eye, is serving an eight-year and seven-month sentence for burglary and gun offenses at a jail in San Diego, California. He is due to be released in 2023.
The mother of four, who lives in Surrey, a county approximately 30 miles southwest of London, told ITV's Good Morning Britain show that she was now allowed to spend 48 hours with her husband in an apartment on the prison grounds.
"I'm excited about it but I think we're more excited to just chill out and watch TV and relax without being watched by guards all the time," she told the show's host Susanna Reid on Thursday.
The duo married last week when Becci flew out to San Diego and she is expected to make the journey again to be reunited with her newly-wed husband.
She added that her family does not approve of Thompson having "Hatred" tattooed on his forehead.
"My mum's quite old school when it comes to stuff," 31-year-old Becci added.
"My mother, unfortunately, doesn't agree with it, my brother and my friends think I'm mad."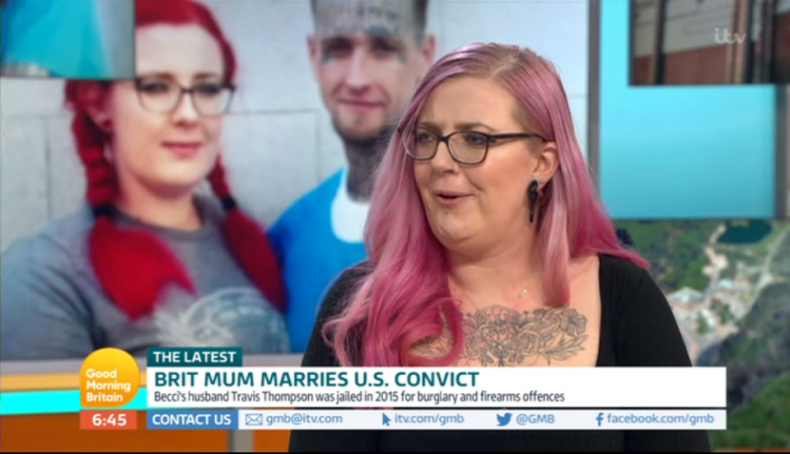 A former tattoo artist, Thompson reportedly opted to have the word plastered across his forehead after his dad died, The Sun reported. His wife, however, revealed even he regrets the tattoo.
"It is one of the tattoos that he does regret," she explained.
"He got it while he was going through a bad time and when he was in the gangs, they tend to mark themselves."
Becci added she has no qualms about introducing her new husband to her four kids when he gets released in 2023, despite the fact he was part of a white supremacist gang.
"They're fine with it, I've been very open with the children and as much as they can understand.
"His actions have been quite great towards me, he's really great with the kids when he's spoke to them, he sends them Christmas cards.
"There's no reason to be concerned. He did something wrong but he's served his time."
She added her husband didn't believe in the ideals perpetuated by white supremacists either.
"He doesn't believe in what they believe," she was quoted as saying by The Sun.
"When he realized it was about power, money and control he decided it wasn't for him. That's when he decided to be an inactive member."