A mom has revealed she's planning on ditching a wedding just four weeks away, despite already RSVPing yes.
The woman shared the backstory to Mumsnet, under username TMarieClara, where she revealed one of her oldest friends, whom she's known for more than 20 years, was getting married in May.
Despite her and her husband already agreeing to go, the mom of two was having second thoughts as she explained she and her friend had spoken less and less over the years.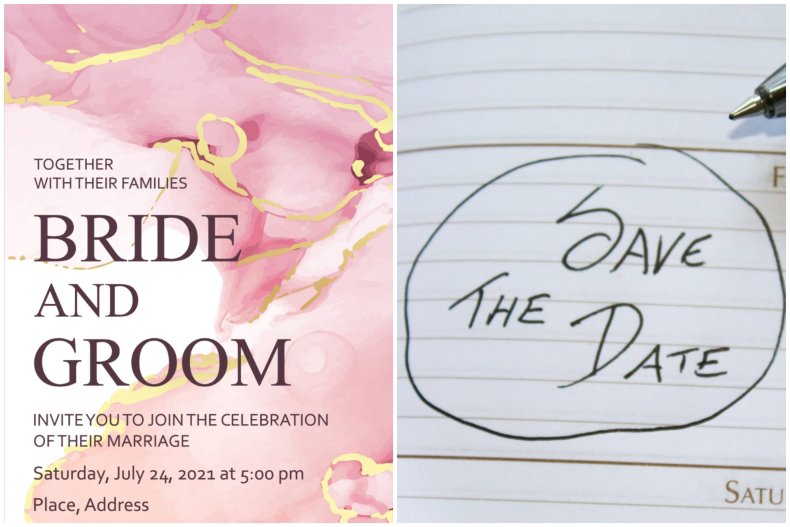 They were previously close, having lived together, while the bride-to-be was herself a bridesmaid at TMarieClara's own wedding six years ago.
"However, in the past few years, we've drifted apart. She started cancelling on our plans at the last minute (something I probably find excessively annoying), and I noticed she'd also started making plans with mutual friends (including two she only knows through me) without me.
"She had NEVER raised any issues with me or said she'd been upset by anything I've done. Basically, she just gave me a slow burn ghosting. Over the years, on a number of occasions, I've tried to rekindle things—told her I missed her, suggested getting together. She's always up for this, then cancels at the last minute," she said.
The turning point was when TMarieClara had her first child, three years ago, as she said: "I got no support whatsoever from her, nor did she show any interest in meeting my daughter, so I decided I just couldn't see her any more and actively tried to avoid being around her whenever possible."
During the pandemic, the mom reached out to try and rekindle things, and claimed her friend told her she'd "done some things to upset her."
But they decided to meet up and talk it over, as she explained: "Of course, she then cancelled on our plans. But she also told me she'd just got engaged, and in the new year, despite us still not seeing each other in 2+ years, she invited us to their wedding this spring."
After only meeting one since then—with another friend—she was hurt to discover the bride-to-be had her bachelorette party.
She admitted: "Although I sort of knew it was happening and I hadn't been invited, I wasn't prepared for how heartbroken I was. It was devastating to see photos of her and my other friends pop up on social.
"I'm now thinking, I don't want to go to the wedding. I feel like I've tried pretty hard to fix things, but not inviting me to her hen do [bachelorette party] and continually cancelling on me really suggests she doesn't actually care about it. Surely I am just making a fool of myself?"
But she acknowledged: "It wouldn't be designed to be an 'f' you, more a move of self preservation! But I know from experience how stressful weddings are and how rude it is to do this last minute."
According to a 2021 survey from wedding website The Knot, the average cost of catering nuptials was $75 per head, meaning the betrothed potentially stood to lose $150.
The post, shared on Tuesday, has already racked up more than 250 replies, and can be read here.
She explained in a comment she could use childcare—as it's a child-free wedding and she has a 2 and 1-year-old—as an excuse but wasn't comfortable with that.
But numerous people backed her stance, as PermanentTemporary thought: "I really don't think 4 weeks is last minute, personally. I'd say that there's been a family issue and you can no longer attend. Then block her. Friendships do end. I think this one is over."
FinnRussell wrote: "YANBU [You Are Not Being Unreasonable]. The friendship is dead. Message her that you wish her a happy day and future but you no longer feel right about joining in with her day."
Ohquietone said: "I suppose you could look at the wedding being one last shot at rekindling your friendship if you were feeling generous. I would probably cancel. A month's notice is fine. It does sound like the relationship is over sadly."
Idontevenknow reckoned: "I wouldn't go, the friendship has gone, I think it's time to accept that."
NeedleNoodle3 admitted: "I'm not normally a canceller or friendship ender but in this case i would cancel."
The chart below, provided by Statista, breaks down the cost of a wedding in the U.S.
Some thought she should go, with PuffinMcStuffin writing: "Yes friendships end having run their natural course, but I think the fact that you've already agreed to go you'd be killing the friendship completely to pull out now. Just go, have fun, you'll barely talk her at the wedding, and then let it fizzle out afterwards."
Blossom64265 added: "She is an old, but distant friend. She invited you to the wedding. You don't have to be besties to attend. Cancelling would be rude. Weddings have very little interaction with the bride and groom anyway. Be the bigger person here, go and enjoy the party, and it will either be a nice goodbye or help heal the relationship."
Backing out of a wedding once you've agreed to attend can be tricky, as it can mean the couple loses out money if they've already done the seating plan and the catering.
Advising how to navigate the delicate subject, the Martha Stewart website quoted wedding planner, Jenna Lam, over how to tactfully rescind your RSVP.
She said: "Guests should keep in mind the expense and effort involved in planning a wedding when responding 'yes' to an RSVP.
"If the wedding isn't formal or seated, perhaps the couple has more leeway in getting the caterers their final counts. But for most weddings, a change in an RSVP is not to be taken lightly."
She advised still sending a wedding gift, and letting the bride and groom know as soon as possible.