Mom Plows Into Cop After Being Told to Stop Car—'Don't Have Time for This'
A Texas mom was arrested for deliberately striking an off-duty deputy with her car after telling him she was late for work, authorities said.
Susan Navarette Rodriguez, 32, hit Michael Hernandez outside a charter school in San Antonio on Tuesday, August 30, according to an arrest-warrant affidavit.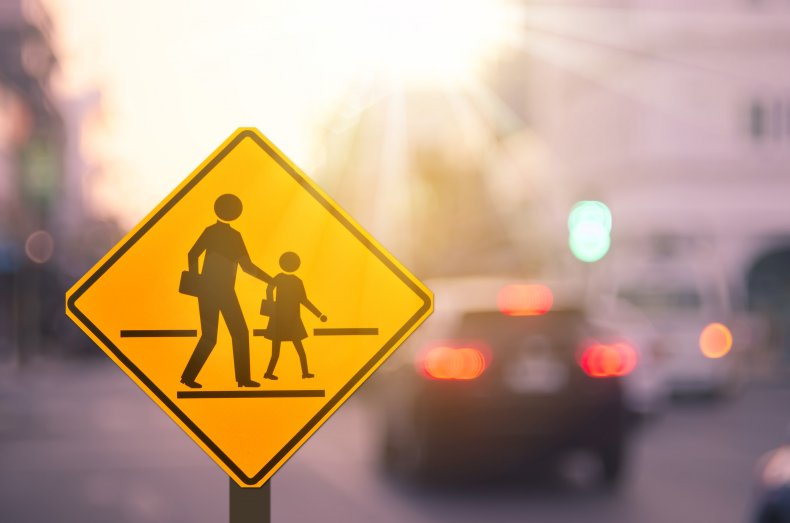 Hernandez, a deputy with Zavala County Sheriff's Office, was working a second job directing traffic outside IDEA Walzem charter school in San Antonio.
He ordered Rodriguez to stop her vehicle after she intentionally disregarded traffic safety.
Hernandez went to her car and told her to get back in the school drop-off line, the affidavit said.
He informed her that she was not allowed to drive down the path she was on because of heavy footfall from students.
"I don't have time for this, I am late for work," Rodriguez said to him.
The mom is accused of then turning her vehicle toward Hernandez and accelerating until she struck him.
The affidavit said body-camera footage captured Rodriguez admitting that she had hit Hernandez.
She said she heard the impact when her vehicle collided with the off-duty deputy, but didn't stop and carried on to drop off her child at the school.
Witnesses say she drove to the back of her school to drop off her child, KSAT reported. The station said that Hernandez chased after her and detained her before alerting Bexar County Sheriff's Office.
Online records from the sheriff's office show an arrest warrant was issued for Rodriguez on Thursday, after the body-camera footage was reviewed.
She was booked into Bexar County Jail on charges of failure to stop and render aid and aggravated assault against a public servant, according to online records.
Rodriguez was released Sunday after her bond was set at $25,000.
Her reason for refusing to stop because she was in a rush to get to work prompted a reaction on social media.
"Her job is that important that she almost ran over a cop? I doubt her job will feel the same way," Christian Garza wrote on Facebook.
Cecilia Guerra commented: "Well. She won't have to worry about being late anymore. Talk about stupid choices."
Cyndee MacIntosh wrote that Rodriguez was probably stressed.
"The good news is the cop is fine. He was able to chase her down. This mom was probably stressed out and running late. She didn't want to jeopardize her job. Maybe she snapped," MacIntosh commented.
Newsweek has contact Bexar County Sheriff's Office and Zavala County Sheriff's Office for additional comment. Rodriguez could not be reached for comment.