Mom Reveals How to Get Your Toddler 'The Best Seat' on Plane for Free
Millions of people have watched a "free" travel hack for parents flying with toddlers.
The viral clip has been a boon for many after TikTok user @gabrielleandfamily, who took a long-haul flight from Los Angeles to London on September 13, revealed bassinets are available for kids under two.
The popular video of 17-month-old Miles has racked up more than 131,000 likes and has been viewed 2.6 million times. Hundreds of people have commented, many of whom have praised the mom Gabrielle Rashbaum, 33, for sharing the hack.
Rashbaum, who lives in Santa Monica, California, told Newsweek: "Luckily, we were on a red-eye flight, and Miles is used to sleeping in new environments so he fell asleep right away. We didn't have to wake him during the flight since there wasn't any turbulence. Miles woke up right before we had to return the bassinet to the crew, which was right before landing."
Rashbaum said she discovered the hack through her mom Susan Faessler, who is a flight attendant for Delta Airlines.
"My mom and dad took my sisters and me everywhere they traveled, which fueled our love for travel and exploring new places and cultures. When I became a mom myself, I wanted my kids to have the same experience. My mom shares many great travel tips with me, my friends, my family and her passengers. She fueled me with great advice when traveling with babies and toddlers to make the flight enjoyable for all," she said.
"We love traveling with Miles, but the bassinet isn't always an option on domestic flights. If prices aren't too crazy, we will buy him a seat," she said, adding, "When he has his own seat, we use the Doona, a two-in-one travel car seat and stroller, as it wheels down most plane aisles, then collapses into a car seat which is more comfortable for him to sleep in rather than sleeping on me."
Rashbaum shared her top travel tips:
When making a bottle on the plane, ask for water and hot water so you can mix it together—the flight attendant may even offer to mix hot and cold water together for you, before adding formula.
Pack extra outfits in a carry-on for the baby and parents for those "just in case" moments.
"Treat the airport like Disneyworld, it will make it much more enjoyable for everyone! If you want to go, go! I truly believe that the only mistake you can make is by not going on holiday at all," Rashbaum said.
The family was flying with Delta Air Lines, whose website refers to the bassinets as "SkyCots."
Delta's website states: "They're ideal for babies weighing up to 20 lbs. and up to 26 inches long."
Rashbaum revealed in the caption of her video that preparation is critical and offered the following tips:
Reserve the bulkhead seats when booking
Follow up with the airline to confirm bassinet hooks are available in the selected row
Request the bassinet with the gate agent at the airport
She pointed out that the basket-like baby beds aren't guaranteed as they are limited.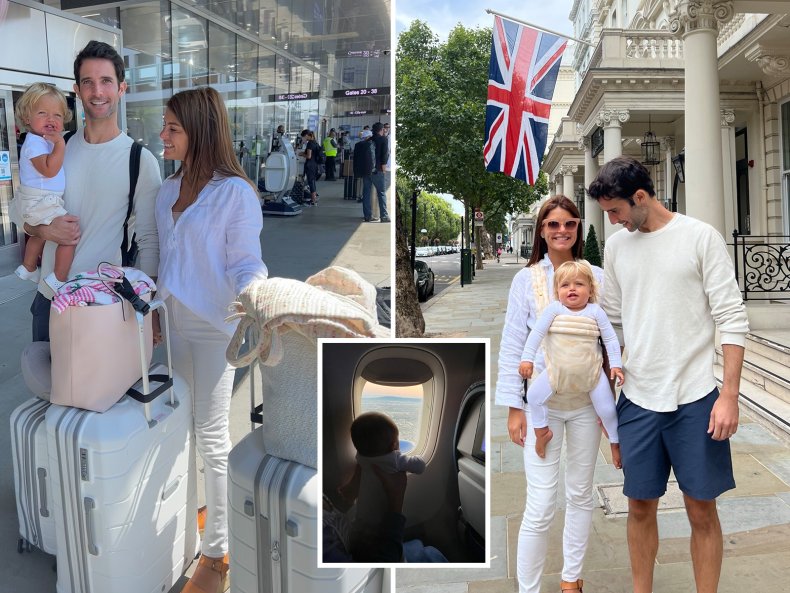 Rashbaum isn't the only mom giving travel tips online. In May this year, Colleen Lanin shared a post on a blog dedicated to helping parents travel with children called Travel Mamas.
Titled "Flying with a Toddler or Baby (21 Tried and True Tips!)," Lanin wrote:
Book a direct flight or one with a longer layover to avoid running through the airport with a baby and extra luggage
Take advantage of pre-boarding to strap your little one in before other passengers board
Gate-check baby gear, which is usually free of charge. Most airlines allow parents and caregivers to gate-check bulky baby gear like strollers and car seats.
Hundreds of people have commented on Rashbaum's post and one comment received more than 3,500 likes. It said: "Looks like the best seat on the plane!"
Speaking from experience, one user said: "British Airlines had this 30 years ago when I traveled to London every summer with my baby and toddler."
A grateful parent wrote: "Thanks for sharing this on behalf of anyone that has a baby or traveled on flights with babies!"
A few users have pointed out it isn't possible for the baby to stay in the bassinet during turbulence.
"I did this on a flight to London and it was amazing but then we had a lot of turbulence so I had to hold my son for the majority of the flight," said one user.
A former airline worker said: "I used to work for an airline & those bassinets are filthy. They never wash them so just be careful!"
If you have a personal dilemma, let us know via life@newsweek.com. We can ask experts for advice on relationships, family, friends, money and work and your story could be featured on Newsweek's "What Should I Do? section.
Update 11/15/22, 5:46 a.m. ET: This article was updated to add original photos and comments from the contributor.