Mother Caught Carrying Assault Rifle at Son's School Bus Stop Says She 'Meant No Harm'
A North Carolina woman who was caught with an assault rifle at her son's school bus stop Monday says she grabbed the weapon before leaving home because she saw "dangerous animals" coming out of the woods.
"If they were here they would have seen coyotes on my property," she told WSOC . "I was scaring coyotes off. When I was coming back up to my house is when the bus pulled up."
But the unnamed mother, whose 11-year-old son attends North Stanly Middle School, also told the station her son had texted her that morning to say that he had been bullied by other students on the bus to school.
When the bus driver pulled up to drop off the child off, she was startled by the assault rifle. A student on the bus recorded the scene and uploaded it to social media. Some parents were upset by the mother's actions, but she insisted, "I would not hurt nobody else's child because I wouldn't want it done to my child."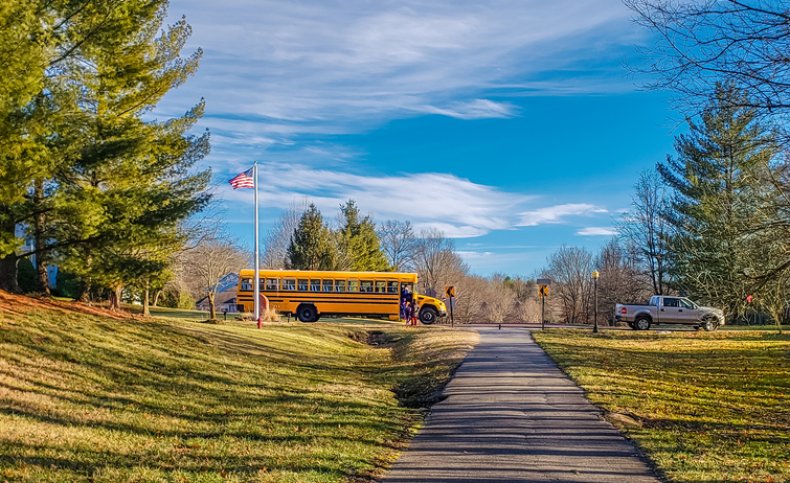 Stanly County Police Captain Chris Huneycutt said because she did not harm anybody or make any threats, the woman wouldn't be charged with any wrongdoing. "Obviously we're gonna suggest no one take a gun to a bus stop to pick up a child," Huneycutt told WSOC, "but as far as it being a criminal behavior, we cannot find a criminal violation."
School administrators investigated the bullying allegations and said they've taken appropriate disciplinary action.
Two days later, a nearby high school went into lockdown after a student was seen with a shotgun in the back of his truck in the school parking lot.
The unnamed student reportedly cut a line of cars to enter the student lot at Sun Valley High School in Monroe, North Carolina, about 40 miles from North Stanley Middle School. Principal Mike Harvey went over to talk to him about parking policy and noticed the gun in the back.
Questioned about it, the student reportedly "uttered a comment and drove around the principal and over the curbing and the median" and exited onto the nearby highway, according to Tony Underwood of the Union County Sheriff's Office.
Sun Valley was immediately placed on lockdown, as were nearby elementary and middle schools. Authorities located the student and took him into custody at approximately 10:30am, but were unable to locate and secure the gun.
He was taken into custody and questioned at the Union County Sheriff's Office. Underwood praised the principal and school for their quick response. "They did exactly what they should've done to prevent something from ever happening."
But some parents picked their children up early out of concern for their safety.
"School's a scary place these days," one told WCNC. "Almost, you don't want to send them."
The student's mother told WSOC her son was a "good kid" who simply forgot that he left his shotgun in the truck before leaving for school.