'Mom' Series Finale: Will Anna Faris Appear in the Final Episode?
Mom Season 8, Episode 18 is airing Thursday on CBS. As well as bringing the first season of the show without Anna Faris to an end, the episode will also be the last-ever installment of the show, having been canceled back in February 2021.
With Faris being such an integral part of the CBS comedy for over 150 episodes, fans are hoping that Christy will make an appearance to mark the show ending, similar to the return recently made by America Ferrera for the end of Superstore.
Will Anna Faris appear in the final episode of Mom?
All signs point to no, Anna Faris will not return.
The actor did not appear in the teaser for the season finale, and Christy was also missing from the synopsis for the episode, titled "My Kinda People and the Big To-Do." That logline reads: "Bonnie gains a new outlook on her sobriety after dealing with difficult news. Also, Jill and Andy take a big step in their relationship."
Fans hoping that the show is saving Christy's last appearance in the show as a big reveal are likely to be disappointed. A preview of the finale published by Variety on May 12 confirmed that Faris would not be back for the last-ever episode.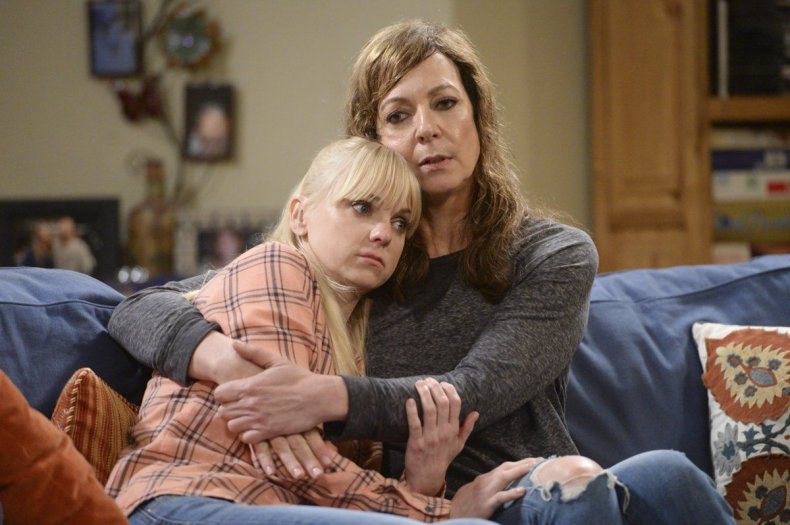 Instead, per the outlet Season 8, Episode 18 will focus on, "Bonnie [played by Allison Janney] receiving a new perspective on her sobriety after she is dealt some 'difficult' news, while also celebrating how far characters, such as [Jamie] Pressly's Jill, who learned she was pregnant in the penultimate episodes, have come."
Faris announced she was leaving the show in November 2020, in what was reportedly a sudden move that left the cast and crew reeling. The actor had not completed her contracted time on the show, which had her signed up until the end of Season 8.
Recently, Janney appeared on CBS Sunday Morning, where she discussed Mom coming to an end. The Oscar-winning actor (who won an Emmy for her work playing Bonnie) said: "It was a shock...I have my own theories, but I've been told not to express them."
Previously, Janney discussed Faris' exit on the recently canceled Ellen DeGeneres Show. She said: "It was very odd, she is very missed. Anna is missed and her character on the show is missed...We are just happy she is doing what she wants to do now and we are happy that we are still able to tell these stories about these great women in recovery."
At the start of the season, it was established that Christy had finally decided to live her dream and head to law school.
Faris announced her departure from the show in a social media post that read: "The past seven years on Mom have been some of the most fulfilling and rewarding of my career. I'm so thankful to [executive producer Chuck Lorre], the writers, and my amazing castmates for creating a truly wonderful work experience. While my journey as Christy has come to an end, allowing me to pursue new opportunities, I'll be watching next season and rooting for my TV family."
Though Faris will not return for one more visit to Mom, the show will have a new face in its finale. Young Sheldon and Two and a Half Men star Melanie Lynskey is set to guest as Shannon, a newcomer to Alcoholics Anonymous who struggles to open up to Bonnie and the rest of the group.
The Mom series finale airs May 13 at 9 p.m. ET / 8 p.m. CT on CBS. Season 8 is streaming on Paramount+. Seasons 1 to 7 are streaming on Hulu.