Mom Sparks Debate Asking How Much Rent To Charge Adult Son Earning $32K
A parent asking how much they should charge their adult child who lives at home has sparked discussion online.
In a post on the London-based discussion site Mumsnet, user Fordian shared how her son is in his first job after graduating college and is making £27,000 ($32,500) a year.
While he is settling into post-college life, he is living with his parents in their four-bedroom house in Hampshire, England.
"He owns a car to get to work," said the parent. "I buy all the food, do most of the cooking—though he'll help prep, do the dishwasher. He'll hang washing and take it back in [and] will vacuum if asked."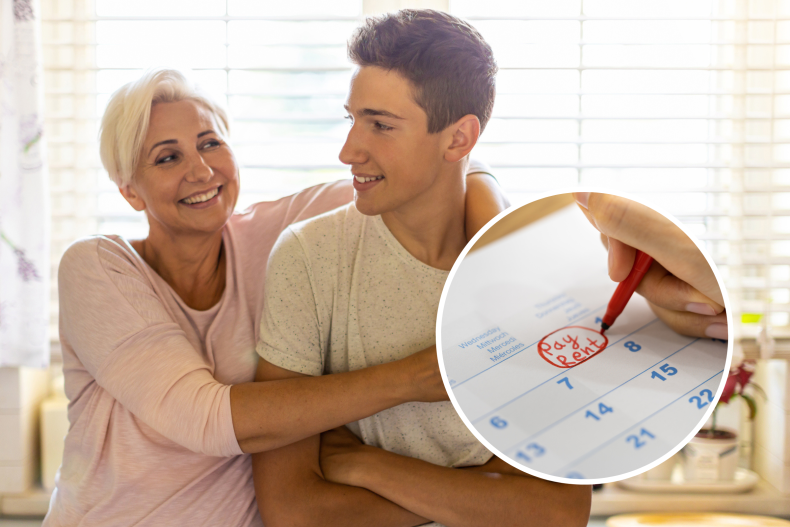 Picking the collective brains of the internet, the mom asked: "How much board and lodging would you charge?"
Florence Ann Romano, personal growth strategist, and author of Build Your Village: A Guide to Finding Joy and Community in Every Stage of Life, told Newsweek that adults returning to the family home despite being in work has become increasingly common.
"We have seen this become more common with the millennial generation," she explained.
Sometimes referred to as "boomerang kids," a 2020 survey from the Pew Research Center reported that the majority of young adults in the U.S. live with their parents for the first time since the Great Depression.
The COVID-19 pandemic caused a temporary boom in young adults moving back in with their parents, but a report from 2022 by LendingTree revealed that 67 percent of those are still living with mom and dad.
But when this mom asked users on Mumsnet how much she should charge her son, she was greeted with a mixed response.
"We charge a third of whatever they earn," said one parent in a similar situation, while others suggested figures such as £100 ($120) and £300 ($361) per month.
"A third of their take home pay," said another reply. "It's good for them to understand the value of what it costs to run a home."
But others outwardly disagreed with the idea of charging at all. One commenter said: "If I didn't need the money, I wouldn't take anything."
While another wrote: "I think £0 if they're saving to move out."
said another Mumsnet user. "They are not lodgers. I mean, fair enough if you need a contribution towards food and fuel bills but the rest you would pay anyway."
"I have seen this situation approached in various ways," said Ann Romano. "Some parents do charge rent and actually put that money into an account for their child, without them knowing, to help them afford to be able to move out one day. A lovely surprise!
"Other parents charge room and board to help the household financially as a whole," she added. "For without it the burden of supporting the child would be stretching themselves too thin. Everyone's socioeconomic means are different, and it simply comes down to preferences and personal values of the parents."
Whatever the parent decides to do in this situation, Ann Romano said it is important to support your child's financial education.
"Money matters shouldn't be a conversation that you wait to have until your child is going off on their own. From a young age, learning how to balance a checkbook; budget their lifestyle; and honoring the value of the dollar are all important skills to encourage and support with your children," she explained.
Newsweek was not able to verify the details of the case.
Do you have a monetary dilemma? Let us know via life@newsweek.com. We can ask experts for advice, and your story could be featured on Newsweek.