A woman is facing the prospect of spending Christmas alone after apparently being uninvited from her family's festive celebrations by her mother.
The reason for her omission? That she had the temerity to get a booster vaccine against COVID-19. In a series of screenshots posted to Reddit by a user operating under the handle soymilk666, a woman called Leia shared details of a purported text exchange with her mom.
Things start off normal enough, with Leia posting a message that reads: "I'm getting my booster shot next Tuesday."
To most that would represent good news, especially in light of Dr. Anthony Fauci's latest statement saying that only those who have had a booster shot of a COVID-19 vaccine might be considered "fully vaccinated."
However, Leia's mom is anything but pleased by this news.
"Leia you don't need the f***ing booster," she replies. "Don't do it. How are you missing that you do not need to and that it doesn't really work? Wake up with this."
These claims fly in the face of the recommendations of not only scientists but former President Donald Trump, who recently admitted to having had the booster shot, much to the chagrin of the QAnon community who remain opposed to COVID vaccinations.
Despite all of the evidence to the contrary, however, Leia's mom continues her tirade against her daughter's plans to get fully vaccinated. "Give your body a break," she says in a follow-up message. "Stop taking this vaccine."
The messages continue. "There is no going back and you will regret going down this road," she say in another. "Stop the vaccine."
Then came the real kicker. "You are best to stay at home if you are taking it," Leia's mom wrote. "I will just send your presents this week to you."
At this point, Leia finally replied with a simple three response of "what the f***."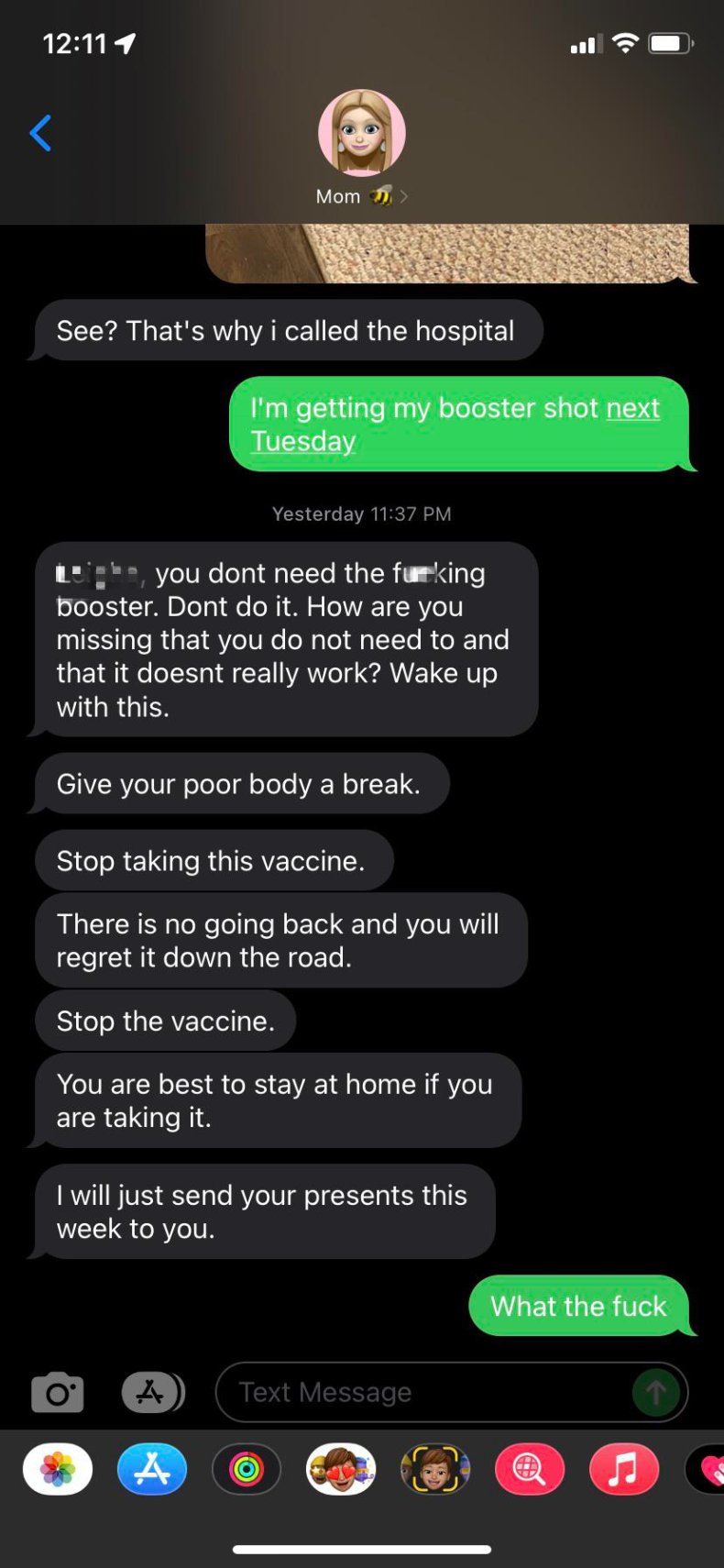 Her mom's thinking was made all the more bizarre by the fact that Leia claims to work as a nurse and is therefore being exposed to patients battling COVID-19 on a daily basis.
The lunacy of her logic was not lost on Reddit of course. One user, posting as Orion-Galileo, branded it "straight up insanity." "When these people are looking back on their lives when they are on their deathbeds I wonder if they'll feel any regret," they added.
Midnightstreetlamps, meanwhile, noted that the fact people "are more afraid of the vaccine than the debilitating disease" was "wild" to him.
Another user, posting as Nabzarella, said: "My sister and mother are on the anti-vax side as they seriously think the vaccine is more dangerous. They don't know anyone who caught Covid really badly, everyone they know recovered just fine."
"They're no longer taking Covid seriously," they added. "The death toll is just numbers to them, not people."
In spite of the craziness of it all, some were able to see the positive side. "You made out like a bandit," shadowoperative wrote. "You get presents without having to travel to crazytown." Techsupportvictim agreed: "Sounds like Mom is right on the money, stay home and avoid the crazy. Give your mental health a break."
Leia told Newsweek communication with her mom has been "limited" since the exchange. "She mailed my Christmas present and the hot chocolate and marshmallows we planned on making when I was there," she said. "She refuses to acknowledge that conversation when I bring it up."
Though she has not received a reinvitation, Leia said she wouldn't go even if she was, given that COVID cases are on the rise again. Besides which, she now has other plans.
"I adopted a rescue dog from Korea last month so I will be spending Christmas with him then back to work for new year's," she said.
She admits it has been a "stressful" year for her working as a nurse.
"I have cared for a few COVID patients and lots of post-COVID patients who are still experiencing complications from it," Leia said. "It's frustrating because neither of my parents is vaccinated and I definitely worry about them."
She said the exchange it's the first time she has had "disagreements" with her mom about vaccinations though it was "the first time she has reacted as extremely as that."
She said her parents regularly trot out all the familiar lines about the vaccine like "It's too soon to know the consequences," "you are being their Guinea pig," "don't trust the government," "they're taking away our freedom" and "it alters your DNA."
Leia said the internet and social media has had a major influence on her parents' view of COVID vaccinations. "They take in the information that is easiest for them to understand, which is typically found on Facebook memes," she said. "They both believed in conspiracy theories prior to COVID and now the vaccine mandate has amplified their beliefs."
She said she decided to share the post because she thought "some people might get a laugh out of it" though she didn't expect such a huge reaction. "I guess a lot of people can relate to it with their families and vaccine hesitancy."
But while she is able to laugh about the exchange now, she remains worried for her parents. "Honestly, I'm not sure what would convince them [to get vaccinated. I imagine it would have to be something quite dramatic, such as a loved one suffering severe complications from COVID," she said.
"Even then I'm not sure, it would probably just turn into another conspiracy."