Mom Uses Microphone to Embarrass Son at School Drop Off in Video Viewed Over 20M Times
TikTok has become a platform for everything from dancing to comedy to parents embarrassing their children.
One mom in Texas, who posts from the account @toniaerin, uses the app to document her life as a "#Boymom." Earlier this year Tonia started posting a series of videos in which she would embarrass her 12-year-old son when dropping him off at school.
The videos have racked up millions of views, one in particular has been viewed over 20 million times.
In the video, she pulls up to her child's school and turns to her son to say "I love you." The boy then turns to look at his mom and pulls his hood tightly over his head.
"No! We are at the front of the school," he said.
After he gets out, his mom yells various "embarrassing" phrases to her son over a karaoke microphone.
"Ashton, don't forget how much I love you," she said. "I've loved since the day I pushed you out of me hoo-hah."
In the caption to the video she wrote, "Used a karaoke microphone and my only regret is that there weren't more kiddos around!"
In the comments, @toniaerin, wrote a disclaimer stating that Ashton "loves every minute of this and is bummed when I don't embarrass him."
Tonia told Newsweek that she has been embarrassing her son for years and getting it on film and seeing the response to the videos has been "a blast."
"He is loving it," she said. "He thinks it's the coolest thing since sliced bread."
Some people in the comments were critical of the mom saying her actions might cause the child to be bullied.
"Why do people do this?? Like people are going to be bullied and ots [sic] going to be your fault," one commenter said.
Others, though, showed more support saying the video reminded them of their own childhood.
"My dad used to embarrass me like this when I was getting dropped off for middle school.. he passed my freshman yeah [sic]. i miss when he would do this," one commenter wrote.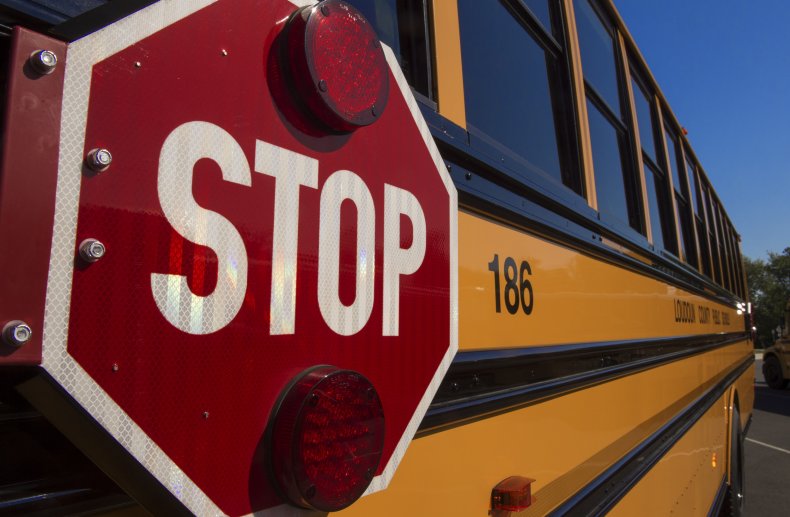 In other videos, @toniaerin shouts other embarrassing things to her son as he gets out for school.
In one from early September she said, "Today is day five of not eating your boogers, let's go for day six," she said.
Tonia said she is part of the TikTok creator fund—a fund created by TikTok to help financially support content creators on the app.
"I told him when we were first starting this, I said whatever we make off of this I will put toward a Hawaii trip for next summer," she said. "Ever since then he's been down."
Though this mother, son pair are not the only ones that have seen the embarrassing side of social media.
In October, another mom took to TikTok to reveal it was her daughter who embarrassed her on social media—not the other way around.
As previously reported by Newsweek, a TikTok user known as "Brianna," said her young daughter accidentally started filming her mother showering while broadcasting on Instagram live.
She told Newsweek she did not know how many people viewed the moment but discovered that she really only got a glimpse of her face in the footage.
Tonia said she hopes their videos inspire parents to have more fun with their children.
"It's a great way to document our short time together. I think life is so unbelievably short and really try to live in the moment and enjoy your kids while they're little," she said.
Update 11/03/2021, 11:55 a.m. ET: This article has been updated with comments from @toniaerin, as well as her first name.
Correction 11/01/2021, 5:44 p.m. ET: This article was updated to correct the spelling of @toniaerin's user name.