Randy Bryce's Mom Wants Ad Featuring His Brother Saying He's Voting For Republican Opponent Taken Down
While political campaigns often put a spotlight on the entire family, the mother of Randy Bryce, who is running for Paul Ryan's seat, said one ad featuring her other son took it too far and needs to be taken down.
Bryce is vying to represent Wisconsin in the House of Representatives in a seat that's currently held by Ryan, who is not seeking re-election. His win would flip the seat blue and in an effort to keep it red, a super PAC turned to his brother, James Bryce.
The 30-second ad, which was released on Tuesday, featured James, who has been a police officer for more than 20 years. During the video, James addressed the increase in violence against police officers, which he attributed to "cop-hating rhetoric."
Given that he's been to three funerals for police officers in two years, James said when people refer to police officers as "terrorists" it "hits a little close to home." As James criticized the rhetoric, a tweet Randy posted in 2012 of an article accompanied by the words, "when police become the terrorists," appeared on the screen.
"That's one of the many reasons why I'm voting for Bryan Steil for Congress," James concluded.
In response to the ad, Nancy Bryce, the mother of the two men, pushed for the ad to be taken off the air and called for Steil to disavow it.
"I might be getting up in years, but I still have some fight in me, and I'm not going to let these people take cheap shots at my boys," she said in a statement to the Milwaukee Journal Sentinel.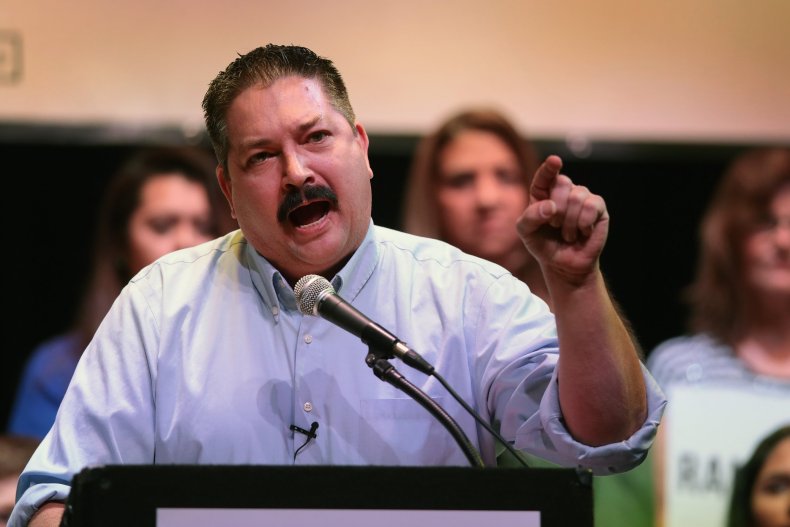 While she acknowledged her sons hold different political opinions and, similarly to every other mother, is used to them getting into disagreements, she criticized people in Washington, D.C. for trying to "pit my boys against each other for their own political gain."
When Randy said he would run for Congress, Nancy shared that she was proud and ready to support him and as the wife of a police officer, she also sought to set the record straight. She wrote that her son Randy is proud to come from a law enforcement family but also stands for "justice and fairness, and speaks up when he sees a wrong being committed."
Proud of the way she and the men's father raised all of their children, Nancy wrote that she was "disgusted" that the Republican party is more focused on creating division than telling the truth.
"Shame on this 'super PAC' for running these ads, shame on its leader Paul Ryan for funding them, and shame on people of good conscience who choose to sit idly by and watch this pain inflicted upon a family in the name of partisan politics," she declared.
Nancy urged Steil to get the ad taken off the air and concluded her statement with the sentiment that no matter who wins the election, this is not the way politics should be handled.
The ad was sponsored by the Congressional Leadership Fund, a super PAC that exclusively works to protect and strengthen the Republican's majority in the House of Representatives.