Moment Harvard Students Stage Walk Out Protest Against Professor Goes Viral
More than 100 Harvard University students walked out of class on Wednesday rather than be taught by Professor John Comaroff, an anthropologist who has been accused of sexual harassment and other inappropriate behavior, which he denies.
Comaroff was placed on unpaid leave in January 2022 after an internal Harvard review concluded he had violated the university's policies on sexual harassment and professional conduct, but has since returned to the classroom.
On Wednesday Comaroff was addressing a packed lecture theater when a student stood up and began making a statement that appeared to be read from her phone.
She said: "We don't want to be taught by someone who has still not been held accountable for, or made amends for their sexual misconduct. John Comaroff spent his career harassing, silencing and retaliating against students.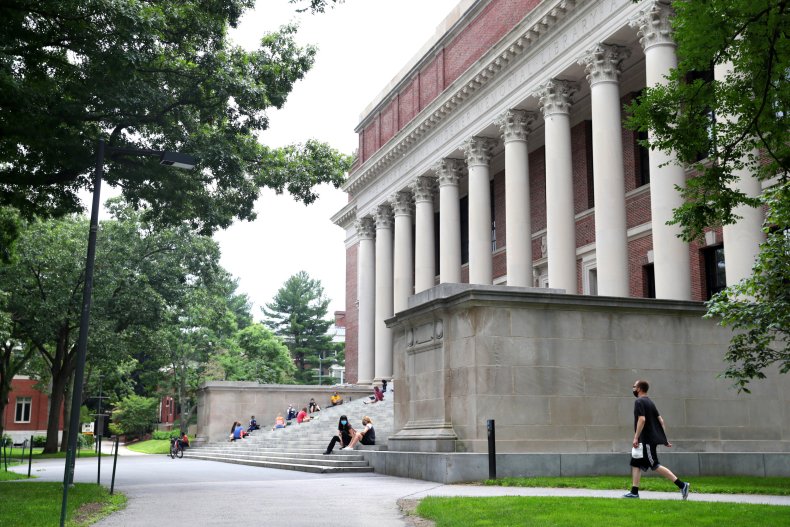 "He does not belong at Harvard. If you agree, please join us in walking out of this classroom because enough is enough."
At this point students held up posters emblazoned with slogans such as "Believe Survivors" and "Predator," then the majority of those present walked out of the lecture theater in one group.
A video of the incident, posted on Twitter by Harvard student Rosie Couture, has received more than 23,000 views on the platform.
She wrote: "Watch the moment 100+ Harvard students walked out of John Comaroff's classroom, a current professor and known sexual abuser.
"We demand Comaroff resigns & Harvard ends their complicity in sexual abuse and misogyny on campus."
Speaking to Newsweek, Comaroff's legal team said: "Professor Comaroff has always supported students' rights to peacefully protest. However, protesters who shut down Professor Comaroff's course did so to the detriment of students who had enrolled in good faith in the class and wished to learn from him."
In September Comaroff returned to teaching after being placed on administrative leave for two years. During his first class that month five students staged a walkout, while dozens of others held a protest outside.
Earlier in January students plastered the door and exterior of Comaroff's office with posters branding him an "abuser" and demanding he resign.
Allegations of "unwanted touching, verbal sexual harassment and professional retaliation" were first raised against the professor in 2020, resulting in him being placed on leave.
Former student Lilia Kilburn claimed, in a later lawsuit, she faced "forced kissing, groping, persistent invitations to socialize alone off-campus, and coercive control."
In one incident Comaroff allegedly told a lesbian student she could face "corrective rape" in parts of Africa, comments she claimed during an interview with The New York Times were made with a "tone of enjoyment."
A Harvard review concluded Comaroff was responsible for "verbal sexual harassment," but didn't substantiate accusations of "unwanted sexual contact."
Complaints had been made by three former Harvard students; Amulya Mandava, Margaret Czerwienski and Kilburn.
In a statement sent to Newsweek, Comaroff's legal team said: "Harvard thoroughly investigated allegations against Professor Comaroff and found him responsible for exactly two of the multitude of allegations leveled against him in the complaints filed by Margaret Czerwienski, Lilia Kilburn, and Amulya Mandava.
"It found that he had engaged in 'sexual harassment' by warning Ms. Kilburn of risks that could attend her plan to travel openly with her same-sex partner while conducting fieldwork in Cameroon—advice that multiple faculty witnesses in the Title IX investigation agreed was both appropriate and necessary.
"And, in a second investigation, it found that he had made statements to Ms. Mandava about rumors about him that she interpreted as threatening, though it did not find that he had intended his comments as a threat. (Professor Comaroff denies making any such comments.)
"Harvard did not find him responsible for retaliation against any of the plaintiffs, and it found him not responsible for the serious claims that he inappropriately kissed or touched a student.
"The current protests are based on rumor and manufactured outrage, not fact. While the protesters are undoubtedly motivated by the numerous other lurid allegations contained in the lawsuit the complainants have filed, their outrage is completely in excess of the evidence."
Newsweek has contacted Harvard University for comment.
Update 1/27/23 3:45 a.m. ET: This article has been updated with additional comment from Professor Comaroff's legal team.