Dramatic Moment Oregon High School Football Coach Disarms Student With Gun on Campus Captured on Film
The dramatic moment an Oregon high school student armed with a shotgun was disarmed by a football coach has been captured on film.
The security footage, acquired by KOIN 6 News, shows 18 year old Angel Granados-Diaz walking into a hallway in Parkrose High School in Portland with the loaded shotgun, concealing it in what appears to be a large bag or blanket.
Granados-Diaz can then be seen entering a room where the shotgun was removed and where the teenager seemingly prepared an attack.
Seconds later, the student can be seen entering a different doorway with the gun in hand and terrified students are seen fleeing away.
Security footage from another camera shows the moment football coach Keanon Lowe disarms Granados-Diaz, before hugging him in a long embrace. Lowe had been called to the fine arts building to get a student before the incident took place.
"I walk in there, I get to the classroom, I'm in the classroom for 15, 20 seconds—you know, I ask the teacher, 'Is the student here?'"
Granados-Diaz was reportedly only several steps away with the shotgun tucked under his coat.
Lowe said: "The door opens, I'm within arm's length of the door, about 3 feet away from the door, and there's a kid with a gun, a shotgun.
"In a fraction of a second, I analyzed everything really fast.
"I saw the look in his face, look in his eyes, looked at the gun, realized it was a real gun and then my instincts just took over."
Lowe told KOIN 6 News running away never crossed his mind.
"I lunged for the gun, put two hands on the gun. He had his two hands on the gun and obviously the kids are running out of the classroom and screaming."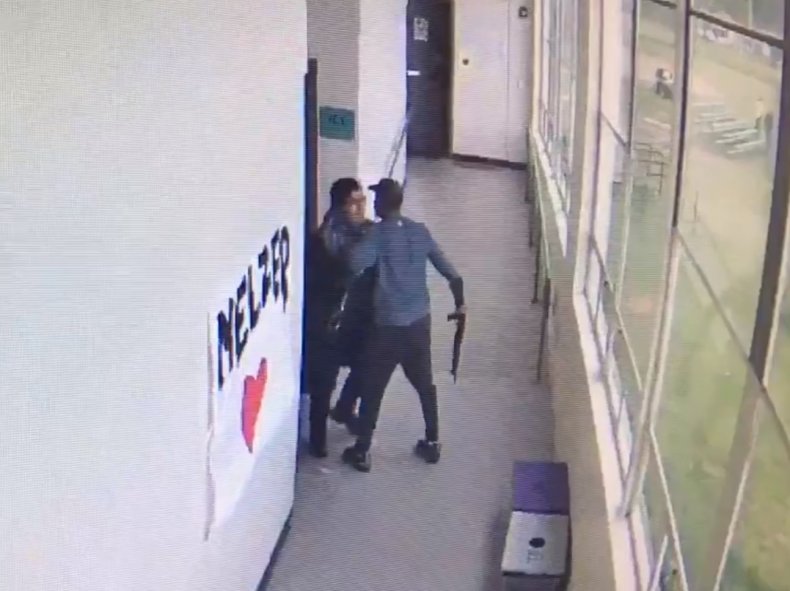 The football coach told the news outlet that he objected to being called a hero, but said maybe his presence was down to fate.
"I think the universe works in amazing ways," he said.
"I think I've gone through stuff in my life that prepared me for that moment and I'm lucky and I'm happy that I was in that classroom for those kids and I was able to prevent that tragedy.
"I don't know if 'hero' is the right word but the universe works in mysterious ways and I was meant to be in that classroom and I was meant to stop a tragedy."
After tacking the shotgun away from Granadoz-Diaz, another teacher can be seen walking towards the two to remove the firearm.
Lowe can then be seen talking to the student while another teacher called police.
"I felt compassion for the kid, to be honest," Lowe said.
"I had a real-life conversation. Obviously, he broke down and I just wanted to let him know that I was there for him.
"I told him I was there to save him—I was there for a reason and that this is a life worth living."
Following the ordeal which took place on May 17, Granados-Diaz, now aged 19, pleaded guilty to gun charges on October 10.
The Multnomah County District Attorney's Office handed a 36-month probation sentence during which time the teenager will receive mental health and substance abuse treatment.
Officials said Granados-Diaz had previously made suicidal statements and that during the incident he never pointed the gun at anyone but himself.