Moment Princess Diana Was Rushed by Obsessive Fan Goes Viral 
The moment Princess Diana suffered a serious security breach on a royal engagement in 1989, when a man broke through a crowd and attempted to grab her, has gone viral on social media after footage was uploaded to TikTok.
The event, which prompted an assessment of royal security measures, took place on April 13, 1989, when Diana was undertaking a solo visit to the county of Northumberland.
The would-be-attacker was apprehended at the scene and later identified as 57-year-old Ted Adcock, who in the previous year had publicly groped American Olympian Florence Griffith Joyner's breast at a sports event.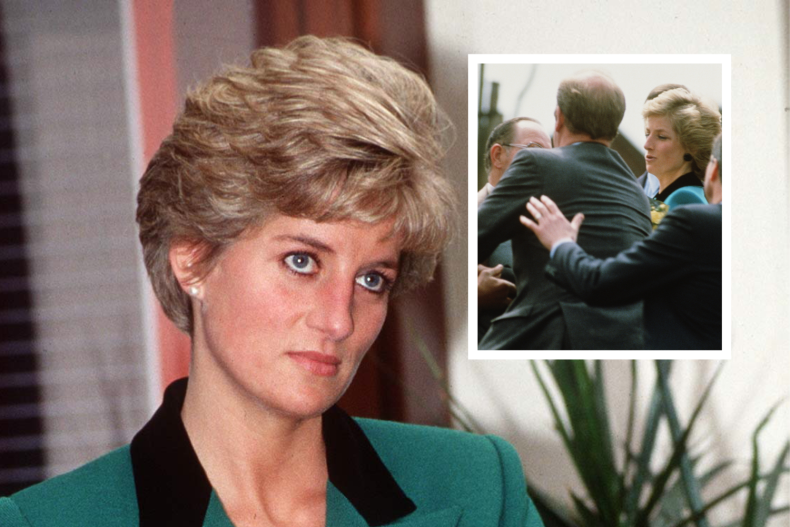 The video, uploaded to TikTok by user dianaspencerparis, has been viewed over 300,000 times in 28 hours and received in excess of 35,000 likes and 100 comments.
Many fans of the royal have praised her reserve under the intense circumstances, with one TikTok user commenting: "She just goes on so gracefully."
"Diana being so unfazed tho," wrote one, with another adding: "She wasn't scared see her face."
A number of comments highlighted that the attacker appeared to want to hug more than harm the princess. "I don't think the man attacked her, I think he just wanted to hug her," one posted.
Following the altercation, Diana continued with her walkabout, going on to meet more of the crowds who had gathered to see her.
Adcock was cautioned by police and later tracked down by the British press. "I fancy the Princess. Put it that way," he said, per The Daily Mirror on April 14 1989. "I might have been in the process of trying to give her a hug. She is an attractive woman, but I didn't realise it would end like this."
"I have always been a great admirer of the princess," he continued. "If I caused her distress I am very, very sorry. I still can't say why I did it. Although I may seem calm on the outside, there is turmoil inside. But I would never harm anyone."
Adcock developed a history of assaulting women. In the same year, following his rush at Princess Diana, Adcock is reported to have sexually assaulted a saleswoman, which saw him sentenced to two years probation. In 1990, he made the front pages again for grabbing marathon runner Veronique Marot while she was preparing for a race.
Adcock was imprisoned later that month and was ordered to seek medical help after going on to assault two prison staff members while they were carrying out their duties.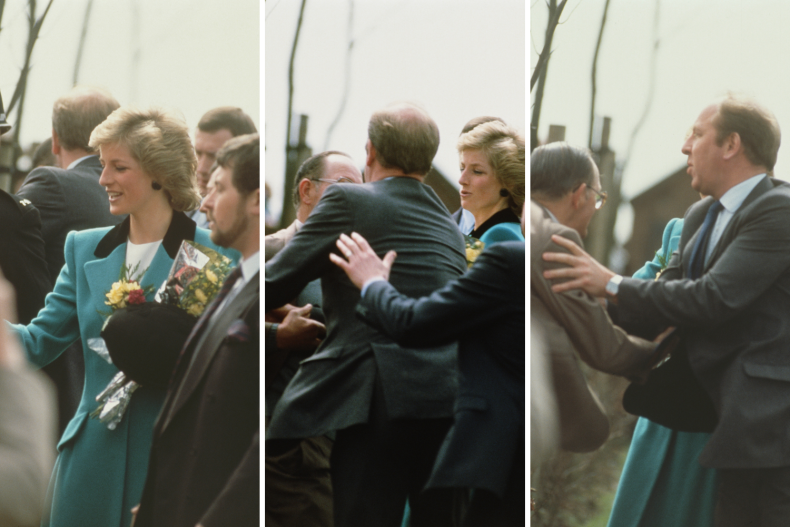 Though his intention is not believed to have been to commit an act of violence against Diana, that a member of the public was able to get within touching distance of her while being protected by royal security sparked a number of fears for her safety. The front page of The Daily Mirror led with: "Di's Terror: The split second yesterday when the princess could have been murdered."
A number of public security threats were launched at the royals in the 1980s and 1990s. In 1981 Queen Elizabeth II was fired at by a member of the crowd waiting in The Mall as she rode her horse to the Trooping the Colour parade. Marcus Sarjeant was identified as the shooter, who fired blank rounds close to the queen, causing her horse to shy. The monarch carried on with the event and Sarjeant was eventually charged under the 1842 Treason Act.
In 1994, the then-Prince Charles was the target of a similar incident. While visiting Australia, the royal was on stage about to deliver a speech when a young student rushed the stage and fired two blank shots from a revolver.
Charles appeared unfazed as university student David Kang was apprehended by security. Kang said his intention was not to harm the prince, but to make a political stunt to draw attention to the treatment of Cambodian refugees in Australia.
James Crawford-Smith is Newsweek's royal reporter based in London. You can find him on Twitter at @jrcrawfordsmith and read his stories on Newsweek's The Royals Facebook page.
Do you have a question about King Charles III, William and Kate, Meghan and Harry, or their family that you would like our experienced royal correspondents to answer? Email royals@newsweek.com. We'd love to hear from you.