Trump Heckler Dragged Out of CPAC As MAGA Fans Chant 'USA!'
MAGA fans chanted "USA, USA" as a heckler was escorted out of the Conservative Political Action Conference (CPAC) during a speech by former president Donald Trump on Saturday evening.
The heckler reportedly blasted out music critical of Trump while the presidential hopeful gave a speech in the Gaylord National Resort & Convention Center in National Harbor, Maryland.
Conservative activist Danny De Urbina shared a clip of the heckler being removed from the hall, much to the delight of Trump's supporters.
In the clip, the crowd could be heard booing as the heckler was dragged out of the venue.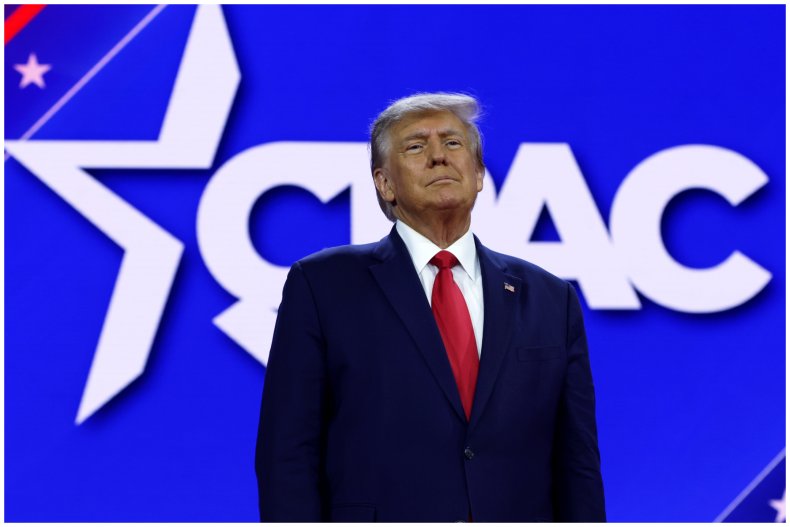 Seconds later, the crowd started to chant "USA, USA," with many in the audience holding up signs in support of the former president.
Another clip shared by News Nation videographer Jordan Clifford showed the heckler being escorted out of the building while others stood by to film him.
Clifford captioned the clip: "A heckler interrupted Trump's CPAC speech blasting the song 'f*** Donald Trump' from speakers so loud it was audible on the former president's microphone. Police have escorted him off the premises."
The clips, both uploaded to Twitter on March 4, have been viewed more than 111,000 times combined.
During his speech, Trump boasted about how he defeated Hillary Clinton in 2016 and how he was focused on strengthening security on the southern border.
He also attacked Joe Biden, other Democrats, and his GOP rivals such as Mitt Romney and rival Florida Governor Ron DeSantis, who is believed to be considering a run for the Republican nominee against Trump.
While Trump did not name DeSantis, he mentioned the governor's past as a congressman during a savage swipe.
According to a YouGov poll, carried out between February 23 and 27, Trump leads DeSantis in its Republican primary poll 43 percent to 31 percent.
While FiveThirtyEight gave YouGov a B+ rating, lower than the top A+ grade, polling from a host of different pollsters has also given Trump leads over DeSantis and his other Republican rivals.
Ahead of Trump's speech CPAC moved to prevent white nationalist Nick Fuentes from attending.
Fuentes has previously shared vocal support for Trump's MAGA agenda.
CPAC Chairman Matt Schlapp said in a March 3 statement shared on Twitter: "We removed Nick Fuentes from his attempt to attend our conference.
"His hateful racist rhetoric and actions are not consistent with the mission of CPAC. We are pleased that our conference welcomes a wide array of conservative perspectives from people of different backgrounds, but we are concerned about the rise in anti-Semitic rhetoric (or Jew hatred) in our country and around the globe, whether it be in the corridors of power and academia or through the online rantings of bigots like Fuentes."
Newsweek has contacted CPAC for comment.