Momentum Builds Among Democrats to Stop Bernie Sanders from Clinching Primary Nomination
An increasing number of Democrats on Capitol Hill say they are prepared to use the Democratic primary process to prevent Bernie Sanders from becoming the party's nominee—even if the Vermont senator receives the most delegates.
Not only have rank-and-file members said Democrats should use rules set by the Democratic National Committee governing how the party chooses its nominee to pick someone other than Sanders, but all of the 2020 Democratic candidates—except for Sanders—have, too.
A sector of moderates in Congress, particularly vulnerable House Democrats in swing districts, are beginning to discuss strategies amid concerns that the self-described democratic socialist appearing at the top of the ticket will jeopardize down-ballot races, a Democratic lawmaker who requested anonymity to discuss internal deliberations told Newsweek.
One of the scenarios includes taking advantage of a contested convention in which a candidate receives the plurality of delegates but fails to amass a majority, a notion that seems increasingly plausible for Sanders. Although progressive members have warned a contested convention could hurt the party and potentially transform the convention floor into a political battlefield on live television, other Democrats feel the move is a viable one.
"If someone comes in with less than a majority and just a plurality, then I think we all have to work together—maybe leadership could get involved at that point—so we can make sure the majority of those in the Democratic Party who are in this process are together in moving forward to whoever our nominee is, whether it's Bernie Sanders or Michael Bloomberg or whoever else," Rep. Gregory Meeks (D-N.Y.) told Newsweek.
"That process will have to play itself out," added Meeks, who's endorsed Bloomberg. "That's why it was put in place."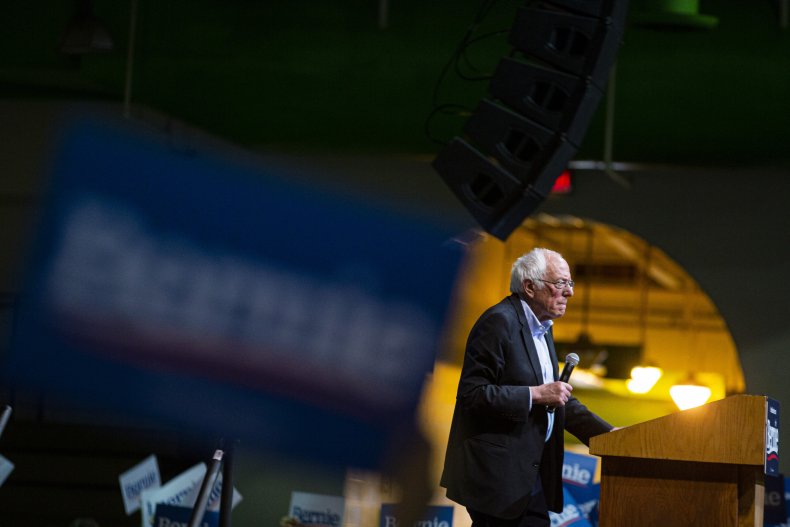 Walking away from Super Tuesday with a win under his belt would expand Sanders' delegate lead and possibly set him on a collision course with the party he's running to represent due to the increased likelihood of an undecided convention.
Roughly 40 percent of pledged delegates will have been doled out after Tuesday, giving a clearer picture if whether the Democratic Party's nightmare scenario will come to life: Sanders becoming the unsurpassable frontrunner.
In snubbing Sanders at the convention, moderate and vulnerable Democrats point to the new rules by the Democratic National Committee—advocated for and championed by Sanders and his supporters after the 2016 primary—that don't automatically crown the plurality winner as the nominee. If the first round of voting at the convention this summer yields no majority delegate winner, round two opens the door for superdelegates to vote, such as elected officials, making the process a virtual free-for-all.
The rules change in 2018 governing superdelegates and how the party selects its nominee was viewed by many as a step toward fairness that allowed a candidate to be chosen more directly by the will of the people and to strip power away from superdelegates. But it also gave rise to why Democrats are staring down the barrel of a likely contested convention.
"We have such a simple path to electing a democratic president," said Rep. Tom Malinowski (D-N.J.), who's endorsed former Vice President Joe Biden. "Why we would risk this extraordinary opportunity by nominating somebody who has a tendency to divide our own side is beyond me."
Rep. Gerry Connolly (D-Va.) argued the new rules were the result of DNC Chairman Tom Perez "pandering to Sanders," supporters of whom believe the senator was cheated out of the 2016 primary against Hillary Clinton because most superdelegates preferred the former secretary of state and influenced the general electorate. "Right now, when you kind of want some ballast, you don't have it because you eliminated it," Connolly told Newsweek.
But there's now a silver lining for those who wish to band together to rebuff Sanders, Connolly noted, who's yet to be wooed by any candidate strong enough to make an endorsement.
"Those superdelegates you thought you were finessing, you've actually empowered and significantly enhanced their power because we'll be—potentially—determinative," he said. "We'll have enough votes, if it's close, to decide if it's this one or that one. There could be a lot of drama."
Pressed twice on the topic Thursday, House Speaker Nancy Pelosi would not commit to backing the plurality winner. She went only so far as to pledge unity around the eventual nominee—no matter the potentially messy process beforehand—and was confident they'd maintain control of the House, even if Sanders is the nominee.
"The person who will be nominated will be the person who has the majority plus one. That may happen before they even get to the convention, but we'll see," the California Democrat said. "The people will speak and that's what we'll listen to."
"The presidential race is its own race, and contrary to what you may be hearing or writing," Pelosi told reporters, "we are all unified. Whoever the nominee is of our party, we will wholeheartedly support."
Opinions range within the Democratic caucus on how heavy-handed Pelosi should be in the process. Some members believe it's irrelevant, given she can't force voters to cast ballots for a certain candidate. But most are satisfied with her more neutral approach thus far and feel her main job will be to keep the party as unified as possible. Having a more outspoken role in the process would be a "disservice" that "would do no one a favor," said the Democratic lawmaker who discussed some of the party's private discussions.
Rep. Dan Kildee (D-Mich.) described the Speaker's level of involvement as "a double-edged sword that can cut both ways."
"I think the most important thing that she can do is keep reminding people of the dramatic difference between Democrats and Trump Republicans because there's no such thing as the Republican Party any longer," he contended. "There's Trump loyalists, and then there's the Democratic Party."
Pelosi is also pleasing some of her most liberal members, such as Rep. Pramila Jayapal (D-Wash.), co-chair of the Progressive Caucus. "She's letting the process play out, as she should," Jayapal said.
But at least one of Sanders' top surrogates in Congress disagrees. Co-chair of Sanders' campaign, Rep. Ro Khanna (D-Calif.), told Newsweek he wished Pelosi would do more to corral support for whomever the plurality winner is. Though Khanna has not spoken with Barack Obama, it was his hope that the former president would at some point weigh in to also urge Democrats to back the frontrunner.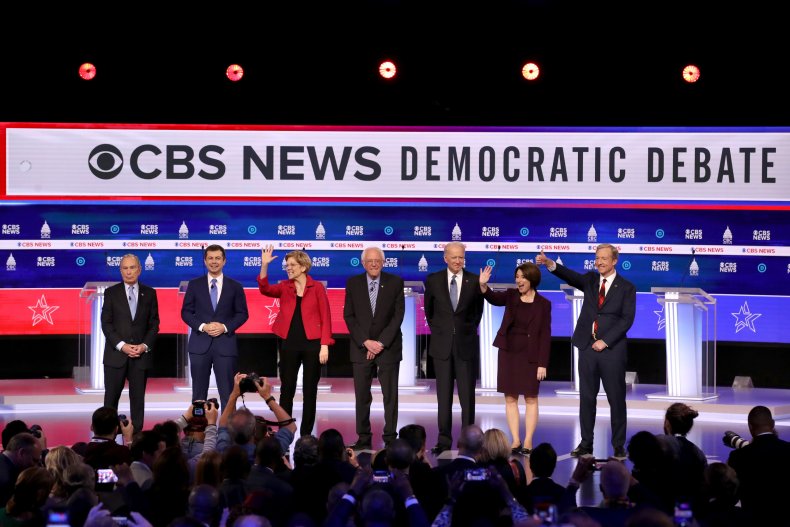 At the same time moderates are sounding the alarm about what a Sanders candidacy could mean for their tough congressional races, so too are the progressives who say an effort to prevent Sanders from securing the nomination as a frontrunner would help pave the way for President Donald Trump's re-election.
"Do you want to get Trump out or not?" Jayapal said. "If you want to get Trump out, you unify around the Democratic candidate, and number two, you unify around the person that has the best shot of turning out a democratic base and winning in states across the country."
In order to be awarded delegates in any state, candidates must now receive at least 15 percent of the vote. Otherwise, the few delegates they would have earned will go to other candidates who met the viability threshold. The current crowded primary field makes it more likely that Sanders could siphon more of the vote because of this rule.
Sanders leads the delegate-rich state of California at 34 percent, trailed by Massachusetts Senator Elizabeth Warren at 17 percent, according to a poll released Friday by the University of California, Berkeley. The rest of the candidates are polling below 15 percent, a Super Tuesday outcome that would award Sanders the majority of the state's 495 delegates.
Sanders' arguments throughout the primary has been similar to those made by just about every one of his opponents: he's been poised to take on Trump head-to-head.
"Of the last 50 polls that have been done nationally... I beat Trump 47 of those 50 times," Sanders said during this week's debate in Charleston, South Carolina. "If you look at battleground states like Michigan, Wisconsin and Pennsylvania polling, I. Beat. Trump!"